Kim Kardashian Blames Instagram For Drama With Beauty Blogger Over KKW Review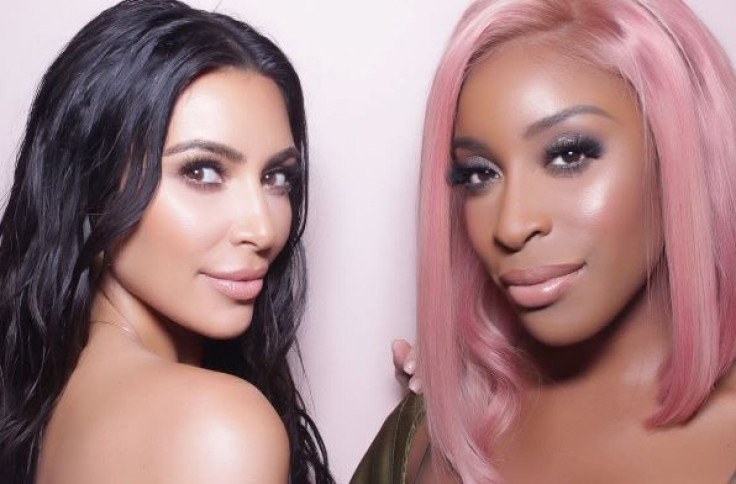 Kim Kardashian West is pointing the finger at Instagram in an apparent attempt to quash beef with a beauty blogger who gave her Crème Contour & Highlight Kit a less-than-sparkling review. Kardashian, who recently launched her eponymous KKW Beauty brand, took to Twitter to clear up what many fans interpreted as shade after Kardashian failed to tag Jackie Aina in a photo.
In a series of Instagram posts to Kardashian's account following the KKW Beauty launch party, the 36-year-old "Keeping Up with the Kardashians" reality star tagged some beauty bloggers but failed to tag Aina, who'd criticized the product on her YouTube channel. Aina's fans swarmed to Kardashian's post and bombarded her with messages about the apparent omission of Aina's handle in a photo of the two.
Read: Kim Kardashian Poses With Jeffree Star Following Apology For Racist Comments
"I just saw a story saying I intentionally didn't tag @jackieaina in a pic I posted on Instagram because of a review she did about my line," Kardashian wrote on Twitter Tuesday for her 53 million followers. "I would never post someone's pic on my page and then intentionally not tag them. When I uploaded the album I was tagging everyone that came to the party and for some reason it wouldn't let me tag Jackie's name."
Kardashian went on to add that she figured she'd "just try again later" before she "realized you can't add tags after the album is posted!" She added, "I love that she has an opinion and I'll take what she said and use it to better my products. Honestly, I'm so thankful to everyone who is giving me feedback on my beauty products & I love hearing what everyone loves, and doesn't love."
Kardashian concluded the eight-tweet rant by tagging Instagram and requesting that the social media platform allow users to "tag people in galleries after they are posted, so I can avoid this issue in the future."
Fans of Aina, a YouTube personality with 1.4 million subscribers, perceived the omission of her Instagram handle in Kardashian's photo as a slight. Aina reviewed the KKW Beauty product in a tutorial posted June 21, just one day after the makeup maven attended the official launch party at Kardashian's home in Bel-Air.
Aina's video review criticized the size of the three products included in each kit relative to their $48 price tag. And, like other YouTubers who've reviewed the product, Aina also criticized the blending tools included in the kit — though the YouTube personality did commend the actual contouring product itself.
The ostensible drama seemed to be resolved as of Tuesday, however, after Aina responded to Kardashian Tuesday with her own series of Tweets.
Read: Kim Kardashian Addresses Blackface Allegations In Latest Interview About KKW Beauty
"[T]hanks for speaking up about this Kim," she wrote. "When @KimKardashian invited us into her home for the launch of KKW she was very sweet and professional, I shared that with all of you. So when this happened I was confused. It wasnt about being recognized, it felt like I was being shaded for a less than perfect review [...] and I know that's not just how it looked to me, it's how it looked to everyone else. I didn't notice the photo tag until you all told me."
"I don't know @KimKardashian personally, so while she was super sweet tbh it's hard NOT to assume the worst of people in this industry," she added, "but anywho thank you @KimKardashian for clearing that up, having me into your home and welcoming my honesty and feedback."
© Copyright IBTimes 2022. All rights reserved.
FOLLOW MORE IBT NEWS ON THE BELOW CHANNELS