Kim Kardashian Divorce: Humphries Learned of Divorce Filing from TMZ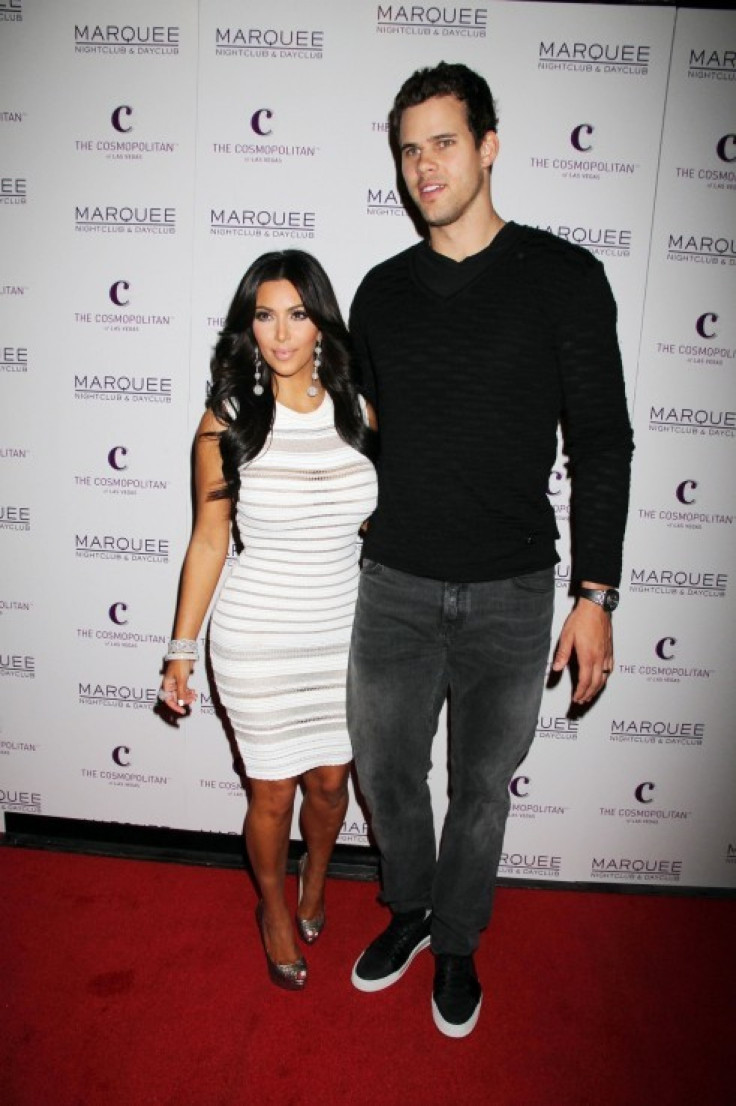 Kim Kardashian filed for divorce from husband Kris Humphries on Monday Oct. 31, cited irreconcilable differences.
But Kris Humphries did not even know he was headed towards splitsville from his wife of just 72 days.
Humphries was blindsided by the divorce filing, reports TMZ, and learned of the news from the gossip website, just like the rest of the world.
That's right. He heard he was getting a divorce not from Kardashian, but from the folks over at TMZ.
Humphries told TMZ reporters I love my wife and am devastated to learn she filed for divorce... I'm willing to do whatever it takes to make it work.
The gossip site reports that Humphries hoped to work out any kinks in the relationship, such as the decision on where to settle down (he wanted Minnesota, she wanted L.A.).
He supposedly does not even believe in divorce.
Many celebrities and public figures took to Twitter after news of the divorce broke and threw some punches Kardashian's way.
Time (@Time) retweeted RT @Toure Celebs who want to bury bad news release it on Friday afternoons, so Kim Kardashian files for divorce ... on Monday morning?
Kim Kardashian sold the rights to her wedding for $17.9 million. Her marriage lasted 72 days. That comes to a nifty $10,358.80 per hour, talk show host Piers Morgan retweeted.
Wow -- @KimKardashian getting divorced. I'm shocked! Reality show weddings usually last, Late Show with David Letterman writer Justin Stangel (@Justin_Stangel) wrote.
BREAKING: ESPN's Marc Stein is reporting that Kris Humphries' salary WILL count against the Kardashians' cap this season, ESPN.com's Bill Simmons tweeted.
You can't make fake love work not even money.... It's just TV entertainment smh, Houston Rockets' player Terrence Williams followed.
The reality star wed the New Jersey Nets player on Aug. 20, 2011 in a lavish Montecito, Calif., ceremony that cost upwards of $10 million.
They began dating in December 2010 and Humphries proposed in May 2011, after just six months of dating.
The engagement came complete with a $2 million, 20.5-carat Lorraine Schwartz diamond engagement ring and the cover photo on People magazine.
Quite an expensive ring for someone who only purportedly makes $3.2 million per year with the NJ Nets.
The August wedding was filmed for a two-part wedding special Kim's Fairytale Wedding that aired on E! in Oct. This is the same channel that produces the other various Kardashian shows.
Kim reportedly made $17.9 million from her wedding, reports the New York Times, which equates to her pocketing $10,358.82 per hour of marriage.
Ryan Seacrest, executive producer of Keeping Up with the Kardashians, tweeted immediately after TMZ broke the news of the split.
Seacrest (@RyanSeacrest) wrote, Yes @kimkardashian is filing for divorce this morning. I touched base with her, getting a statement in just a few mins.
According to Entertainment Weekly, E! hurried to release its own statement about the divorce saying: E! has released a statement regarding the split: All of us at E! are surprised and saddened by this news, and we send our support to Kim and Kris at this difficult time. The Kardashians have always been uniquely open with all aspects of their lives from joyous events to intimate moments to heartbreaking transitions. E! will continue to share the fascinating real lives and larger-than-life existence of this close-knit family.
It is interesting to note the emphasis placed on the Kardashians' reality show and how the network will assuredly continue to share the fascinating real lives with the public.
Who knew the release of a divorce statement should include a plug for a cable TV series?
Kim Kardashian issued a statement herself saying, After careful consideration, I have decided to end my marriage. I hope everyone understands this was not an easy decision. I had hoped this marriage was forever, but sometimes things don't work out as planned. We remain friends and wish each other the best.
What is the divorcee up to now?
E! Online reports that the reality star is headed to Australia to launch her handbag line and then will be off to Atlanta, Ga., to film Tyler Perry's new movie The Marriage Counselor.
The E! article lends some encouraging words at the close, There's nothing like keeping busy to help take your mind off a breakup!
Rumors had been surfacing in recent weeks about a potential break up.
While Kardashian was off working in Dubai with her mother/manager Kris, Humphries was seen at clubs in New York and Miami dancing with other girls and getting their numbers.
One of the ladies supposedly gave him a lapdance and then tweeted about it, saying, Just danced in Kris Humphries lap... SORRY KIM. Best night of my life.
The endless onslaught of publicity surrounding her divorce may be exactly what Kardashian was hoping for from the start.
Reports recently surfaced that Kardashian was actually casting men to play the role of her hubby.
And Humphries was not even her first choice.
The Huffington Post reported on a story by Wetpaint Entertainment that Kardashian initially wanted to cast New York Knicks small forward Danilo Gallinari as her beau.
Dating a New York athlete was supposed to boost the ratings for her show Kourtney & Kim Take New York but Gallinari declined the offer.
The only thing Kardashian herself (@KimKardashian) has tweeted today is Our store #KardashianKhaos is opening tomorrow at 9am at @TheMirageLV We are so excited!! Kardashian Khaos has arrived!
And Kourtney and Kim Take New York premieres on E! on Sunday Nov. 27.
Interesting timing, Kim.
© Copyright IBTimes 2023. All rights reserved.