Kim Kardashian Ring: When Will She Marry Kanye West? [PHOTO]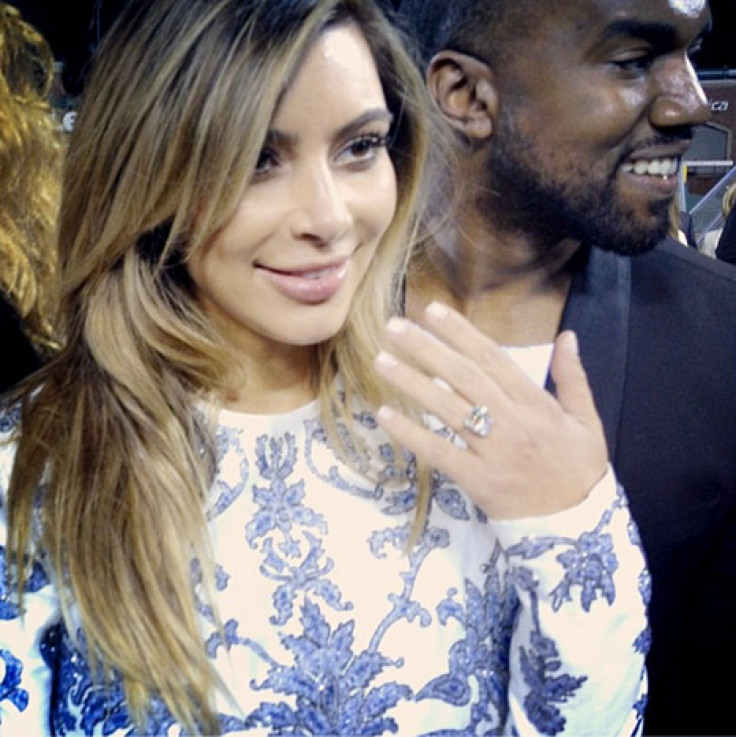 Kim Kardashian got engaged to boyfriend Kanye West, the father of her daughter, North, on Monday, the day she turned 33 and two years after she divorced Kris Humphries following just 72 days of marriage.
While the reality star had been with NFL player Humphries for only six months before they married, Kardashian has been with rapper/producer West for 18 months pre-engagement, and she'd known him for nearly a decade before they became romantic.
Her marriage to Humphries was widely publicized and even suspected by some to be a p.r. stunt, but the world has seen a different side of Kardashian since she started dating "Yeezuz" creator West and had a child with him. The starlet stepped out of the limelight for several months after she had her daughter, causing many to believe she was in "hiding." West notoriously hates the American paparazzi, but according to TMZ, the hip-hop artist put aside his disdain for exposing personal issues for profit and apparently allowed cameras to capture his proposal to Kardashian.
The news site added there is ample material for the event to appear on "Keeping Up With the Kardashians," the family's reality show, but added West, 36, purportedly has the final say on whether that will happen.
Over the summer, a source told Hollywood Life that the celebrity couple wouldn't get married in the near future. "There's way too much going on," the insider said. "He has to tour later this year, he's a new dad, plus he and Kim are looking for a place to settle into and call their own. They're not about to add more things to do by trying to get married on top of everything they have to do. It's not happening anytime soon."
It's unlikely there will be a rushed Kardashian-West wedding like the Kardashian-Humphries union. But with mom Kris Jenner and stepfather Bruce Jenner's estrangement, one question remains: Who will walk her down the aisle?
© Copyright IBTimes 2023. All rights reserved.