Kim Kardashian Worried Her Wedding Day Will Be Ruined? Reality Star Concerned After Spending Millions On Ceremony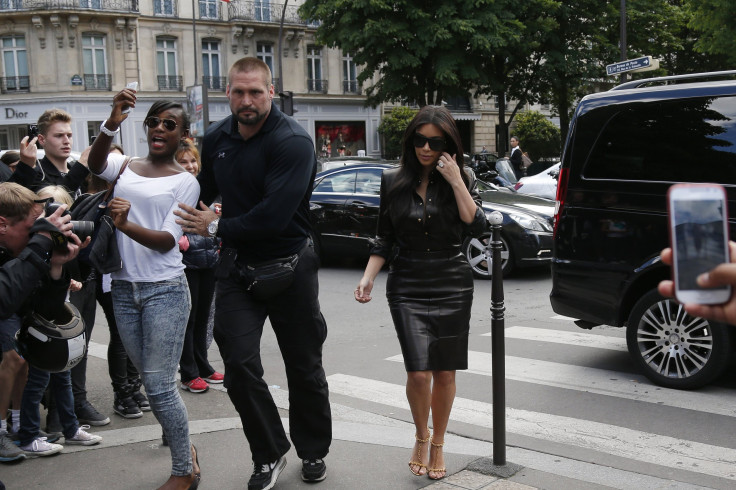 Kim Kardashian is worried her big day may be ruined on Saturday. The 33-year-old is allegedly concerned the European weather may not be good enough for her wedding.
Us Weekly reports a person overheard her talking at dinner saying, "I hope the rain doesn't ruin the wedding. She made it clear that this bad weather is really getting to her. She's clearly spending millions getting married in Europe, and if it all turns into a wash-out she will be really unhappy."
According to reports, Kardashian and Kanye West are spending over $7 million on their ceremony. For entertainment, Beyoncé, Jay Z, and Lana del Rey are all expected to perform. Beyoncé and Jay Z reportedly are asking for $2 million for a performance.
The wedding couple plans to give each of their guests a mobile phone when they arrive in Paris to keep wedding details a secret, reports Page Six. In addition, guests will have brunch at Valentino Garavani's chateau, in addition to a private tour of the Palace of Versailles. On the day of the wedding, guests will be flown via private jet to Italy for the ceremony. Elisa Di Lupo, a rep for the mayor of Florence, revealed the couple rented Fort Belvedere for over $420,000.
Adding to the wedding expenses is Kardashian's wedding gown, of course. "Her gown is estimated to cost $2 million. And no one will see the gown until she walks down the aisle. There are three gowns that were made just for her and she hasn't even decided yet between them," a source tells RadarOnline.
In addition, chefs are reportedly being flown in from around the world to prepare dinner for the rehearsal night and the reception dinner, which will take place after the wedding. Additional costs include a firework show, security, decorations and drinks.
However, if Kardashian is concerned about her big day being ruined, the reality star is not acting like it. She and her family have been enjoying Paris to its fullest extent, shopping at high-end stores such as Celine and Mason Margiela. On Thursday night, she had her bachelorette party with best friends including LaLa Anthony and Rachel Roy. The ladies took over the town, ending the night with a private party in the Eiffel Tower.
FOLLOW MORE IBT NEWS ON THE BELOW CHANNELS