Kim Kardashian's Daughter North Receives 2 Alexander Wang Bags For Her Birthday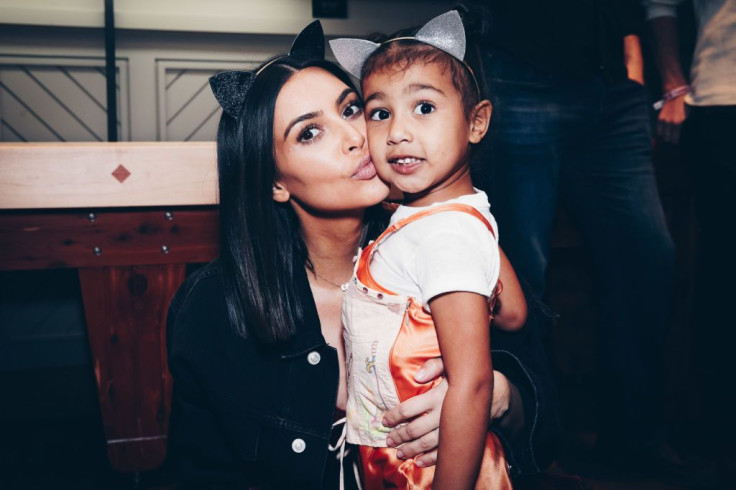 It must be nice to be North West! Kim Kardashian and Kanye West's daughter has yet to officially celebrate her fifth birthday, but the presents are already trickling in.
Kim shared one of North's early birthday presents on her Instagram Stories, which is a mini leopard-print backpack that costs around $750, according to People.
"Oh my god, North is the luckiest girl in the world. Who gets this bag from Alexander Wang?" Kim gushed, adding that "I might steal this."
Hours later, Kim realized that Wang sent her daughter not one gorgeous bag, but two. "Wait, look at this Wang bag that North got, I cannot even believe it. I missed this last night. Love it," she said, while showing off the sparkly purse.
This time, Kim did not play coy about using her daughter's bag. "I'm stealing this!!!!!" she wrote.
Together with his generous gifts included this sweet message from the designer: "Happy birthday! Every girl needs a little sparkle."
Fashion plays an important role in Kim's life, so much so that she would soon be given the first-ever Influencer Award at the Council of Fashion Designers of America (CFDA) Fashion Awards.
However, many designers are questioning Kim's award. "It's ridiculous," a fashion insider told the New York Post. "I'm just completely baffled. What is she influencing? People to have a very false sense of beauty and body?"
Kim loves showing off her body, and often wears sheer clothing and promotes diet pills and shakes. Because she has over 111 million Instagram followers, one fashion designer acknowledged that "her reach is so far" so anything she promotes "will sell out." However, this does not necessarily make her a "fashion influencer."
The insider agreed: "She doesn't have a style worth emulating. She has her evening look, which is to be sexy and provocative, and very, very unremarkable casual clothing. It's nothing memorable."
Fashion publicist Kelly Cutrone also weighed in, saying that she has never considered Kim as a pillar of fashion. "I've never woken up in the morning and wondered, 'What is Kim Kardashian doing today, and how is that going to affect my industry?'" she said.
© Copyright IBTimes 2023. All rights reserved.