Kim Kardashian's Sister, Khloe, Worked With Flour Bomber's Sister For 'I'd Rather Go Naked Than Wear Fur' PETA Ad Campaign [VIDEO]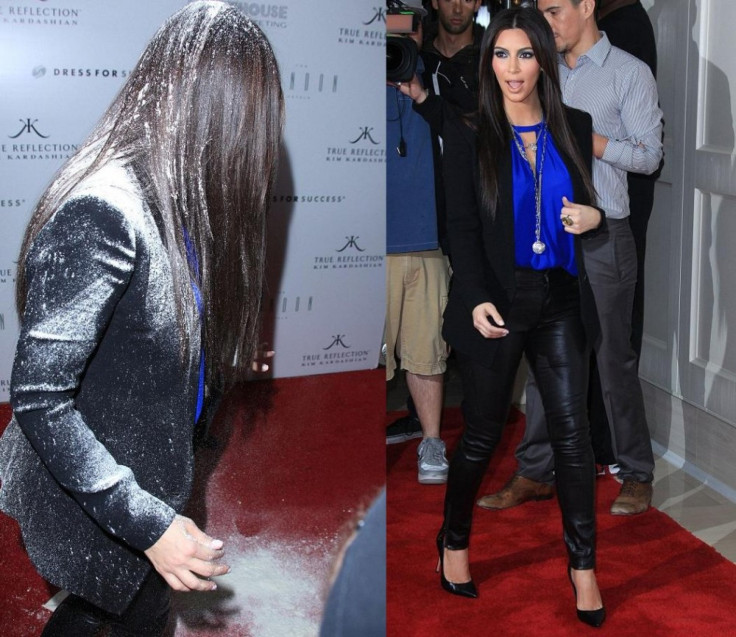 Khloe Kardashian has said that in the light of the flour bombing incident involving her sister, Kim Kardashian, last week that she no longer supports PETA.
Hi dolls. I'm sure you all heard what happened to Kim last week (thank you SO much for the love and support you all showed her), and I just received word that the woman responsible has very close ties to PETA, despite PETA publicly stating otherwise, Kardashian said in a statement on her website. Not only has PETA lied to the public, but they have proved that they support this kind of behavior. I've been a vocal supporter of PETA for a long time but I have also been very vocal about anti-bullying, so this was a huge disappointment for me. We all need to practice what we preach. I will still continue to NOT wear fur, but I will no longer support PETA. Bullying and harassment is NEVER a solution, and I won't be a part of any organization that thinks otherwise.
However, coincidentally a couple years ago on an episode of Keeping Up with the Kardashians when Khloe Kardashian was asked to pose naked for the I'd Rather Go Naked Than Wear Fur PETA campaign. It was Kim Kardashian's flour bomber's sister that Khloe Kardashian met with and worked with throughout the campaign.
Kim Kardashian's flour bomber has been identified as Christina Cho and her sister is Michelle Cho. When the incident with Kim Kardashian first happened PETA said that they were not involved with the flour bomber, but that they support her. It was later revealed that Cho was affiliated with PETA and E! News found the footage of Khloe Kardashian working with Michelle Cho for the ad campaign. In the video Khloe Kardashian is at first reluctant to work with the organization because of some of the incidents involving them, like Kim Kardashian's flour bombing.
When I think about PETA, Khloe Kardashian said in the video, I think about extremists and people throwing red paint all over people's coats and vandalizing property. So I'm kinda nervous.
Khloe Kardashian later accepted and Kim Kardashian was present with her sister at the unveiling of her picture for the ad campaign.
© Copyright IBTimes 2023. All rights reserved.