Kraft Foods Profit Jumps 22 Percent in Third-Quarter Earnings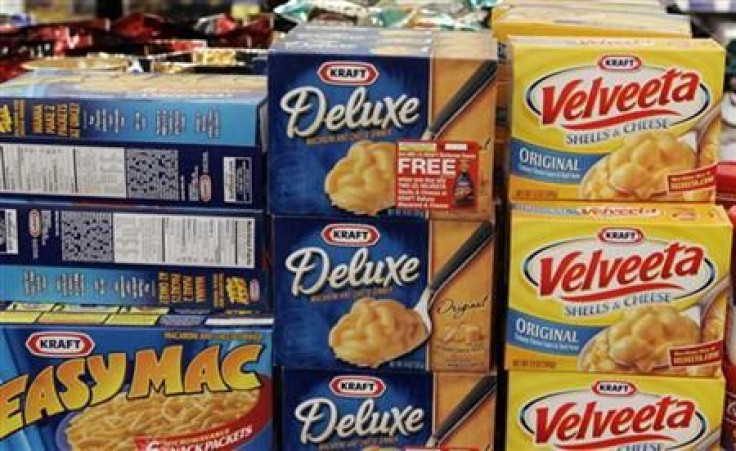 Kraft Foods Inc. (KFT) reported a 22 percent leap in third-quarter profits Wednesday from the same period a year ago. The company touted its investments in marketing and new products to help turn increased profits despite significantly higher prices.
Kraft reported $922 million in earnings for the three-month period ending Sept. 30. That marks a jump from the third-quarter numbers last year -- $754 million in earnings.
In a conference call discussing the earnings report, Kraft Chief Executive Officer and Chairman Irene Rosenfeld said the quarter was another strong one in a challenging macro environment.
Our investments in marketing and new products continue to drive high quality growth and solid market shares. And we've accomplished this despite having taken significant price increases to offset record-high input costs, Rosenfeld said.
Kraft's net revenue also jumped 11 per cent -- from $11.86 billion a year prior to $13.23 billion in 2011's third quarter.
Based on the strong third quarter, Kraft was also able to revise its full-year outlook, now saying it estimates operating earnings of at least $2.27 per share and organic revenue increases of at least 6 percent (up from a previous projection of at least 5 percent in August).
Earlier this year, Kraft announced it would split into two companies. One is a global snack company focusing on the potential of Oreo cookies, Cadbury chocolates and Trident gum in the global arena. The other is based in North America and will pinpoint its business on products like Kraft cheese, Maxwell House coffee and Oscar Mayer meat products.
The third-quarter results gave Rosenfeld optimism for the split, which is expected to occur by the end of 2012.
Together with substantial savings opportunities, we expect to deliver top-tier results in 2011 and remain on track to launch two industry-leading companies with strong operating momentum in the coming year, Rosenfeld said.
Kraft has raised products on prices ahead of competitors to combat significant cost increases in energy costs in products like corn and cocoa, used to make many Kraft staples. In March, for example, Kraft raised the price of Maxwell House coffee by 22 percent (70 cents per pound), according to reports.
On the conference call, Executive Vice President and Chief Financial Officer David Brearton also cited the improved outlook from the increased global success. He pointed to specifics like the successes of Oreos in India, Belvita in the United Kingdom and record sales of Lunchables.
We've raised our outlook for the year due to the strong business momentum in each of our geographies, Brearton said. While we expect strong operating momentum to continue, our earnings guidance excludes any potential impact from currency in the fourth quarter, as recent volatility has made such forecasts difficult.
Editor's Note: This story corrects the line in the eleventh paragraph that misstated Velveeta as one of the successes cited by Kraft CFO David Brearton. The brand he cited was Belvita.The article has been edited to reflect the correction.

Write to Brett LoGiurato at b.logiurato@IBTimes.com.
© Copyright IBTimes 2023. All rights reserved.
FOLLOW MORE IBT NEWS ON THE BELOW CHANNELS