Kremlin Teases Soviet Laser Tank Revival, Even As Armata T-14 Tank Becomes Shining Jewel Of Russian Military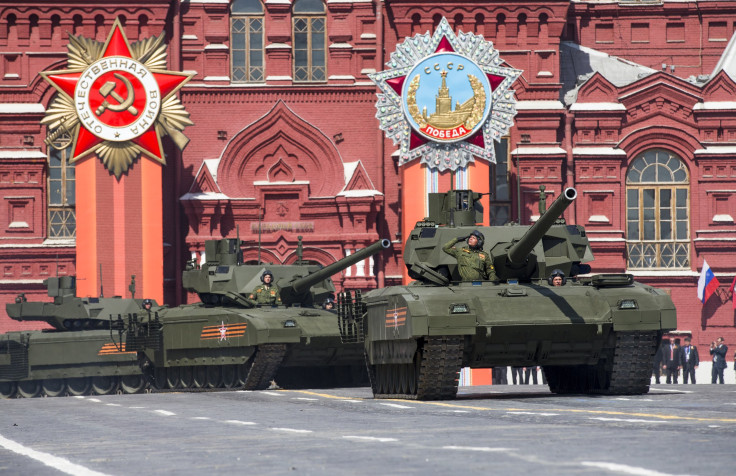 After more than two decades and a generation of technology development, the Russian military is reportedly considering bringing back tanks equipped with lasers. Word of the plan comes after Russian media has spent months teasing the capabilities of the Armata T-14 tank, the Kremlin's new high-tech war machine.
For nearly 20 years, from the mid-1970s through the end of the Cold War, the Soviet Union invested heavily in expensive T-80 laser tanks designed to track and eliminate American satellite systems, high-powered missiles and other advanced weapons. Now, even though there's a buzz surrounding the Armata T-14, the Kremlin newspaper Rossiyskaya Gazeta is reporting that military engineers are taking inspiration from the laser tanks "without advertising it" to the rest of the world, as quoted by War Is Boring.
"Laser guns on a T-80 tank platform could instantaneously burn out all optics of energy armored vehicles in a direct line of sight," the article said, before devolving into typical propaganda logic. "There were and are no official confirmation of this, although no one also made any denials. But one high-ranking official of the Yeltsin government once publicly let it slip that platforms were practically ready in the U.S.S.R. for accommodating laser combat systems both on the ground and on naval ships as well as in near-Earth orbit."
The bluster comes after the Russian military has been touting the Armata T-14 tank, which brings the sophistication of the T-80 laser tank into 21st Century terms. It carries an automated gun turret, digital controls and a threat detection system that aims to warn the Armata's two-person crew about any immediate threats.
But the U.S. military doesn't seem concerned. The economic situation in Russia following the end of the Soviet Union prevented the government from continuing operation on the T-80 laser tanks. With the Russian economy again stumbling, and with more more sophisticated weaponry available, it's difficult to foresee how or why production would begin again.
"The current Kremlin leadership has made military modernization a key priority and the results of their efforts have been on display both in Ukraine and during the Victory Day parade in Moscow in May," wrote retired U.S. Army Maj. Ray Finch, an Army Foreign Military Studies Office analyst, in the July 2015 issue of OE Watch. "Yet merely hearkening back to (and exaggerating) the glory days of the Soviet weapon design – without the requisite investment in the country's technological infrastructure – will not produce the next wonder-weapon."
© Copyright IBTimes 2023. All rights reserved.
FOLLOW MORE IBT NEWS ON THE BELOW CHANNELS