Kristen Stewart And Robert Pattinson Back Together? Taylor Lautner Reportedly Hopes So, Too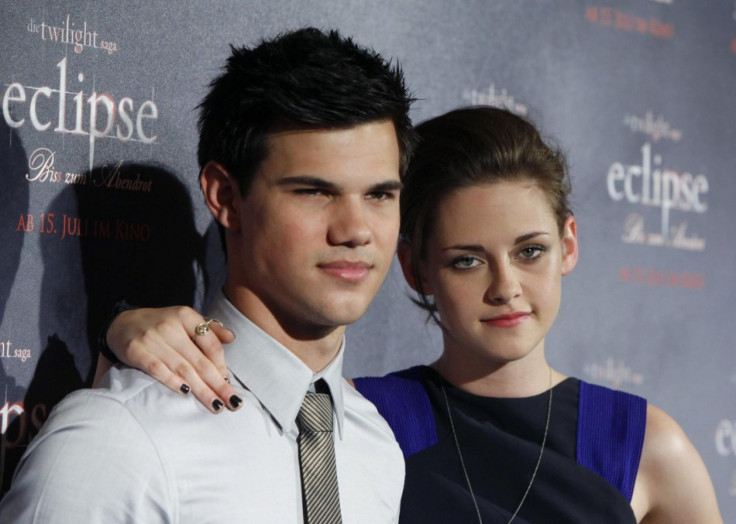 New rumors surrounding Robert Pattinson and Kristen Stewart could be what "Twilight" fans everywhere have been dreaming of. There have been whispers of the estranged couple getting back together, a resolution that seems it could be coming closer to reality. It would also be a relief for the third wheel in the "Twilight" franchise, Taylor Lautner, who has reportedly been supportive of both Pattinson and K-Stew since the photos of Stewart cheating surfaced earlier this summer.
Perez Hilton reported that Pattinson might not be back with Stewart yet, but he certainly hasn't moved on to a new starlet either.
"Rob doesn't want to date anyone; he wants to put all his effort into his work," a source told the celebrity gossip site. "He is eager to be on set and away from all the hoopla."
That's good news for Stewart, who has reportedly been an emotional wreck since the paparazzi busted her canoodling with Rupert Sanders, the married director of "Snow White and the Huntsman." Earlier this week Perez Hilton reported that another source said Stewart has been unable to let Rob go.
"Kristen is clinging onto the belief that Robert will eventually forgive her for the cheating scandal and they will get back together," the "insider" told Perez Hilton. "She doesn't want to even picture the idea of Robert meeting someone else, despite her recent flirtation with James Franco, because it fills her with dread. She's praying that when Robert finds a new place, whether it's in Los Angeles or London, they could maybe start over again."
In her first public appearance since the messy split, Stewart told reporters at the Toronto Film Festival that she and Pattinson are "totally fine," according to the Chicago Sun Times.
Someone else that's probably hoping for a resolution soon is fellow "Twilight" star Taylor Lautner, as the actor has reportedly been a shoulder to cry on for both parties. Lautner would almost certainly prefer to avoid the awkwardness that's inevitable when the three stars set off for their publicity tour in support of "Breaking Dawn: Part 2."
"[Stewart] is not sure who she can trust so she is leaning on just a few of her closest friends," an insider told ZeeNews.com. "One of those friends is Taylor Lautner. He has been by her side every step of the way, offering his support and unconditional love. ... Kristen knows he has her back behind the scenes and will be there for her."
Pattinson, for his part, still seems conflicted on the entire issue.
"He loves Kristen, but his family told him to forget about any ideas he has of taking her back," a source told Perez Hilton. "If he can forgive, forget and make the brave decision of letting his heart rule over his pride they may get back together."
© Copyright IBTimes 2023. All rights reserved.