Kristen Stewart, Jesse Eisenberg Spotted Kissing On The Set Of Woody Allen Film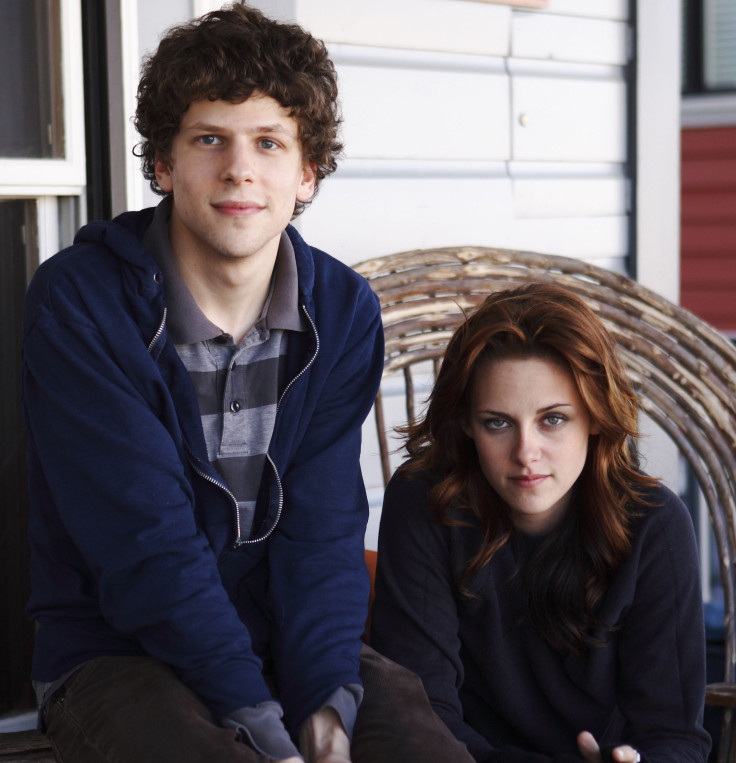 Co-stars Kristen Stewart and Jesse Eisenberg were spotted kissing while filming a scene for the untitled Woody Allen film in Santa Monica, California on Monday. A picture shows the two actors dressed in vintage clothes as they hold each other for a kiss.
The two actors have recently worked together in their film "American Ultra," where they play a stoner couple. The two go a long way back as they first starred together in a 2009 comedy film "Adventureland." Stewart is reportedly comfortable playing a role opposite Eisenberg, and she talked about him in her previous interview.
The actress told E! News that the she gave her consent to work in "American Ultra," because of Eisenberg's presence in the film. "As soon as I heard that Jesse was attached to a script that was sent my way, before I even read it, I was almost certain that -- and considering that they wanted me to do it -- I was like, oh cool, this is my next job, before I even got to the end of it," Stewart told E! News.
Eisenberg too echoes the same sentiments for the "Twilight" star, and said that they both share a "similar sensibility" and know about each other's feelings. "I think also we make each other feel a little more confident about what we are doing," Eisenberg said about Stewart in a recent interview with Collider.
"Because I can tell when she's not feeling great about something and she can tell when I'm not feeling great about something," he added.
Though this is the first time that both actors are working in an Allen film, Eisenberg previously starred in his film "To Rome With Love." Meanwhile, it will be Stewart and Eisenberg's third film together. The cast of the film includes Jeannie Berlin, Blake Lively, Parker Posey, Corey Stoll and Ken Stott.
© Copyright IBTimes 2023. All rights reserved.