Kurt Cobain Courtney Love Duet : 'Stinking Of You' Shows Home Footage Of Frances Bean [VIDEO]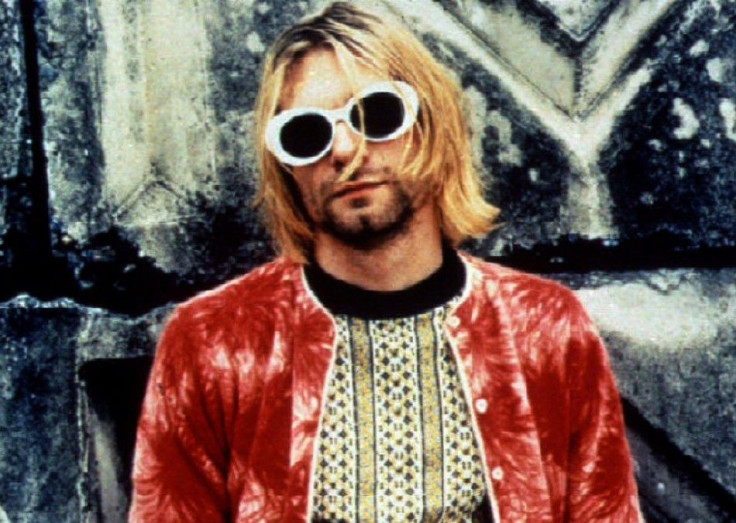 Kurt Cobain, lead singer and guitarist of Nirvana, died in 1994, but a new documentary is releasing a previously unheard track from the former rock star. The song, Stinking of You, is a duet with wife Courtney Love, the lead singer of Hole.
Hit So Hard is a new documentary following the life of Hole drummer Patty Schemel during the 1990s in Seattle. The film, which has been playing at festivals, and is set to hit select cities, features archival footage of Kurt Cobain with wife Courtney Love and their daughter, Frances Bean.
The new documentary shows Cobain playing with then baby Frances Bean and Love strumming on a guitar. Besides clips of the young family, the film also features Cobain and Love singing a duet called Stinking of You. The song, which was unfinished, has never been released, reports Entertainment Weekly.
Cobain's unreleased duet with Love doesn't come as much as a surprise as Hole guitarist Eric Erlandson teased that Cobain had a solo album worth of material recorded before his death. He was headed in a direction that was really cool. He was going towards a solo album but working with different people, Erlandson had said. I was really excited about some of the stuff he was working on. I got to see him play it in front of me. That's why I was really sad when he died. He was cut short. Who knows where his music would have gone.
Kurt Cobain committed suicide in 1994. His Nirvana band mates, Krist Novoselic and Dave Grohl continued with their music careers. Grohl, the former drummer for Nirvana, went on to form the Foo Fighters. Former Nirvana bassist Novoselic formed a couple bands, including Sweet 75 and Eyes Adrift. Both bands broke up and Novoselic went on to join punk band Flipper, as well as record some material with Grohl's Foo Fighters.
Cobain's wife Courtney Love has maintained her spot in the Hollywood light. Following Cobain's death she appeared in a couple movies, including The People vs. Larry Flynt, in which she was nominated for several awards. Love has maintained her music career, whether it was releasing a solo album in 2004, or reuniting with Hole in 2009. Courtney Love has also had a very public battle with substance abuse and sobriety.
Most recently Love apologized to daughter Frances Bean, 19, for tweeting about Grohl allegedly making sexual advances towards the teen. Bean, sorry I believed the gossip, Love tweeted in mid-April. Mommy loves you.
Hit So Hard is playing in select theaters. To see dates and theater locations click here.
© Copyright IBTimes 2023. All rights reserved.