Kylie Jenner-Tyga Update: Caitlyn Jenner, Kris Jenner 'Scared' Over Kylie's Rush To Marry Rapper Boyfriend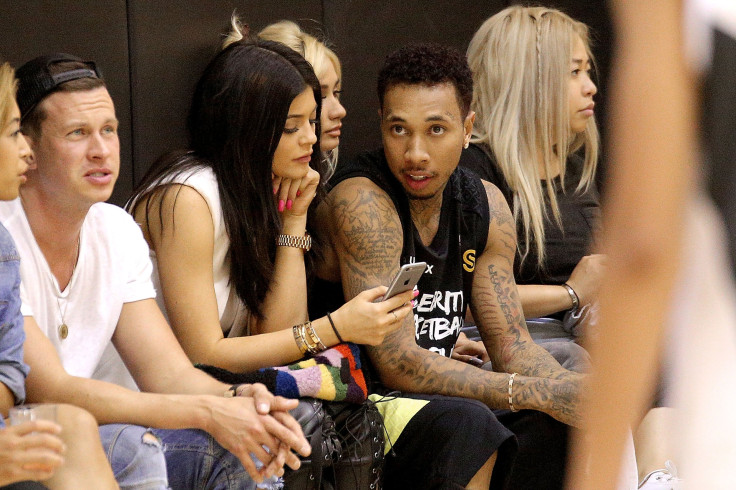 Caitlyn Jenner and Kris Jenner want their daughter Kylie to take things slowly with her rapper boyfriend Tyga, Hollywood Life reported on Wednesday. Caitlyn and Kris, who have been feuding since the former came out as a transgender, are reportedly trying to come together to take the right decision for Kylie.
"They both have a lot of concerns about Kylie because she thinks she knows everything and doesn't listen to their advice. She's rushing to grow up and that scares them," a source close to the family told Hollywood Life. "They want her to slow down with Tyga and not rush into getting married. Unfortunately they feel like she just doesn't want to hear them."
Rumors of a secret marriage between Kylie and Tyga circulated this week after the 17-year-old realty television star posted a photo on Instagram showing off a new ring on her wedding finger. However, some reports said that Kylie was trying to grab the attention of her parents by posting the photo.
"This is the way Kylie gets attention from her parents -- by flashing a diamond ring on her wedding finger for the entire world to see," another source told Hollywood Life. "She knows neither of her parents would approve of her getting engaged right now, so why not stir the pot? This is her way of getting their attention. It's like she has to do something drastic to get their attention. It's really a cry for help."
Kylie also recently told Caitlyn that she is determined to marry her 25-year-old boyfriend. Kylie and Tyga's relationship went through a turbulent phase after rumors surfaced that the latter was cheating on his girlfriend with transgender model Mia Isabella. Despite the rumors that made the rounds earlier this month, the two have been going strong.
A recent report said that Caitlyn, formerly known as Bruce Jenner, is worried that Tyga is manipulating her daughter. Kylie's parents were also worried when the 17-year-old got entangled in Tyga's fight with his former girlfriend Blac Chyna over the custody of their son, King Cairo.
Not only Kylie's parents, but also her friends are not sure about the "Keeping Up With the Kardashians" star's decision to marry Tyga. "Most of [the Kardashian/Jenner] friends and family think Tyga is just using Kylie," an insider told Life & Style magazine.
© Copyright IBTimes 2023. All rights reserved.