Lady Gaga goes bald, Selena Gomez hosts MuchMusic Awards [Pictures, Video]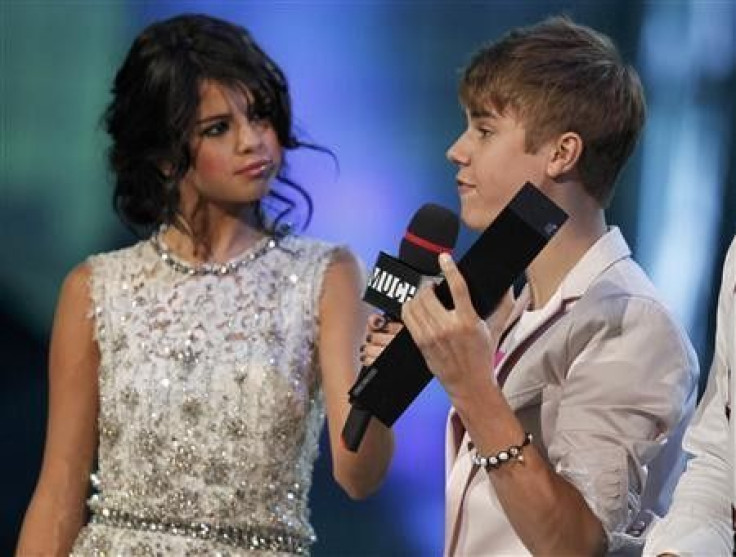 Lady Gaga wore a bald cap on the UK's 'Paul O'Grady Show,' where the singer sang her ballad 'Hair.' Gaga, who has been stretching her own limits lately by doing the reverse of what people might expect, opted for a simpler performance where the pop star played the piano, circled by a ring of fire.
The always dramatic Gaga wore a green dress that matched her green wig, of which she's donned as of late.
Gaga also performed 'Edge of Glory' with a head full of green locks during the MuchMusic Video Awards in Toronto on Sunday. Imitating her music video, Gaga danced on a fire escape and fist pumped in a blank ensemble. The singer also performed her hit 'Born This Way.'
Selena Gomez was also at the MuchMusic Video Awards on Sunday as host and performer. The actress turned singer sang 'Who Says' live.
The 'Monte Carlo' actress recently dished about Britney Spears on 'Good Morning America' when the young actress (turned pop singer) talked about working on a Britney song. She stated, I heard the song ['Whiplash'] and I fell in love with it. I thought it was really fun and catchy, and I went into the studio and it said on the thing, co-written by Britney Spears, and I almost had a heart attack. Gomez also stated that she will be doing a Britney tribute during her summer tour.
The 'Who Says' singer will pay tribute to Britney with a medley of Brit's songs during the tour, including some off the 'Femme Fatale' album.
Gomez told MTV.com that she is 'stoked' about the tribute. We're gonna do 'Baby One More Time,' and then I think we're going to try to incorporate 'Toxic' and that phase, and we might do some of her recent new stuff.
Gomez blushed when asked if she is going to do any of Britney's dances and said, I don't think so, I'm not even going to touch Britney like that. I wouldn't butcher it. I'm just going to [do a] tribute to her because she's awesome.
And for those ready to criticize Britney for any of her dance moves in the 'Femme Fatale Tour,' Justin Timberlake has Britney's back. After a video went viral about the pop songstress, comparing her old dancing days to her latest moves, Justin defended Britney. Timberlake stated: I don't have too much to say about her situation. I can't remember the last conversation I had with her. But this thing that happens online bothers me - these anonymous commenters.
People think they can say anything, and it doesn't matter to people. I'd love to see the people who comment about Britney online say those things to her face, because they couldn't.
Also, in Britney's defense, if you pulled up a video I did from 2003, I couldn't do the sh*t I did then either.
In other tour news, Nicki Minaj, who is traveling with Britney as the opening act, will not be joining the 'Femme Fatale' tour when it travels to Europe. On her Facebook Page, Minaj wrote, I will not be performing with Britney outside of the US and CANADA. Sorry!
'Hair'
'Edge of Glory'
'Born This Way'
'Who Says'
© Copyright IBTimes 2023. All rights reserved.