Lake Mead Water Level Drops To Record Low As Drought Dries Up Colorado River Basin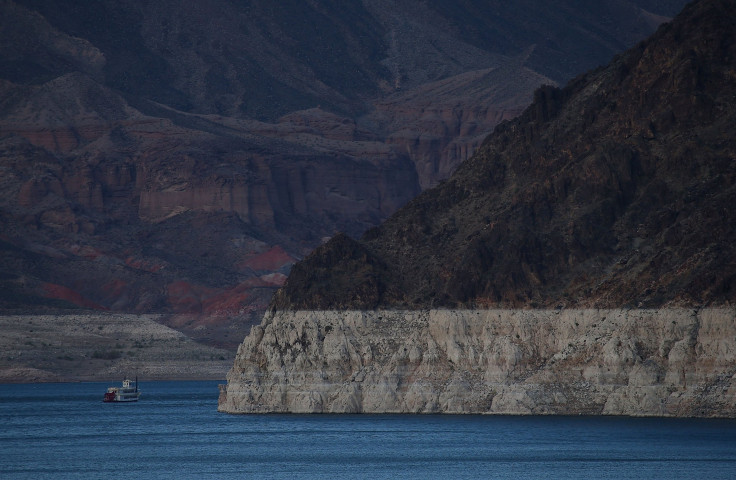 The water level in Lake Mead — the United States' largest reservoir that serves as a source of water for over 20 million people — has dropped to an all-time low, the U.S. Bureau of Reclamation, which manages the reservoir and the Hoover Dam, said Friday. Water level in the reservoir dropped to 1,074.34 feet Friday — bringing it to its lowest level since the dam was built in 1936.
"We have passed the historic low of June 25, 2015," Rose Davis, a spokeswoman for the reclamation bureau, told the Associated Press. "We expect the lake to continue to drop to levels near 1,070 feet by the end of June. However, they are expected to be back by Dec. 31 above the levels that would trigger a shortage declaration in 2017."
Lake Mead, whose high-water capacity is about 1,225 feet, is currently only 37 percent full. At 900 feet, Lake Mead becomes a "dead pool," which means that nothing would flow downstream from the Hoover Dam.
The reservoir has not reached full capacity since 1983, and, over the past 16 years, as the Colorado River basin reels under a historic drought, its water levels have fallen consistently.
"This problem is not going away and it is likely to get worse, perhaps far worse, as climate change unfolds," Brad Udall, a climate research scientist at Colorado State University, told the Desert Sun. "Unprecedented high temperatures in the basin are causing the flow of the river to decline. The good news is that we have time and the smarts to manage this, if all the states work together."
Officials from California, Nevada and Arizona — the three states that would face crippling water shortages if the reservoir's water levels drop further — are believed to be working on a deal to temporarily reduce water withdrawal from Lake Mead.
"Everyone is working together to see how we can leave more water in the system so that Lake Mead [isn't] below 1,075 [feet] at the end of the year," Davis told ABC News.
© Copyright IBTimes 2022. All rights reserved.
FOLLOW MORE IBT NEWS ON THE BELOW CHANNELS