Lana Del Rey Poses Nude in GQ; Why It's Not 'Sexist'
OPINION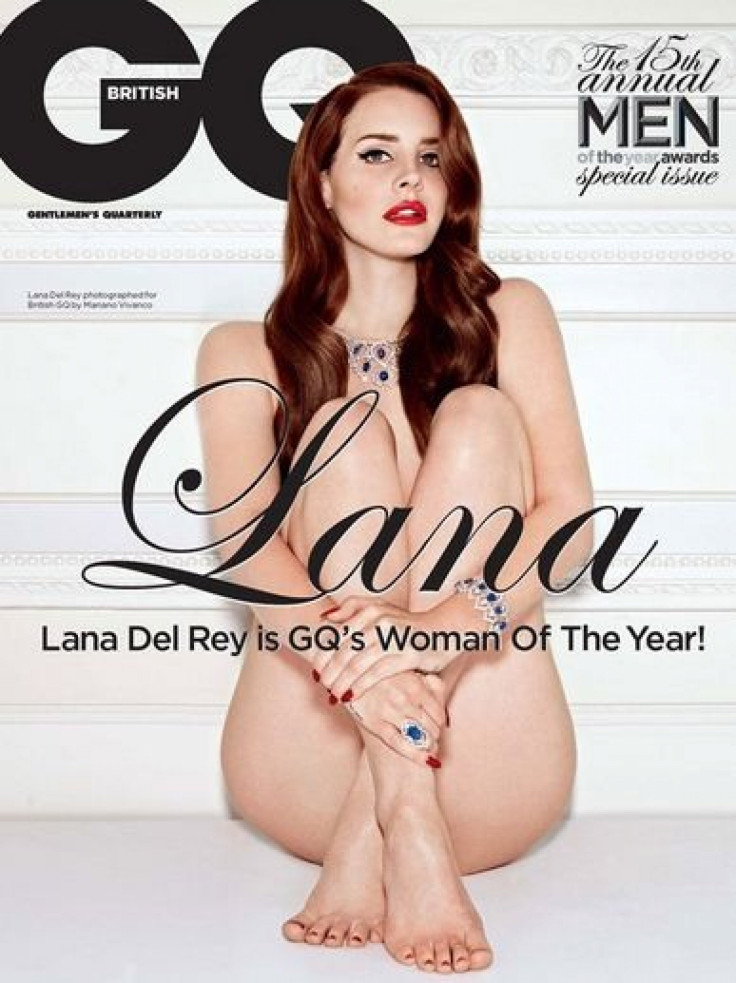 Indie songstress Lana Del Rey has come under attack again; this time, not for her musical talent (or her alleged lack thereof) but for posing naked on the cover of the October issue of British GQ.
Del Rey caused a major uproar last year her when she appeared as the musical guest on "Saturday Night Live" before the release of her first album, "Born to Die". Her performance, called by some the worst ever in "SNL" history, was loudly bashed by critics and viewers alike for seeming languid and unrehearsed.
But Del Rey, who has previously conceded that she is always nervous onstage and not "a natural performer," courageously defended her own performance, saying, "I actually felt good about it. I thought I looked beautiful and sang fine."
Although Del Rey's career has suffered from more than its share of ups and downs this year, GQ named her its "Woman of the Year" for 2012. She also graces the magazine's cover, seated on a white floor with her hands wrapped around her knees, draped in nothing but diamonds and sapphires -- a pose that prompted Jezebel writer Lindy West to decry "internalized sexism" in her article "GQ ran out of clothes for its woman of the year," and Hipster Runoff to run the headline, "Lana Del Rey finally hits rock bottom, forced to pose naked."
GQ, probably foreseeing an inevitable controversy, provided a helpful, if somewhat defensive explanation of why they picked Del Rey for the award, writing: "Having provoked equal amounts of debate and outrage throughout an incredible year, she fufills one of the key requirements for any good pop star: She gets talked about. Following the all-conquering 'Video Games' and her number one debut album 'Born To Die', Del Rey signed to NEXT models, wrote the best song on Cheryl Cole's last album, teamed up with ASAP Rocky and has acted as a muse and model to Mulberry, Jaguar and H&M. Truly 2013 is hers for the taking."
The magazine published four additional covers for their annual "Men of the Year Awards" issue that feature John Slattery, James Corden, Robbie Williams and Tinie Tempah. But unlike Del Rey, they all were photographed in suits and ties, provoking further ire from bloggers.
Inside the magazine, Del Rey is featured again, this time having her breast groped by GQ's creative director Paul Solomons, who is standing above her. "Objectification is complicated -- I don't have a problem with a naked lady here and there per se, but when ALL YOUR LADIES ARE NAKED, those of us ladies with clothes on start to wonder why you even keep us around," wrote West. "Like, you're just going to have one lady...and she has to be naked?"
Caitlin Welsh, in an opinion piece for the Australian independent live music website "FasterLouder" titled "Lana Del Rey: The Naked Truth," complained that while there's "nothing inherently wrong with a woman enjoying being looked at by men," the photos in GQ have a "sinister, exploitative vibe."
Welsh goes on to write that the only two possible ways we can interpret the photoshoot are that Lana Del Rey is parodying some type of "tortured startlet" character, or she believes that the shoot was glamorous and flattering.
Although the public criticism of the GQ photoshoot so far seems to pick up on a disturbing quality in the photos, namely Del Rey's unease and fragility in front of the camera, it misses something important: their authenticity.
Part of the backlash Del Rey has suffered has undoubtedly been due to the complicated, and often unfavorable, way she portrays her own sexuality; rampant with allusions to bad boys ("My old man is a bad man, but/He got a soul as sweet as blood red jam"), Lolitaesque self-references ("Can you hear me?/I can be your china doll/If you want to see me fall,") and admissions of helplessness and remorse ("When you walked out that door/A piece of me died/Told you I wanted more/That's not what I had in mind.")
Further complicating things, Del Rey also occasionally revels in these same references. But the more of her music you listen to, the more it begins to ring as tragically authentic. "'Lolita' is a novel about child rape. But Navokov's prose is so beautiful, woven so dreamily, that the reader nearly forgets. The reader must push through all that lush beauty to regain consciousness of the novel's horror," writes blogger Rachel R. White in her essay "Born to Die: Lana Del Rey and Women Using their Sexuality." "But isn't it exactly what Lana is serving? Her darkest places: abusive relationships, drugs, sexism, 'passive' sexuality, repressive gender roles - all made beautiful? Lana 'using' her sexuality in this light doesn't feel calculated... just genuine."
If taken at face value, perhaps Del Rey's photoshoot is not just an example of her or the editors of GQ needlessly exploiting her looks to sell magazines. Maybe, as in her music and videos, it's a strategic attempt to portray something genuinely dark and uncomfortable about herself in a beautiful light.
© Copyright IBTimes 2023. All rights reserved.