Laquan McDonald Shooting Update: Chicago Police Officer Jason Van Dyke Scheduled In Court For Arraignment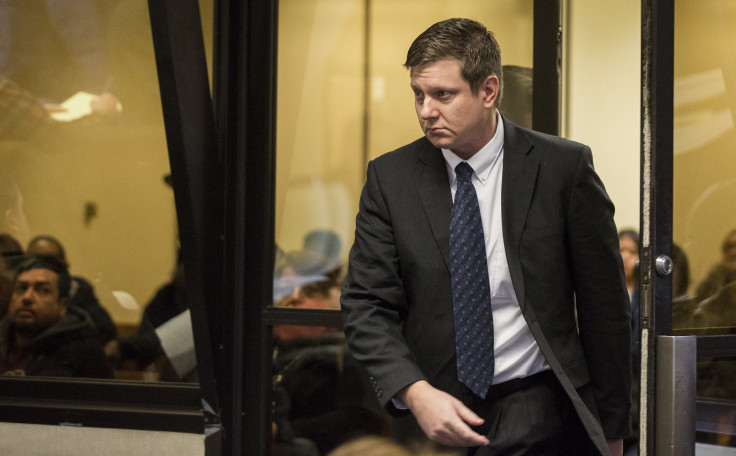 UPDATE: 11:23 a.m. EST — The attorney for the Chicago police officer indicted in the fatal shooting of 17-year-old Laquan McDonald said Tuesday his client pleads not guilty to charges of murder and official misconduct, local media reported. A new judge, Vincent Gaughan, was also assigned to the case of Jason Van Dyke during his arraignment Tuesday.
Gaughan famously presided over the child pornography case of musician R. Kelly, who was found not guilty on all 14 counts in 2008, the New York Times reported.
Van Dyke faces six counts of first degree murder and one count of official misconduct stemming from McDonald's shooting. The death — and the video released in November of the incident showing McDonald being shot 16 times by Van Dyke — have led to massive protests in Chicago.
Original Story:
The Chicago police officer indicted in the October 2014 fatal shooting of teenager Laquan McDonald was scheduled to be arraigned Tuesday morning and was expected to enter a plea during his court appearance, the Associated Press reported. Jason Van Dyke has been charged with six counts of first-degree murder and one count of official misconduct as a result of the shooting, an event that led to massive public outcry in Chicago, with many calling for Chicago Mayor Rahm Emanuel to step down.
Tuesday's arraignment would be the second court date in the case in as many weeks. Van Dyke appeared in court Dec. 18, and while the hearing lasted seconds, Van Dyke was yelled at by a crowd of people outside the courthouse, with some shouting "16 times and a cover-up." The dash cam video of the incident released in November showed McDonald was shot 16 times.
The footage of Van Dyke, who is white, shooting the black, teenage McDonald, led to protests, the ousting of Chicago Police Superintendent Garry McCarthy and the launch of a civil rights investigation of the police department. Dan Herbert, Van Dyke's attorney, said he might petition for a change of venue, as the case has been so widely publicized in Chicago, local news WMAQ-TV reported.
"I think with the current events and specifically the comments by the mayor in this case, not just on a day but continuing throughout the last few weeks, we intend to seek a change of venue," Herbert said according to WMAQ-TV. "And quite frankly Exhibit A is going to be the mayor and his comments, and we're going to have to find a county that is outside the reach of the mayor's comments."
After the release of the video, Emanuel said Van Dyke violated the professional standards of a police officer and the moral standards that "bind our community together." Emanuel has called for police reform after two people were shot Saturday — including a 55-year-old woman who authorities said was accidentally fatally shot — by a Chicago police officer responding to a domestic disturbance, the Washington Post reported.
© Copyright IBTimes 2023. All rights reserved.