Latest California Fires Map Update: Where Are Wildfires Still Burning?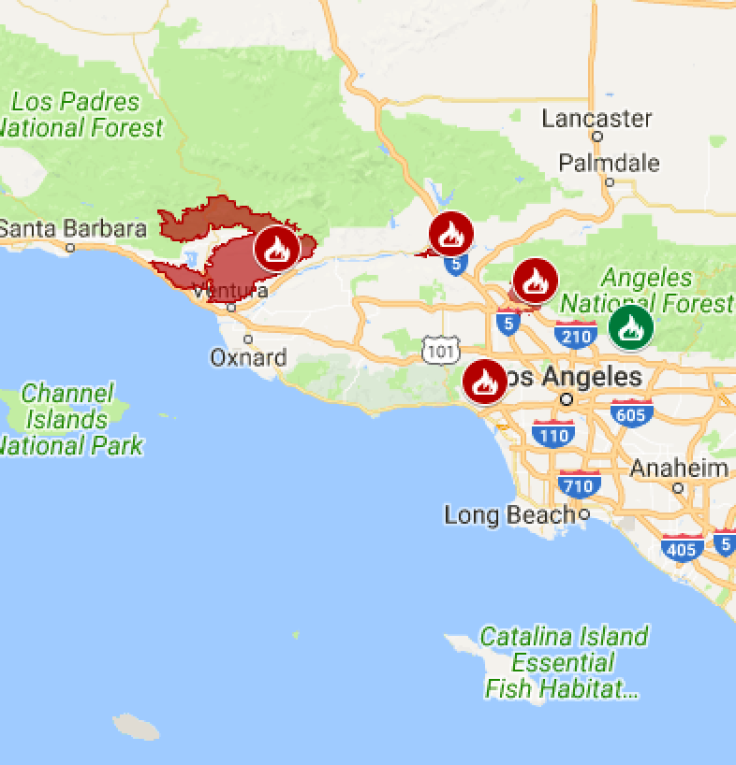 Monday marked the beginning of yet another week of wildfires in Southern California. Five fires continued to burn, including the massive Thomas Fire in Ventura County.
By Monday morning, the acreage of wildfires in California were larger than New York City and Boston combined, CNN reported. The latest map released by California's Department of Forestry and Fire Protection showed where the wildfires were still burning.
Thomas Fire
The Thomas Fire in Ventura County began Dec. 4 and continued to rage Monday afternoon. The fire had so far consumed some 230,500 acres of land and was only 15 percent contained. Almost 800 structures were destroyed, while an additional 187 were damaged, Cal Fire said.
More than 6,300 firefighters were on scene to battle the blaze with more than 850 fire engines and 27 helicopters.
Authorities warned severe fire weather including high temperatures and low humidity would continue to grow the fire and that control efforts would be hampered by strong Santa Ana winds. An estimated 94,600 people were under mandatory evacuation orders in Santa Barbara and Ventura counties. At least one person died so far, according to authorities. The cause of the fire remained unknown.
"Extreme fire behavior will continue to hamper control efforts," Cal Fire said. "Gusty northeast winds will cause the fire to threaten areas of the city of Santa Barbara. Fire will continue to threaten the communities of Carpenteria, Summerland, Montecito and surrounding areas."
Creek Fire
The Creek Fire, within Los Angeles City limits, was 95 percent contained Monday. The fire consumed more than 15,000 acres after breaking out along Kagel Canyon Road Dec. 5. Sixty residential buildings and 63 outbuildings were destroyed, while 55 residential and 26 outbuildings were damaged.
All evacuation orders issued as a result of the Creek Fire were lifted, Cal Fire said. Almost 1,000 firefighters worked to put out the flames and Cal Fire said it would be transferring management responsibilities for the fire back to teams at the Los Angeles National Forest and Los Angeles County and City Fire Departments.
Rye Fire
The Rye Fire was 93 percent contained as of Monday morning. After starting Dec. 5 along Rye Canyon Loop in West Valencia, the fire consumed more than 6,000 acres in almost a week. Six structures were destroyed and three were damaged, while another 5,460 remained threatened.
Some 652 firefighters continued to make progress containing the Rye Fire. The Los Angeles County Fire Department and Los Angeles County Sheriffs Department said both would stay on hand until the fire was 100 percent contained.
Lilac Fire
The Lilac Fire in San Diego County burned through 4,100 acres by Monday morning and was 80 percent contained. The flames started near Old Highway 395 at Dulin Road in Bonsall. All roads in the area were reopened, Cal Fire said.
Almost 2,000 fire personnel continued to work to contain the blaze as 1,500 structures were threatened. At last estimate, 151 structures were destroyed while 56 were damaged. Mandatory evacuation orders were lifted and residents were told they could return to their homes, Cal Fire announced.
Skirball Fire
The Skirball Fire broke out Dec. 6 near the 405 Freeway in San Diego County. The fire consumed about 422 acres by Monday morning and was 85 percent contained, the Los Angeles Fire Department said.
Six structures were destroyed while another 12 were damaged. All evacuation orders issued as a result of the Skirball Fire were lifted. Three firefighters sustained minor injuries, officials said.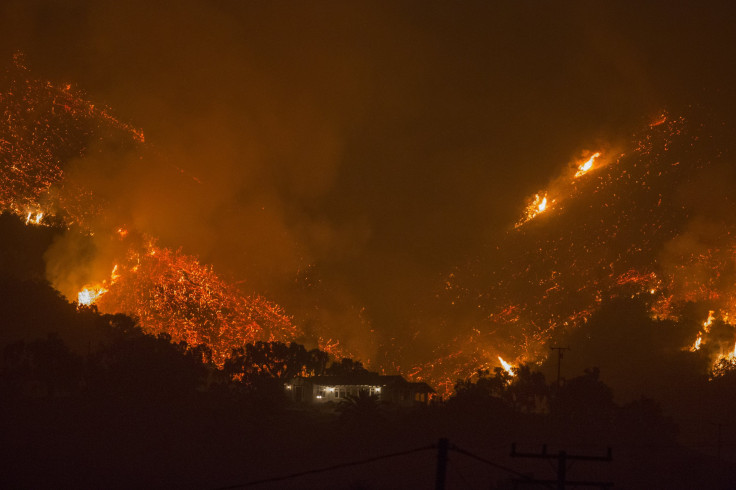 © Copyright IBTimes 2023. All rights reserved.