Lead In Water: 11-Year-Old Girl Creates Portable Detection Device, Wins Award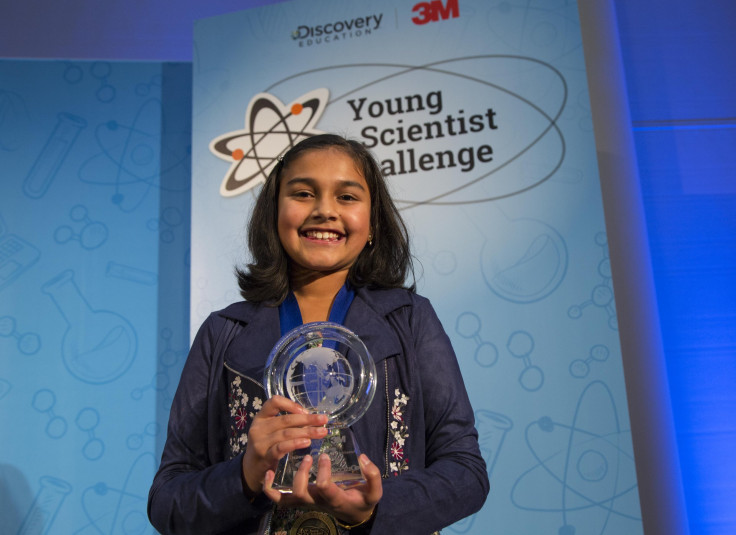 An 11-year-old from Colorado has created a portable device to detect the presence of lead in water, after she was inspired by the crisis in Filnt, Michigan. Gitanjali Rao from Lone Tree, Colorado, invented the device she calls Tethys, which also won her the 2017 Discovery Education 3M Young Scientist Challenge.
Tethys is "a sensor-based device that can detect lead in water faster than other current techniques. Rather than using expensive equipment for testing, Gitanjali's cost-effective approach to water safety uses a mobile app that populates the water's status almost immediately. Tethys is designed to be portable and easy to use, allowing individuals to test water safety whenever needed. She hopes to solve the water contamination crisis and decrease long-term health effects from lead exposure," according to a statement by the competition's organizers.
Gitanjali told International Business Times she had been following the happenings in Flint the last 2 years, and began working on a solution early in 2017. Work on the actual device design began about 3 months ago.
The sensor she built has three parts, she explained to IBT. There is a core processor, a carbon nanotube cartridge and a smartphone. The processor uses a battery and makes a complete electrical circuit with the CNT cartridge. The CNT is infused with chloride and when the cartridge is dipped in lead-contaminated water, the lead and chloride react to form lead chloride molecules in the CNT.
These molecules add resistance in the electrical circuit, which is measured by the core processor and then passed on via Bluetooth to an app on the smartphone. In a process that is almost instantaneous, the phone displays the level of lead contamination in the water. For successive tests, all that is needed is to switch out the CNT cartridge for a new one.
"The [testing] options today either involve sampling the water and sending to certified test labs or using test strips to test for presence. The former is accurate and the latter is fast. Current methods treat accuracy and speed independently. Also, there are issues with usability, cost, reliability, etc. My device combines accuracy and speed, and provides a solution that is reliable, user-friendly and is fairly inexpensive. It is designed to be used by anybody. The idea is to give any general user an easy, reliable way to test water themselves," Gitanjali said.
For the award she won, Gitanjali, like all other finalists, was paired with a mentor. In her case, it was Kathleen Shafer, a 3M research specialist. Shafer told IBT that Gitanjali built all the components for her device, which included a 3D-printed case, an Arduino-based multimeter, the Bluetooth communication module and the smartpone app as well.
"Gitanjali's passion for using science to improve lives inspired her to take on this incredibly important, but also very challenging, project this summer. What impressed me most was her tenacity and resolve throughout the project. She met obstacles head-on and made amazing progress," she said.
The award brings with it the title "America's Top Young Scientist" along with $25,000 in prize money. But Gitanjali also hopes the device, which is still a prototype, will be available for use by the general public soon. Given the current trajectory of development, she said that should happen within a year.
© Copyright IBTimes 2023. All rights reserved.