At least 36 Dead In Devastating Maui Wildfires; Hospitals Overwhelmed With Burn Patients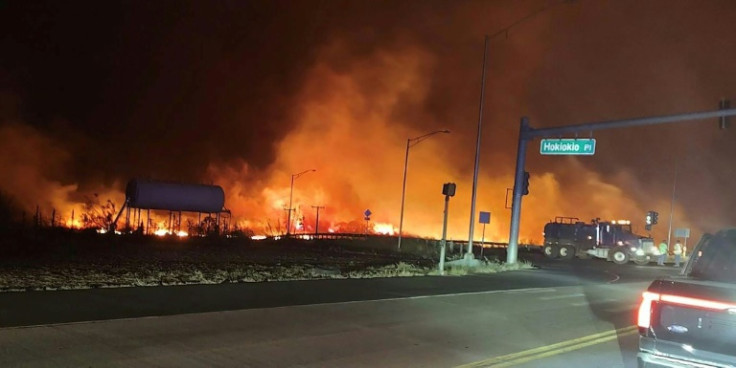 Wildfires raging across the Hawaiin island of Maui have claimed the lives of at least 36 people and led to the evacuation of thousands.
Officials said the devastating wildfires have destroyed buildings, scorched certain areas to the ground and caused widespread damage while hospitals are brimming with injured people.
"As the firefighting efforts continue, 36 total fatalities have been discovered today amid the active Lahaina fire. No other details are available at this time," Maui County officials said in a press release.
Hawaii Lt. Gov. Sylvia Luke said hospitals were overwhelmed with burn patients and with people receiving treatment for smoke inhalation.
The flames in Maui and to a lesser extent Hawaii's Big Island sparked and spread Tuesday after being partly fanned by strong winds from Hurricane Dora. The wildfire spread through neighborhoods and torched down people's homes and businesses Wednesday.
Search and rescue efforts are being conducted along the west Maui coastline, and thousands currently do not have cell service, which could take days or even weeks to resume after the networks are fixed.
More than 2,100 people were spread across four emergency shelters in Maui Tuesday night. Hawaii Gov. Josh Green told CNN there's enough room to shelter people for a few days but "not enough shelter for long-term living."
"Many families are struggling right now, and we want to send our aloha to them, and prayers to them. We are set up to accommodate 2,000 people [on Oahu]," James Tokioka, director of the Department of Business, Economic Development and Tourism, said. "Many hotels here that weren't full are now full. People are going straight from the airport and to their accommodations — that's a good thing."
"The rest of the state is open — Kauai has rooms. We want to make sure there is other accommodations available," Tokioka added.
© Copyright IBTimes 2023. All rights reserved.