LeBron James Caught Cheating On Wife Savannah Brinson With Instagram Model Rachel Bush Through Screenshots Of DMs?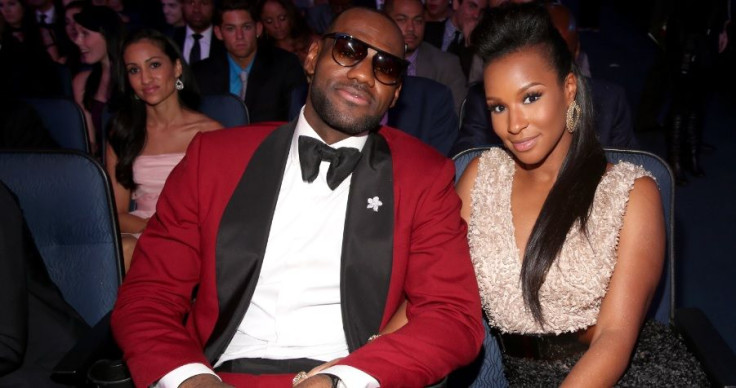 Rumors started swirling Tuesday that Cleveland Cavaliers star LeBron James was cheating on wife Savannah Brinson with Instagram model Rachel Bush. Screenshots of their purported direct message conversations were slathered over the internet.
Bush, who has nearly 230,000 followers on Instagram, apparently started the rumors when she posted a photo from the Cavaliers home game Monday. The message, which used emoji, essentially said basketball with bae. (Bae is slang for "before anyone else," or babe.) James was pictured in the foreground.
Things got more scandalous when James allegedly sent her a DM that said, "Hey, what's up!" through his verified Instagram account. She posted the message to her Twitter account with the caption "Haha wut?" It was scrubbed from her Twitter account, along with every tweet and picture on the @Rachel_bush page. Lucky for creepers of the web, the message was preserved on Barstool Sports.
If James, 31, were trying to be unfaithful to his wife, it looks like the 18-year-old killed any chance of that before it even happened. Neither James nor Brinson have responded to the cheating rumors.
The NBA star, who starred in the movie "Trainwreck" alongside comedian Amy Schumer and Bill Hader, has been with Brinson since his high school days, finally tying the knot in 2013. They are parents to two sons, LeBron Jr. and Bryce Maximus, and daughter Zhuri.
Brinson, 30, regularly shares pictures of their children on Instagram. She last posted a picture of their family breakfast Saturday, before the cheating scandal erupted.
Ignoring the infidelity chatter, James posted a video of himself lip-synching to music. "Headed to get that work in on our day off bumping the homie @jerreau new LP "Never How You Plan". What's a day off though!?!? Let's go people. Don't let nothing stop u from having fun, working hard and smiling!" he wrote on Instagram Tuesday.
Follow me on Twitter @mariamzzarella
© Copyright IBTimes 2023. All rights reserved.