Lee David Clayworth: Canadian Teacher Target Of Relentless Cyberbullying By Ex-Girlfriend, Called A Pedophile, Sex Maniac, Pervert [PHOTOS]
Lee David Clayworth just can't get away from his ex.
The 35-year-old Canadian teacher says his career prospects are in jeopardy because an ex-girlfriend has been cyberstalking and maligning him for two and a half years, CBC reports.
"I did a Google search of my name and I saw profiles listed saying … I am a psychopath, I am a child molester, a pedophile, I am involved with my students, and so on — and then that just steamrolled," Clayworth said.
While teaching in Malaysia in 2010, Clayworth dated a woman named Lee Ching Yan. After they broke up, Clayworth said, she broke into his apartment and stole his laptop, hard drive, passports, driver's license, birth certificate, teaching portfolio, money and clothes.
A couple weeks later Clayworth discovered Yan had hacked into his email and Facebook accounts. She sent messages to his friends, coworkers and students posing as him and describing a sexual encounter he had with a 15-year-old, Metro News reports.
She also posted a photo of him naked in the shower to his Facebook page.
Clayworth successfully sued Yan for defamation in Malaysia, where she was ordered to pay $66,000 in damages – but she didn't stop.
"We'd both be in court for proceedings and, you know, four hours later, she would be at it again. Online, posting stuff," Clayworth told CBC.
A Google search of Clayworth's name reveals a posting on the website liarscheatersus.com that calls Clayworth a cheater who sleeps with prostitutes and has genital herpes after contracting chlamydia. The post has since been removed.
Several memes have been created using Clayworth's personal photos. Although removed from their original site, they continue to circulate online.
Warning: Photos are graphic.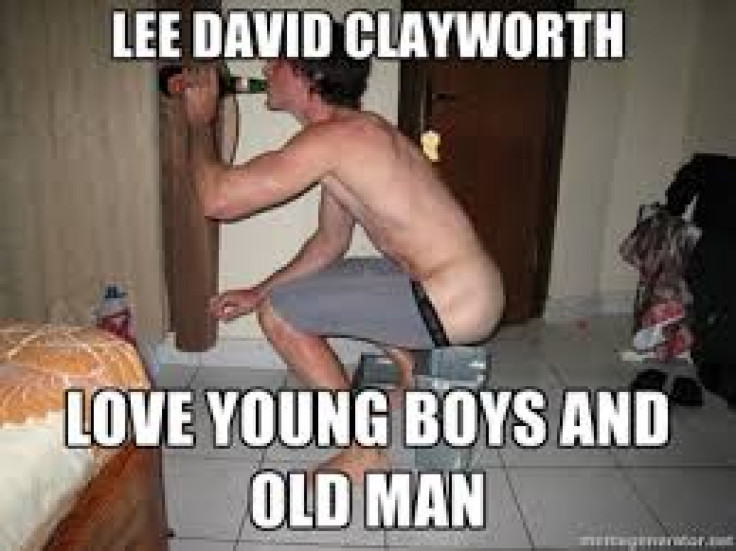 Clayworth tried to remove the defamatory posts by sending requests to websites and search engines like Google and Bing. Most were unresponsive, Today reports.
"The main hurdle to [Clayworth's] success here is that he sued [Yan] in Malaysia," Jeff Hermes, director of the Digital Media Law Project at Harvard University's Berkman Center for Internet & Society, told Today.
Companies like Google "will only respond to court orders in certain jurisdictions," he said. He could refile in other jurisdictions but may be challenged by freedom of speech laws in different countries.
Since returning to Vancouver, British Columbia, in January, Clayworth has applied for teaching jobs but hasn't had any luck.
"Emotionally, it's one of the most frustrating and draining things I've ever been though," he told Metro News.
Reflecting on cyberbullying in general, Clayworth says he empathizes with teenagers who have been victimized. In Clayworth's own province a high-profile case of cyberbullying made news in the fall. In October, 15-year-old Amanda Todd, who posted a YouTube video about being cyberbullied to the point of depression, committed suicide.
A recent poll found that 12 percent of the world's teens have experienced cyberbullying – the act of abusing another person using online platforms like Facebook, Twitter and blogs.
"This stuff is literally killing people," Clayworth said. "I know what it's like to be in that corner, and I'm 35 years old. To be in that position as a teenager and to have to walk into your school every day — I mean, it was hard enough for me to go in there as a teacher, nevermind as a student."
© Copyright IBTimes 2023. All rights reserved.