'Legends Of Tomorrow' Spoilers: Ava Goes Missing In Season 3, Episode 16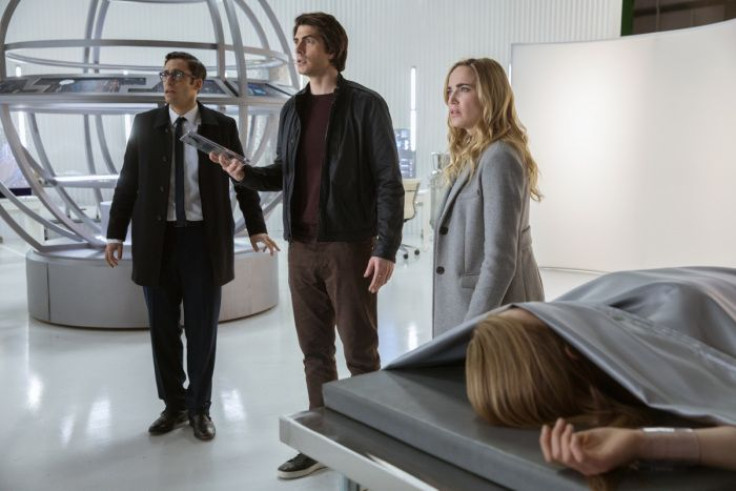 Ava disappears in the next episode of "Legends of Tomorrow."
According to the synopsis for Season 3, episode 16 of the CW series, Gary (Adam Tsekhman) enlists the help of the Legends when Ava (Jes Macallan) goes missing. When Sara (Caity Lotz) and Ray (Brandon Routh) accompany Gary to find Ava, the trio discovers a disturbing truth about the Time Bureau director.
In the trailer for the hour, Sara, Ray, and Gary find themselves in a world where there are several other Ava Sharpe's. Clearly, Ava doesn't have any prior knowledge about it, as she's just as surprised as Sara, Ray, and Gary when they're greeted by an army of Ava Sharpe's.
While Ava has no previous idea about this aspect of her identity, Rip (Arthur Darvill) seems to have been privy to this secret for a long time. As fans will remember, Rip said at the end of Season 3, episode 13 that there's something "special" about Ava, and told Gideon (voiced by Amy Pemberton) to delete file 354-Z in her database. While the former Waverider captain didn't mention anything about the content of the file, Rip suggested that Sara might find out the truth about Ava if the file is not removed from the time ship's system.
Elsewhere in the next episode, Amaya (Maisie Richardson-Sellers) tasks Zari (Tala Ashe) with helping train Mick (Dominic Purcell) in controlling the Fire Totem. Mick wielded the Fire Totem for the first time in Season 3, episode 15. The Heat Gun-wielding Legend was initially hesitant about using the Fire Totem, insisting that he's not a hero. But when Amaya made him realize that there's a good man deep within him, Mick agreed to wear the totem and managed to save the whole crew from the Mallus-possessed Sara.
Also in the upcoming installment, Nate (Nick Zano) and Wally (Keiynan Lonsdale) set out on a mission that goes awry when they pair with an unlikely person to try and get a one of the six mystical totems
"Legends of Tomorrow" Season 3, episode 16, titled "I, Ava," airs on Monday, March 26 at 8 p.m. EDT on The CW.
© Copyright IBTimes 2023. All rights reserved.