Lenovo Q1 Gains Overshadowed by PC Market Concerns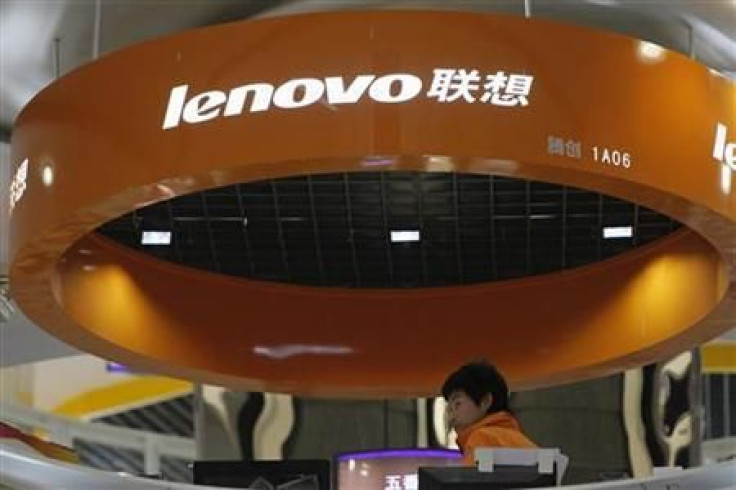 China's Lenovo Group Ltd, the world's No.3 PC brand, joined rivals in flagging concerns about the weak global economy and euro zone debt crisis, overshadowing a doubling in first quarter profits.
Buoyed by strong sales in China and other emerging markets, Lenovo said on Thursday it had lifted its lagging margins and increased its share of key markets, helping it post earnings which topped analysts' forecasts.
Lenovo said net profit was $108.8 million for the quarter ended June, from a revised $54.9 million a year ago.
However, its shares slid as much as 9 percent amid a broad tech sell-off sparked by U.S. peers.
Shares of Dell Inc, the world's No.2 PC maker, and bigger U.S. rival Hewlett-Packard Co tumbled on Wednesday after Dell's weak outlook heightened concerns the long-hoped for recovery in technology spending by corporates and governments may now not appear.
Some investors might be worried that what happen to Dell might apply to Lenovo, said Steven Tseng, an analyst at Samsung Securities. I don't think that is such a big concern for Lenovo.
About 60 percent of Dell's shipments are to developed countries, while 60-65 percent of Lenovo's are to emerging markets, he said.
In Lenovo's case obviously they have a much higher exposure in emerging markets. Even though the global growth might slow down but still you may have a better growth from the emerging markets. I don't necessary agree that Lenovo will substantially slow down.
CHALLENGES LOOM
HP reports quarterly earnings later on Thursday, with analysts braced for a more cautious tone from the top-ranked PC maker.
Although the worldwide PC market has shown marginal improvement and returned to growth during the fiscal quarter one, challenges to worldwide PC demand remain such as the pace of global economic recovery and the ongoing debt crisis in western Europe, Lenovo said in a statement.
Analysts said Lenovo might feel little impact from weaker public spending, although a sluggish global economy could be a risk factor for some of its markets.
I don't think Lenovo's exposure to the public sector is that big. Because of that, they are likely to be much better off in terms of growth, said Gokul Hariharan, an analyst at JPMorgan.
Lenovo, the most well-known Chinese PC brand, is trying to grab market share in its mainstay PC business, a sector whose growth has been stunted by handheld gadgets that allow users to make calls, surf the Internet and check emails.
Although the overall (mature) market is shrinking, the commercial market still has positive growth. So the corporate refreshment cycle will continue, so we can definitely benefit from this area, Lenovo CEO Yang Yuanqing said on a conference call.
In the consumer area, although the market is very weak, we have a very small market share in mature markets, so there is less impact.
Lenovo's Hong Kong-listed shares rose as much as 3 percent after it announced the results before ending a volatile day down 6.5 percent. They under-performed the blue chip Hang Seng Index, which fell 1.3 percent.
Taiwan's Acer, the No.4 PC maker, shed 5.7 percent.
CHINA KEY
Lenovo's profit topped consensus forecast for a net profit of $78.6 million, according to the average forecast of seven analysts polled by Thomson Reuters I/B/E/S.
During the quarter, China made up 48 percent of total sales, while other emerging markets contributed about 18 percent with the rest coming from mature markets, according to its financial statement.
Lenovo is the top PC vendor in China with a market share of 31.7 percent, according to research firm IDC's April-June figures.
Globally, Lenovo's market share rose to 12.2 percent in April-June from 9.9 percent in the first three months of 2011.
The company said it was open to further global acquisitions after buying Germany's Medion AG in June.
The Medion deal is the biggest for the company since it bought IBM's PC unit six years ago.
Lenovo, which is pushing into mobile devices to take on competitors such as Apple and Samsung Electronics, said it sold just 81,000 of its Lepad tablet PCs in China in the first quarter. It said it was still targeting 20 percent of the China market.
© Copyright Thomson Reuters 2023. All rights reserved.