'Les Miserables' Audience In Standing Ovation Over Hathaway, Hooper; How Russell Crowe Helped Hugh Jackman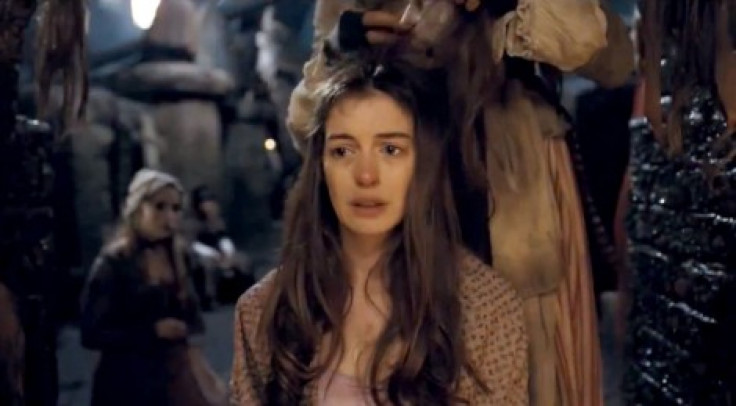 Chatter around which films deserve award nominations is already afoot with the success of "Silver Linings Playbook" and "Lincoln," but is expected to swell further as the release date for "Les Miserables" nears. The epic musical, boasting a cast of Anne Hathaway, Russell Crowe, Hugh Jackman and a host of others, had critics in a standing ovation at a recent New York City screening.
The Hollywood Reporter praised British director Tom Hooper after the Black Friday screening, surmising he could become only the 19th person to win two Oscars for best director. (Hooper won the award just two years ago for "The King's Speech".)
The trade magazine cited Hooper's bold method of filming a musical. The director had actors rehearse a full nine weeks before filming started. Instead of lip-syncing to a prerecorded soundtrack the stars wore earpieces from a piano playing live and adjusted to its tempo.
Anne Hathaway's performance as Fantine was another highlight for critics because she lost 25 pounds for the role and reportedly portrayed her character in a way few thought her capable. THR named Hathaway as the frontrunner for best supporting actress and her fellow "Les Miserables" stars would probably agree.
Russell Crowe and Hugh Jackman, both Australians, play French enemies in the film but said in recent interviews they have long been friends in real life.
"We really pushed each other," Jackman, who plays Jean Valjean, told Entertainment Weekly. "That rivalry at the beginning, it really is a constant throughout. It had to be strong, and it's really one of the spines of the story, that runs from beginning to end."
The actor also said Crowe, who plays Javert, is directly responsible for his starring in "Wolverine" and "Australia."
"Russell has given me advice several times at key moments in my life that helped with my career. I also owe him because two of the biggest roles I've ever had in my life, he turned down – and suggested me for them," Jackman said.
© Copyright IBTimes 2023. All rights reserved.