Les Moonves Boycotted Janet Jackson After 2004 Super Bowl Wardrobe Malfunction
After several woman opened up in a New Yorker article last month about sexual harassment claims against the CEO of CBS, Les Moonves, a new report exposed a revengeful side of the network mogul that was previously unknown.
According to the Huffington Post, which spoke to several anonymous sources inside the network, Moonves was known to hold grudges against anyone, including celebrities, who tried to tarnish his public image and reputation. He reportedly went to extreme lengths to ruin the careers of people who defied him.
One such celebrity, who was targeted by Moonves over the years, was singer Janet Jackson.
Jackson suffered a wardrobe malfunction during the Super Bowl halftime performance back in 2004. In the infamous incident, her co-performer, Justin Timberlake, mistakenly tore off more material from her chest area than was originally rehearsed, which exposed one of her breasts for a fraction of a second on stage. The initial plan was for Timberlake to tear off the leather clothing, exposing her red-laced bra.
Following the error, both Timberlake and Jackson went on record multiple times to clarify what really happened and how it was not a staged event. However, according to the report, Moonves said the incident caused him much embarrassment and he believed it was an intentional stunt by Janet to get attract attention.
Apart from that, CBS and MTV (the parent company of CBS at the time), which produced the halftime show, had to pay $550,000 in Federal Communications Commission fine due to the incident.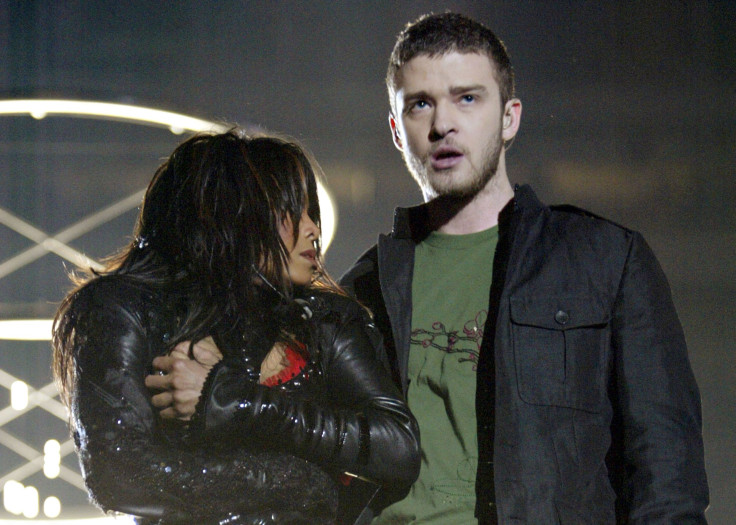 While Moonves vowed to boycott both the stars, initially banning them both from the Grammys broadcast airing on CBS the week after the Super Bowl, he did come around to forgive Timberlake, letting him perform in the award show after the singer reportedly made a tearful apology to the businessman.
And since no such apology came from Jackson, Moonves' anger toward her only grew over the years.
According to the Huffington Post's sources, Moonves ordered VH1, MTV, and all Viacom-owned radio stations to stop playing Jackson's songs and music videos. As a result, the sales of Jackson's album "Damita Jo," which was released in March 2004, just a month after the Super Bowl, took a big and so did her career – which till then had produced 10 number 1 hits.
Although the malfunction was a direct result of Timberlake's manner of pulling at Jackson's attire, most of her fans were frustrated at how the controversy was being against their idol's favor, as more and more people held him solely responsible for the mishap. A number of insiders who spoke to the publication, believed Moonves had a huge role to play in turning the public discourse against Jackson.
Even after seven years since that incident, Moonves was furious to find out Jackson had singed a book deal for "True You: A Journey to Finding and Loving Yourself" with Simon & Schuster, which was owned by Viacom.
"How the f--- did she slip through?" Moonves reportedly told a source while talking about Jackson's book deal. It is unclear if he actively tried to stop the deal from going through.
According to a latest CNBC report, Moonves was negotiating his exit from CBS, following sexual harassment accusations brought against him. While his original severance package included $180 million and a production deal, the network had revised the exit deal to include $100 million in stocks.
The network was also prepared to revisit the offer and cut it back even further if the allegations against Moonves were confirmed. Negotiations regarding his exit have been going on for quite some time but no deal has been signed so far as none of the parties could reach an agreement regarding the package.
© Copyright IBTimes 2023. All rights reserved.