LG Enables Google Assistant On 2018 OLED, Super UHD AI TVs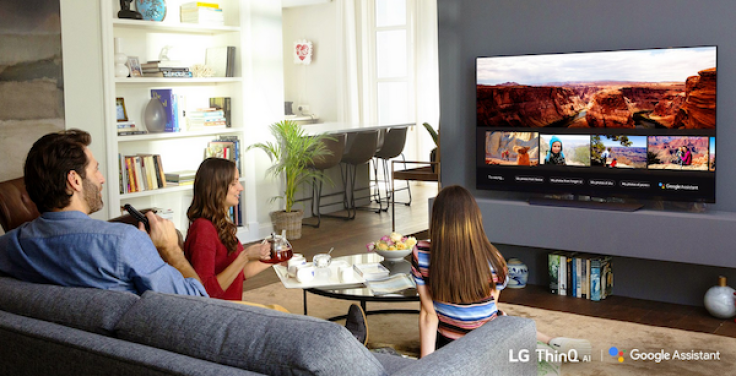 LG Electronics has announced that its 2018 lineup of OLED and Super UHD TVs now have Google Assistant.
The South Korean technology company took to its online newsroom Wednesday to confirm that all models of its 2018 AI TV lineup are arriving with the Google Assistant voice recognition system. The integration means users will have access to many features using Google's digital assistant.
According to LG, it has collaborated with Google to bring more convenience to its consumers' lives. The company pointed out that with Google Assistant on board, users can take advantage of cutting-edge AI features operated directly through its TVs' remote control units and without the need of additional hardware.
"With the Google Assistant now available natively in 2018 LG AI TVs, I believe we're going to see a whole new level of AI adoption in the home," LG's Home Entertainment Company President Brian Kwon said.
Kwon also noted that the LG G7 ThinQ maker's partnership with Google has made it possible for the South Korean brand's TVs to be the first ones to have Google Assistant integrated into their OS.
"LG's unique partnership with Google allows us to be the first TV brand to offer the Google Assistant on our own OS which is a huge benefit for customers who are fans of webOS. With great partners like Google, we expect there to be many more exciting AI news to come from LG," Kwon said.
Yonhap has learned that users of LG's new AI TVs can change channels using voice commands for Google Assistant. They can also take advantage of Google Assistant's ability to understand more complex orders, like "Turn on classical music from YouTube." Users can also ask Google Assistant to access their Google accounts, check their schedules and even view photos saved on Google Photos.
"U.S. consumers are now able to enjoy more developed services provided by the Google Assistant and the Deep ThinQ, which is an AI platform developed by our company. We expect the services to reach another level down the road, such as allowing users to order food (with TVs)," an LG representative said.
LG officially introduced its new AI TVs this past March. The lineup is composed of ten OLED models and nine Super Ultra HD models. LG said at the time its new TVs have the special function of serving as smart home hubs that can access and control other smart home products.
© Copyright IBTimes 2023. All rights reserved.