LG Patents New Foldable Smartphone Design
Today's technologies allow various companies to create small displays that can be folded. With that said, several tech companies are clamoring to release the best foldable smartphone to date.
Samsung, which released the ambitious Galaxy Fold recently, is reportedly working on a new device with a clamshell form. Lenovo-owned Motorola, on the other hand, released the first clamshell foldable smartphone in the form of the Razr reboot. Huawei, for its part, introduced a new foldable smartphone design that folds outward.
South Korean tech giant LG, also hoping to release great foldable smartphones of its own, continues to file patents related to foldable smartphone designs. A new patent filing, spotted by Dutch-speaking site Let's Go Digital, reveals the company's plans to create a new foldable device that can be held in one hand, even when unfolded to maximum size.
The yet-unnamed device is very different from other foldables in many aspects. First, LG's new foldable only has one hinge unlike the Mate X which has two hinges. Second, this hinge folds outward, unlike the Galaxy Fold's hinge which folds inward.
Interesting
The patent images also reveal a few interesting things. First, the images reveal that the device won't be all-display. A huge bezel at the left side of the display runs from top to bottom and holds a camera array. Not much is revealed about the cameras, but the illustrations show that the device might have at least two cameras.
Second, there's a huge bump at the back of the phone when it is unfolded. Some might think the bump is ugly and reminiscent of the bump on Apple's iPhone 11 smart battery case, but it's not. This bump will likely house important components and will also work to help users hold the device easily when the device is unfolded.
Based on the illustrations, users can hold the device with just their left hand; the left thumb will rest on the front bezel, while the palm and fingers can rest at the back while holding the bump.
Third, the right half of the device can be folded to cover the phone's rear bump. The bump, in effect, will also serve to fill in the gap that will otherwise be near the hinge when the device is folded – similar to the gap near the hinge when the Galaxy Fold is folded.
But it's all just a patent at the moment. Nothing is sure about the device, if it'll be released in the future or if it'll be in production at all.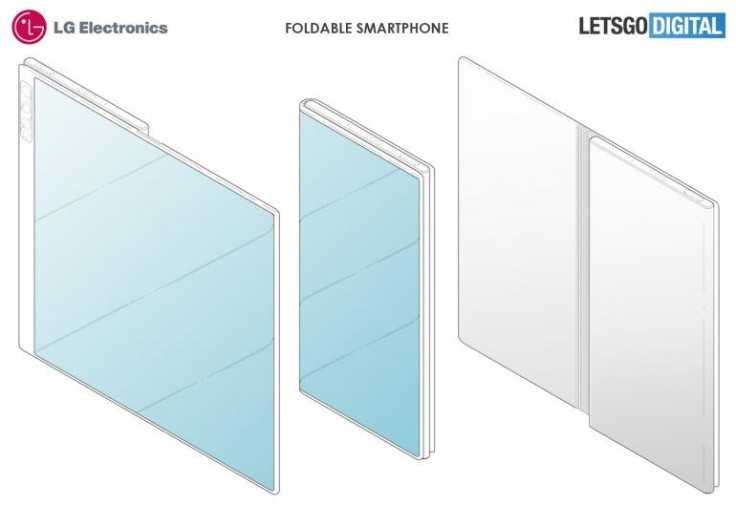 © Copyright IBTimes 2023. All rights reserved.