'Lights, Camera, Christmas!' Hallmark Movie Premiere: Cast, Trailer, Synopsis
Hallmark Channel's merry holiday season continues with the newest "Countdown to Christmas" holiday premiere, "Lights, Camera, Christmas!" The film, starring Kimberley Sustad and John Brotherton, premieres Saturday night.
The film will be an absolute holiday treat for fans, as Sustad is certainly no stranger to Hallmark. Some of her more recent titles have included "Cooking with Love," "Sense, Sensibility and Snowmen," "Wedding Every Weekend," "Christmas by Starlight" and "The Nine Kittens of Christmas," though she has also appeared in several others over the years. She also has starred in Hallmark Movies & Mysteries' "Morning Show Mysteries" and "A Godwink Christmas" as well.
As for Brotherton, he will also be a treat in the film, as fans likely recognize him for his role as Dr. Matt Harmon on "Fuller House," but also from his debut Hallmark film in 2021, "The Christmas Contest." This will be his second foray into Hallmark Christmas fare.
Laura Soltis ("Autumn in the City") also stars.
So what can fans expect from this film? Let's find out.
"When a movie shoot descends on a small town to film a Christmas movie, local boutique owner Kerry (Sustad) gets hired at the last minute to replace the film's costume designer," a synopsis reads. "As if this unexpected turn of events isn't major enough, Kerry also finds herself falling for Brad Barton (Brotherton), the movie's famous and charismatic leading man who is starting to pursue more challenging acting roles."
The idea of a romance with Brad initially seems crazy to Kerry, but as everyone in the town, including her mother (Soltis), shares excitement over the movie, she starts to let her guard down more and begins to discover a love for more than just Brad.
"Kerry begins to reconnect with her lost love of the holidays while discovering a renewed passion for clothing design," the synopsis teases.
However, while the romance might be good for Kerry now, both she and Brad will have to consider what their future holds as the shoot comes to an end.
"As her relationship with Brad deepens, they will need to decide if their career ambitions and romance can coexist," the synopsis concludes.
"Lights, Camera, Christmas!" premieres Saturday, Nov. 5 at 8 p.m. EDT on Hallmark Channel.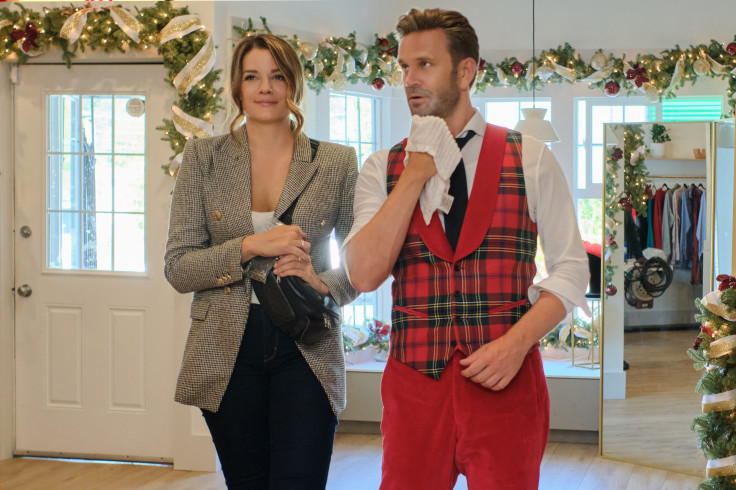 © Copyright IBTimes 2023. All rights reserved.