Lili Reinhart, KJ Apa Dish On Betty, Archie's Shocking Kiss In 'Riverdale'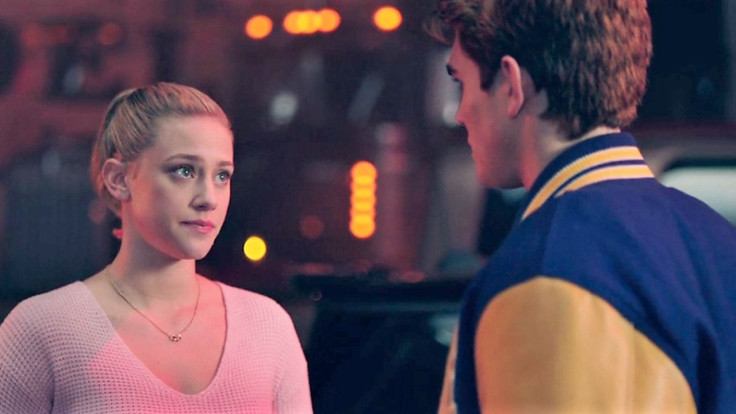 Lili Reinhart and KJ Apa recently opened up about Betty and Archie's shocking kiss in the midseason finale episode for "Riverdale" Season 2.
While speaking with Entertainment Tonight, Reinhart said that Betty and Archie's connection is so strong because they've been friends for a long time. "Even though you don't get to see every little detail of their past or their history, when she says that they listened to it when they were five years old, it just paints a picture for you of how long these people have been in one another's lives and it's just really sweet," she said.
Apa, on other hand, acknowledged the fact that Betty and Jughead (Cole Sprouse) won't be pleased to see Betty and Archie kissing. But the actor said that if they are confident with Bughead's feelings for each other, there's nothing to worry about.
"I think Budhead fans might not be happy. But if they're confident Bughead fans, then they've got nothing to worry about. The few Barchie fans that are out there will think that it's pretty good. I guess," he said.
Warning: This article contains spoilers from the recent episode of "Riverdale" Season 2. Read at your own risk!
Meanwhile, the midseason finale episode of "Riverdale" Season 2 has also revealed the identity of the Black Hood killer, and it's none other than Mr. Svenson (Cameron McDonald). After weeks of receiving torturous calls and e-mails from the Black Hood, Betty and Archie try their luck at unmasking the hooded figure. Following an outdoor confrontation, Sherriff Keller (Martin Cummins) shoots the Black Hood before the latter could hurt Archie and Betty.
When they removed his hood, the best friends discover that Mr. Svenson is the one behind all of the recent murders in the town of Riverdale.
But now that Mr. Svenson is killed, someone else is about to continue his evil deeds. While Archie and Veronica (Camila Mendes) kissed and made up on his front porch, an unnamed character took photos of the couple.
"Riverdale" Season 2 will return to The CW sometime next year.
© Copyright IBTimes 2023. All rights reserved.