Lindsay Lohan Arrested In Hit-And-Run After Twitter Outrage Over Amanda Bynes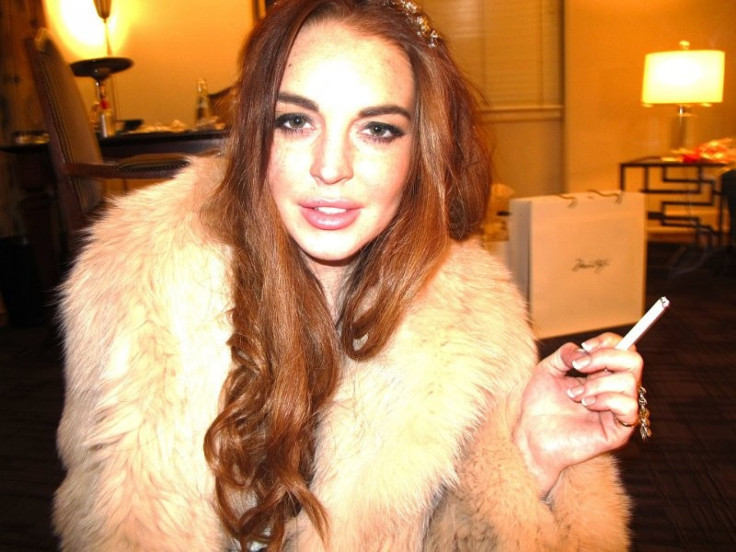 Lindsay Lohan may have just been on Twitter voicing her outrage over Amanda Bynes not being thrown in jail for her driving issues...but now it appears that Lohan herself has been arrested for her own driving troubles.
The former Disney star was arrested in New York City Wednesday morning after allegedly being involved in a hit-and-run accident.
According to the New York Daily News, Lohan hit a pedestrian with her Porsche when trying to park in heavily populated area by the Dream Hotel in the Meatpacking District. A police source told the newspaper that the actress was hitting her horn and going very slow through the crowd but ended up "brushing" up against one pedestrian.
"He runs up to her, tells her she hit him," the police source told the Daily News. "They get out of the car, there's some interaction with her, her entourage and the guy."
According to TMZ, someone called the police on the actress when she and her friends went into the hotel following the incident. Upon leaving the hotel at 2:30 a.m., police arrested Lohan, booking her for leaving the scene of an accident. A misdemeanor charge, Lohan was released with a desk appearance ticket and not forced to pay bail.
The latest arrest for Lindsay Lohan follows a string of angry tweets she sent out over the weekend regarding the latest drama surrounding actress Amanda Bynes, who recently had her car impounded by police. "Why did I get put in jail and a Nickelodeon star has had NO punishment(s) so far?" Lohan Tweeted on Sunday. LOhan followed up her comment with another, stating, "These are the moments that I appreciate my life experiences, living without regrets and Disney for supporting me as an actress -- night all."
Lindsay Lohan's police encounters began in 2007. On May 26, 2007, Lohan was arrested on a misdemeanor drunk driving charge after losing control of her car in Beverly Hills. A few weeks later, on July 24, 2007, Lohan was arrested after a Santa Monica woman claimed Lohan tried to run her over. In the second incident, the actress was charged with drunk driving, cocaine possession and driving with a suspended license. On February 9, 2011, Lohan was charged with felony grand theft for her involvement with a necklace missing from a jewelry store.
Since her initial arrest, the actress has had a handful of failed drug and alcohol tests, along with a couple other violations from her court agreement. Her latest arrest in New York on Wednesday morning could send her back in court, due to her jewelry theft case. While on probation, the actress was ordered to obey all laws, something she failed to do when fleeing the scene of the accident.
© Copyright IBTimes 2023. All rights reserved.