List Of Donald Trump Lies: 10 Claims By GOP Front-Runner On Immigration, Muslims And KKK That Don't Hold Up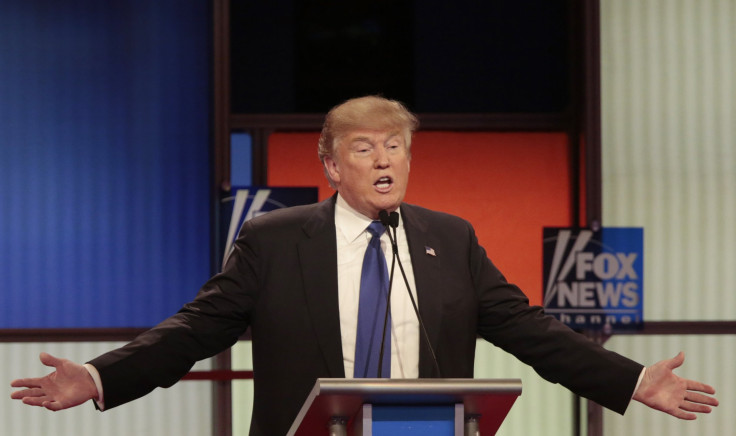 Real estate mogul Donald Trump's supporters frequently praise the bombastic presidential contender for speaking his mind. But how much of it is the truth? Politifact, a website that fact-checks statements made by politicians, awarded Trump's aggregated claims the PolitiFact 2015 Lie of the Year. Just 1 percent of Trump statements checked by the website were considered "true" and 7 percent "mostly true." A whopping 20 percent were considered "Pants on Fire" false and 41 percent "false."
Here are some of the GOP front-runner's boldest lies, according to the website:
Claim: During Thursday evening's Fox News Republican presidential debate, Trump said families of the Sept. 11, 2001, hijackers had been living in the U.S. prior to that date. "The wife knew exactly what was happening. They left two days early … and they watched their husband on television flying into the World Trade Center, flying into the Pentagon."
Fact: No relatives of 9/11 hijackers had been living in the U.S. prior to the attacks. Trump was likely referring to Osama bin Laden's family members, who were not known to have forewarning of the attack, and were evacuated by Saudi Arabia's government nine days later for their safety.
Claim: Trump brought on controversy after refusing to disavow former Ku Klux Klan leader David Duke, who told listeners of his radio show to "get active" for Trump's campaign. Although he later disavowed the group amid heavy scrutiny, Trump said during a report: "I don't know anything about David Duke," arguing he couldn't disavow someone he knew nothing about. He repeated the assertion three times.
Fact: Trump not only has mentioned Duke in the past but actually repudiated him during a Bloomberg interview in August 2015. Fifteen years ago, when Trump was considering running for president as a Reform Party candidate, he named Duke a cause for concern. "Well, you've got David Duke just joined — a big racist, a problem. I mean, this is not exactly the people you want in your party," he said.
Claim: Footage from one of Trump's campaign ads shows dozens of people climbing over a border fence. Based on the context, one would have thought the footage was from the U.S.-Mexican border, as the narrator says of Trump: "He'll stop illegal immigration by building a wall on our southern border that Mexico will pay for."
Fact: The footage is not from the southern U.S. border but actually some 5,000 miles away in Morocco. It aired May 3, 2014, on Italian television, Politifact reported.
Claim: Trump said he would like a complete ban on Muslims entering the U.S., taking particular aim at Syrian refugee resettlement. Following the November 2015 attacks in Paris that left 130 people dead, Trump said: "Our president wants to take in 250,000 from Syria."
Fact: President Barack Obama has announced plans to accept some 10,000 Syrian refugees — nowhere near the 250,000 number Trump claimed. The claim might echo an October 2015 assertion made by Fox News host Sean Hannity, Politifact reported.
Claim: In October, Trump claimed that on 9/11, "there were people that were cheering on the other side of New Jersey, where you have large Arab populations. They were cheering as the World Trade Center came down."
Fact: Not only was it not "well-covered," as Trump claimed during an interview, but Trump's campaign has been unable to provide evidence that any groups of Muslims were celebrating the attacks in New Jersey.
Claim: During a February CBS debate, Trump repeated a claim that he opposed the war in Iraq. He has said that his opposition to the war was "loud and clear."
"I'm the only one on this stage that said, 'Do not go into Iraq. Do not attack Iraq,'" Trump said during the debate. "Nobody else on this stage said that. And I said it loud and strong. And I was in the private sector. I wasn't a politician, fortunately. But I said it, and I said it loud and clear: 'You'll destabilize the Middle East.'"
Fact: There is no known public record of Trump's taking a clear stance against the war before it began. Three months after its outset, he did express skepticism during a Fox News interview, but hardly denounced it "loud and clear," nor did he cite destabilization of the Middle East as part of the problem. A year later he offered much more strongly opposed statements.
Claim: Trump has frequently argued that Obama is a terrible negotiator. He once cited the May 2014 exchange of Army Sgt. Bowe Bergdahl, held by the Taliban, for five Guantanamo Bay detainees as a problematic deal made by the president. "They're back on the battlefield, trying to kill everybody, including us," he alleged, referring to the released Taliban members.
Fact: Politifact investigated the claim and found that each of the released detainees remained in Qatar, a U.S. ally, where they are under government surveillance. There is reportedly evidence, however, that at least one of the detainees has sought to reconnect with the Taliban.
Claim: During the Fox News debate Thursday evening, Trump said: "I beat Hillary Clinton in many polls. The Pew poll just came out. I beat Hillary Clinton in a recent Fox poll, I beat Hillary Clinton in USA Today, I beat her today in a poll in Ohio. I beat — I'm the only one that beats Hillary Clinton."
Fact: According to the latest Fox poll, Clinton would beat Trump in a general election. A USA Today poll, however, has Trump winning. Most polling since May indicates Clinton would be far more likely to win against Trump in a possible matchup, the Associated Press reported.
Claim: Trump has repeatedly criticized the Mexican government for illegal immigration into the U.S. "The Mexican government ... they send the bad ones over," he said.
Fact: There's no evidence of the Mexican government having sent over undocumented immigrants. Fox News' Chris Wallace pressed the candidate during a debate, to which he cited personal conversations with people working at the border. Most immigration experts agree that undocumented crossing into the U.S. is tied to a desire to escape economic hardship and violence.
Claim: Trump has said the Iran nuclear deal would require that the U.S. side with Iran if it were attacked by Israel. "Nobody knows this and even talks about that point, but basically we're supposed to protect them," he said during a radio interview aired in Virginia.
Fact: The charge — which has been made by some Israeli media outlets — seems to be drawn from what many believe to be a misinterpretation of the agreement. It calls for protecting Iran's nuclear material from being stolen by thieves or terrorists.
© Copyright IBTimes 2023. All rights reserved.