Live Stream Amy Barrett Hearing: SCOTUS Nominee Makes Confirmation Case To Senate Democrats
KEY POINTS
Law Professor Jonathan Turley said it is unreasonable for senators to expect a nominee to reveal how any issue would be judged
President Trump has said he expects Barrett to side with him on Obamacare and in any election dispute
Barrett said lawmakers should trust her integrity
A mostly tight-lipped Supreme Court nominee Amy Coney Barrett on Tuesday tried to reassure critics, saying she is guided by precedent but at the same time said there are only two decisions she considers sacrosanct.
Barrett appears before the Senate Judiciary Committee for the third day Wednesday as lawmakers question her ahead of a confirmation vote to fill the seat left vacant by the death of Justice Ruth Bader Ginsburg.
Barrett tried to show herself as more open-minded than critics have painted her and assure lawmakers she is committed to judicial independence.
Watch the live stream below:
Donald B. Ayer, a former Justice Department official, and Alan Charles Raul, who served in George W. Bush's White House counsel's office, said the rushed nature of Barrett's confirmation hearing is destroying trust in the high court.
"The legitimacy of the judicial branch rests on the principle that judges are independent and unbiased interpreters of the law. A fair process for nomination and selection is crucial to preserving a public perception of the justices of the Supreme Court as neutral jurists, rather than pawns of the political process," the pair wrote in a USA Today op-ed.
Democrats have started painting Barrett's confirmation as court packing. Indeed, at 48, Barrett's ascension to the high court would cement the conservative 6-3 majority for a generation and has Democrats muttering about expanding the size of the court.
In a USA Today op-ed published Tuesday, George Washington University law professor Jonathan Turley argued that it is unreasonable for senators to expect a nominee to reveal how any issue would be judged.
"It would finally strip away any nuance or nicety. The court, like Congress, would become subject to raw and brutal politics at its very worst," Turley wrote.
For her part, Barrett said lawmakers would just have to rely on her integrity. She sought to assure the Judiciary Committee that she has no agenda and would examine every case on its merits.
"I never made any commitments or deals or anything like that," Barrett said, denying she was "on a mission to destroy" the Affordable Care Act.
When it comes to abortion rights, Barrett said the landmark Roe v. Wade decision is not a "super-precedent," but she subscribes to stare decisis – settled law – and would follow the law. Barrett said there are only two "super-precedents" -- Marbury v. Madison, which enables the Supreme Court to strike down unconstitutional laws, and Brown v. Board of Education, which abolished segregation in schools.
A recent Pew Research Center survey indicates most Americans say abortion should be at least partially legal. The July 22-Aug. 4 survey of 4,175 adults found little support for overturning Roe, with just 28% saying they would like to see abortion rights abolished, most of them conservative Republicans.
Barrett acknowledged she is an originalist who interprets the Constitution as written, much like her mentor Antonin Scalia, for whom she clerked.
"I interpret the Constitution as a law. The text is text, and I understand it to have the meaning that it had at the time people ratified it. It does not change over time, and it is not up to me to update it or infuse my own views into it," she said.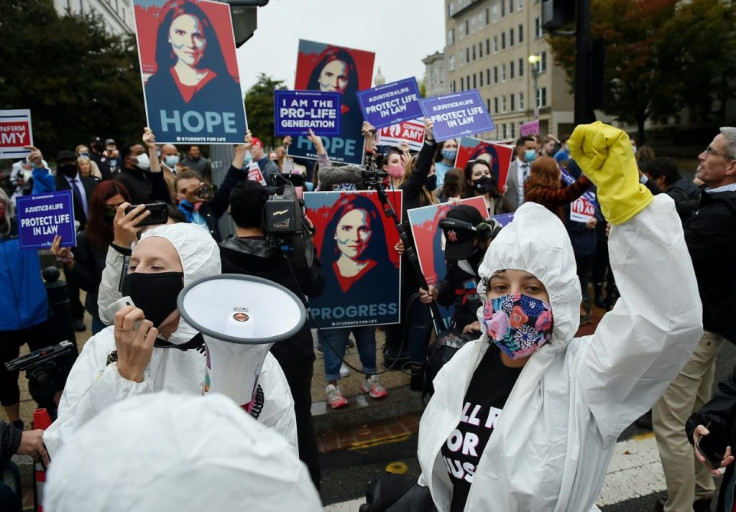 FOR FREE to continue reading
✔️ Unlock the full content of International Business Times UK for free
offer available for a limited time only
✔️ Easily manage your Newsletters subscriptions and save your favourite articles
✔️ No payment method required
Already have an account?
Log in
© Copyright IBTimes 2023. All rights reserved.