MEVO Start (Hands-on) Review: A Video Streaming Studio Packed into a Pocketable HD Camera
This article uses affiliate links, which means if you purchase products through these links, we may earn a commission. Click here to see our
T&C
. For licensing please click
here
.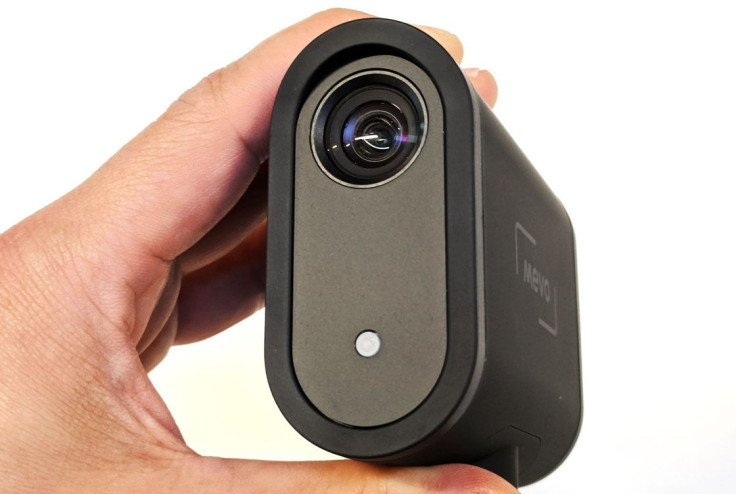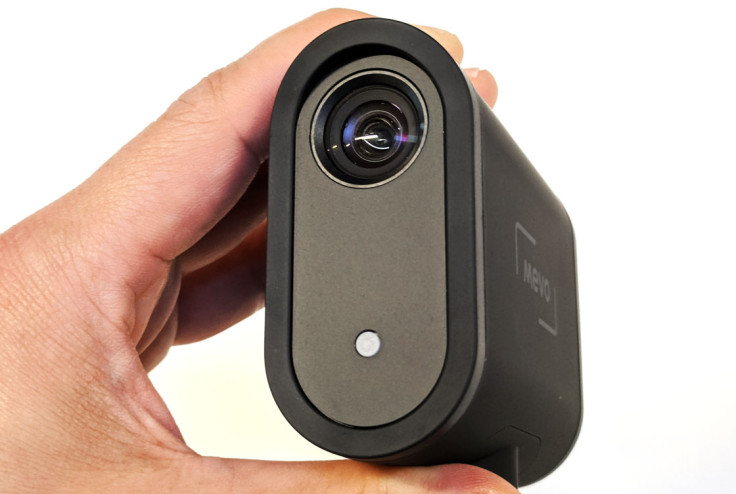 Who is the MEVO Start for?
Live streamers who wants a camera with an all-in-one package, where a smartphone and the MEVO Start is all that's needed for high-definition video and audio streaming
People who wants more than a static, fixed shot on their stream will benefit greatly from the built-in digital Face Tracking, Zooming, Panning and Tilting shots controls
Guerrilla filmmakers will make great use of MEVO Start's compact body, 4 hour battery life, it's mountability on conventional camera fixtures and its ability to switch between scenes and/or cameras
Photo from amazon.com
With the pandemic happening, lock down taking place, suddenly many of us are venturing into new seas to keep up with the change in how people communicate with one another.
With an explosive growth in social media traffic during this period (27% increase in Q1 alone for Facebook according to data from SimilarWeb, Apptopia), it's a fertile ground for content creators to start sowing the seeds and building an online presence. Many organizations are also turning to live streaming on various platforms as a means to expand their customer base.
While it's fine to live stream with modern smartphones for private live streams - and I happened to have in my possession the ASUS Zenfone 6 which is reputed to have the best selfie camera because it's a flip camera. While it does produce amazing great quality on a Facebook livestream, what are the options for those who are seeking to take the quality a notch higher?
At first I thought upgrading the webcam itself to something that surpasses the Zenfone 6 would surely do the trick, but the result fell completely on its face. Apparently, Facebook's live streaming algorithm is optimized for smartphones (Plus limits it to portrait mode), and even with a 4K webcam, the quality of the live stream was found wanting.
That's when I stumbled upon Mevo, reputed to make 'The World's Only Camera Designed for Live Streaming'. With its latest release, the Mevo Start, it has very promising functionality, and I went hands-on to find out if it is truly the live stream camera upgrade that I was looking for.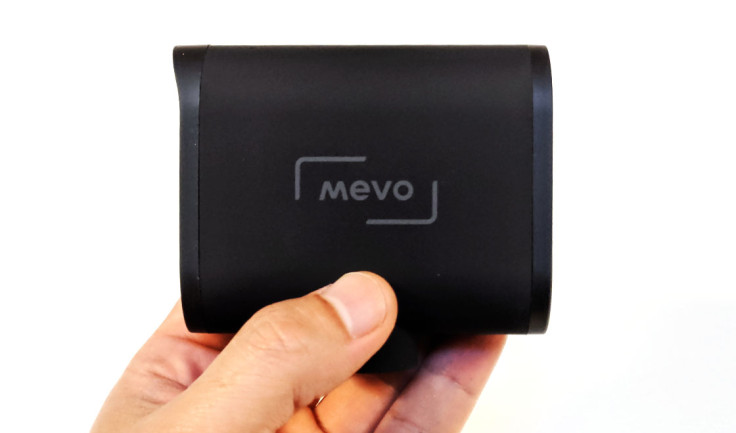 Unique hardware
Other than vaguely resembling the Sony Action cam profile, Mevo Start doesn't look like any other camera on the market right now.
It's roughly the size and weight of a MacBook power brick, covered in matt-black soft touch plastic. It has a low-key overall aesthetics and will fit right in with any sort of set up.
In the front it has the lens and an indicator LED - which proved to be very important during operating the camera, which shows the person in front of the camera the recording status at a glance. The LED flashes white as it 'boots', blue when it's ready to connect/is already connected and red for recording. If you understand the usefulness of LED indicator lights on mobile phones, you will comprehend how important this front LED light is. Instead of needing to check the phone for the recording status (which won't look flattering in your video), you can keep your eyes on the lens and know the camera status just by peripheral vision.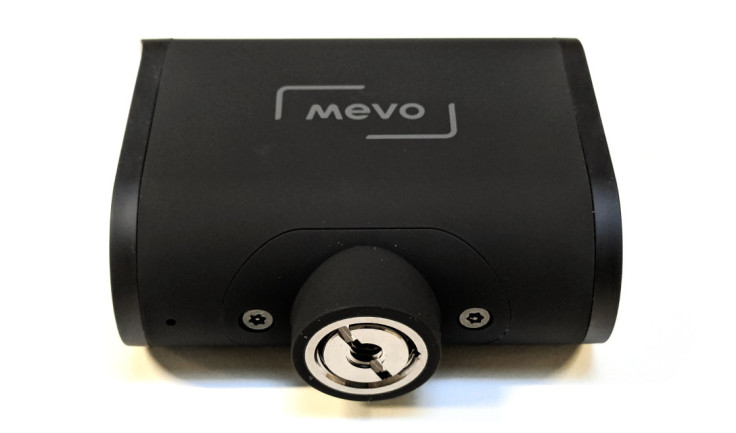 At the bottom of the camera, you have a female thread that fits standard microphone stands. This is very handy for music or live stage set ups where a camera stand won't always be handy, but you'll always be able to find an extra mic stand. One of my favorite pieces of hardware is the adapter that allows you to change the microphone stand connector to fit a standard camera mount. It's a simple but effective solution. It also has a slot for unscrewing it with a penny a breeze - they've obviously thought this through.
On the back of the camera are all the essentials: the power button on top, battery indicator LEDs, USB-C charging port, Micro-SD card slot, and an extremely useful 3.5 mm (1/8") jack for audio input - which brings me to my next point: sound quality.
Triple sound options
There are three separate ways the Mevo Start can capture sound for the video.
The first way is to use it's built-in microphone array, which picks up the sound from three small holes on the top of the camera. The sound picked up by these microphones are then processed internally, giving the optimal sound for three settings: 'General', 'Music', or 'Speech'. I tried the speech option, and it pick up the speech very clearly with an improved presence.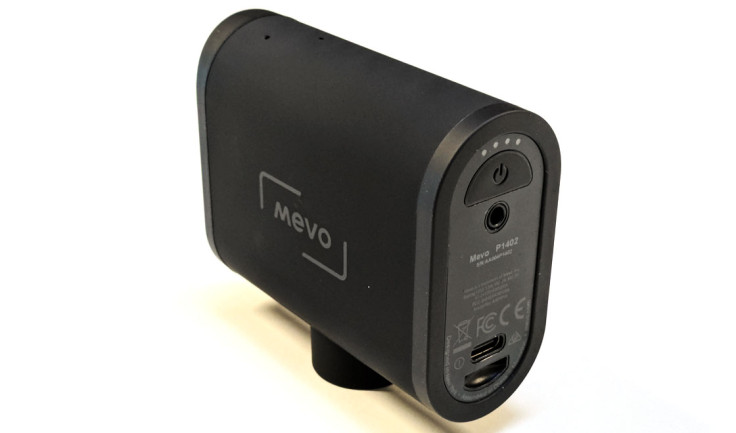 The second way is utilizing the aforementioned 3.5 mm jack. The sound input is a great inclusion which is sometimes not available even in full-size cameras. I was able to hook it up with condenser and lapel microphones and get great sounding videos. Do keep in mind that this is an analogue input, so it is still inferior to a digital recording when I did the comparison, but still, it provides a convenient and superior sound quality in many situations.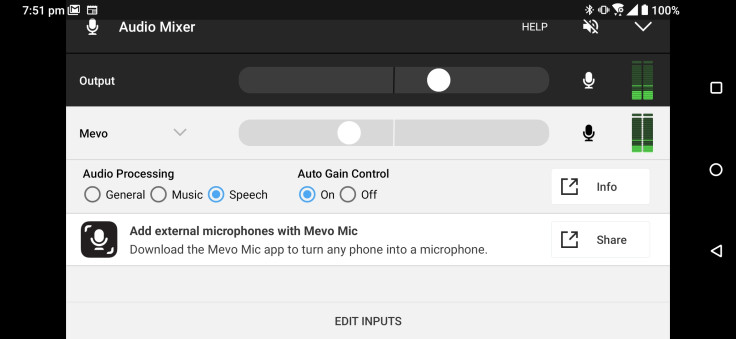 The third and final way is by utilizing the Mevo Mic App, which you can download into any phone and turn the phone into a microphone. This is an ingenious way to pick up sound and potentially get a free lapel mic by hiding the phone in the front shirt pocket.
Connection procedure
To be honest, connecting to the Mevo Start took me a few minutes to figure out, but once I did, it was a straightforward process. For those looking to own a Mevo Start, here's my 'quickstart' instructions:
Turn on the Mevo Start by holding onto the power button until you hear a tone
Wait till the indicator LED in front finishes flashing white while it boots. When it's ready to connect it will start flashing blue
Turn on your phone's WiFi, and connect to the Mevo Start's WiFi
Once connected, open your Mevo App (It's now Mevo 2.0 at the time of writing this article, which received a major upgrade to include support for the Mevo Start)
Press the blue 'connect' button in the Mevo App
You're ready to record!
The whole process takes around a minute, which might not be point-and-shoot, but easy enough for a quick set up.
At first I did wonder how my phone will be able to stream with LTE as well as connect to Mevo Start via WiFi, but the Mevo App takes care of all that. Once connected, you are ready to stream the video via a wide range of major social media platforms, as well as recording it onto a Micro SD card simultaneously. If you're looking to connect the Mevo Start to land-based Internet, it can be done through a Mevo Start Ethernet Adapter accessory (purchased separately), and connect it via the USB-C port.

Panning, Zooming and Tilting by touch
An impressive function of the Mevo Start is its ability to pan, zoom and tilt digitally. Yes you'll be sacrificing some quality as it is done by cropping the image, but it gives lone vloggers and streamers controls that would otherwise be impossible.
By default just by touching a point in the viewfinder, it zooms in to wherever you touch. You can then drag your finger around, and the scene will follow it at a slick constant speed, whether it's pan, tilt, or a combination of both. Zoom can also be adjusted via pinching and spreading as one would expect. All these functions can be tweaked using the 'Camera Assistant' in the bottom menu in the viewfinder.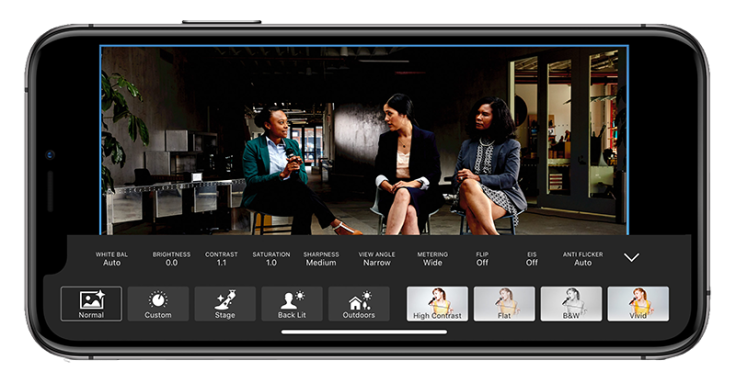 Image adjustment and saved scenes
As a camera with next to nothing physical controls, the Mevo Start has a vast range of controls digitally in its viewfinder menu. The user can either put it on 'Auto' and adjust only the exposure, white balance, brightness, contrast...etc, or 'Shutter' mode where you can control the shutter speed, or finally 'Manual' mode where you have even control of the ISO sensitivity. The ability to adjust the image on the fly is a must when filming under various lighting situations, and was extremely useful in practice.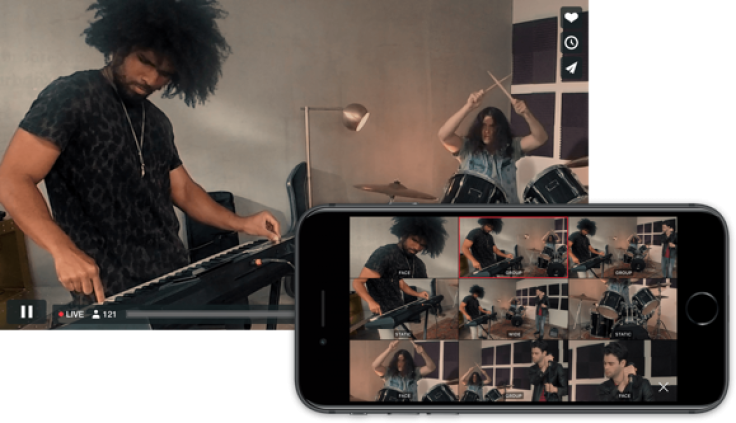 Perhaps the function that fully seals the Mevo Start as a pocketable video streaming studio, is its ability to switch between preset scenes. By touching and holding a frame, you get the option to save a certain crop in the viewfinder, which then appears in the scene matrix. This means even with just a single Mevo Start, you get the ability to switch from close up of one part of the scene to another, and to a wide shot again. If you have multiple Mevo cameras, then you can really go to town with different angles and placements of the various scenes - switching between them during the live feed all on a single smartphone.
Final remarks
The Mevo Start has very unique offerings that make it like no other camera. It is specifically made for live streaming, and turns any smartphone into not only a viewfinder, but a broadcast studio that allows you to switch to preset scenes, input high fidelity sound, even pan, zoom or tilt with digital precision and consistency. It does all this all in a palm-sized battery powered device and is designed to stream over mobile data. This is the guerrilla filmmaker's dream camera.
Sam is a production engineer turned tech writer who specializes in seeking out gadgets that enhances productivity while still looking sharp. This is a contribution to an ongoing IBTimes review series on gadgets for Business Travelers.
FOR FREE to continue reading
✔️ Unlock the full content of International Business Times UK for free
offer available for a limited time only
✔️ Easily manage your Newsletters subscriptions and save your favourite articles
✔️ No payment method required
Already have an account?
Log in
© Copyright IBTimes 2023. All rights reserved.