Liverpool Vs. Real Madrid: Prediction, Live Stream Info, TV Channel And Team News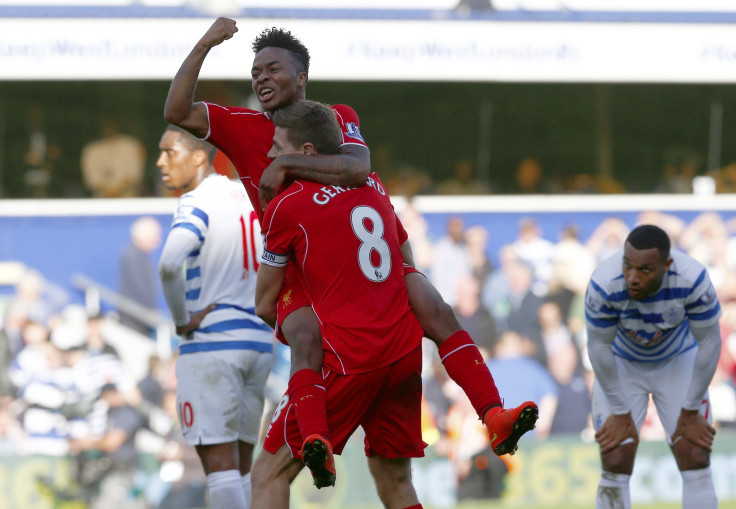 It's the type of fixture that Liverpool were desperate to bring back to Anfield during a five-year exile from the Champions League. The visit of Europe's most successful club, Real Madrid, to a venue that comes alive on big European nights arguably like no other is one that those on the red half of Merseyside will have earmarked as soon as the draw was made two months ago. Yet given the current form of the two sides, they would be forgiven for also viewing it with a large degree of trepidation.
Having exceeded all expectations to finish second in the Premier League last season, the start to this campaign has been fraught with difficulty. The loss of Luis Suarez has been exacerbated by injury problems to the Uruguayan's partner in terrifying Premier League defenses last term, Daniel Sturridge. Having been set to return from a six-week absence at the weekend, Liverpool were dealt a huge blow with the England forward now set to miss another month.
In the duo's absence it has been a real struggle. The scrutiny on Mario Balotelli has been particularly intense largely because of who he is, but it is undeniable that he is struggling to find his feet at Anfield. Against Queens Park Rangers on Sunday, the enigmatic Italian missed what was practically a wide open net to open his account for his new club in the Premier League. Balotelli has proven himself the man for the big occasion numerous times in the past, but Real Madrid are unlikely to be losing any sleep over a player who looks desperately out of sorts. But it would be wrong to single out Balotelli. With the exception of Raheem Sterling, no one is excelling going forward in a Liverpool team that is a shadow of the devastating, fluid force of last season.
Yet it is not the attacking aspect of their play that will have some among the Liverpool fans on Wednesday fearing what is to come. A defense that was the main target for improvement over the summer has only regressed. The match with QPR was a perfect illustration as 33-year-old Bobby Zamora dominated the Liverpool backline. Dejan Lovren was signed at considerable expense to add a sense of authority, yet has instead adopted the fear his new defensive colleagues and goalkeeper Simon Mignolet show almost whenever the ball comes within five yards.
Rather than Zamora and Charlie Austin, Liverpool's back line will now be coming up against Cristiano Ronaldo and a team featuring a rare collection of attacking talent. After a slow start to the season adapting to the losses of Angel di Maria and Xabi Alonso, Madrid have been in incredible goal-scoring form. Indeed, in their last seven outings Carlo Ancelotti's men have averaged more than four goals a game. Ronaldo has unsurprisingly been at the heart of that assault. The current world player of the year, who jointly claimed the European Golden Shoe with Liverpool's Suarez last season, has already scored a ridiculous 17 goals in just nine matches this season. And the former Manchester United star may even have extra motivation to continue that scoring spree at Anfield.
If there is some good news for Liverpool, it comes in the form of Ronaldo's fellow lightning-quick winger Gareth Bale missing out on Wednesday with a thigh injury. But with the talented Isco expected to step in and Karim Benzema and James Rodriguez still very much present, it hardly leaves Madrid short of quality options. A better hope for Liverpool may be that Madrid takes their eye off the ball, having taken six points from two games so far in the Champions League and with a first meeting of the season with great foes Barcelona awaiting on Saturday.
Still, even the most red-tinted spectacled Liverpool supporter will have trouble thinking that there will be a repeat of when the two European giants last met at Anfield. In the Champions League Round of 16 in 2009, Liverpool triumphed 4-0 on home soil to wrap up a dominant 5-0 aggregate win. It is safe to think, though, that goals will again not be at a premium. For all their attacking prowess, Real Madrid still have strong questions to answer about their ability to keep things tight at the other end. Without a natural holding midfielder, it is a team designed to attack and the pace of Sterling on the break could certainly cause a problem or two. Coupled with that, Real Madrid have shown themselves to be one of the few top sides in Europe to struggle as much as Liverpool at defending set-pieces.
After a loss at Basel last time out in the Champions League, Liverpool could really do with taking something away from Madrid's visit. And having somehow pulled out a 3-2 win in an amazing finale at Loftus Road, there will be hope from Rodgers that it can provide a springboard for better performances. Yet that was a victory that even Liverpool's manager and captain conceded was one they did little to deserve. While a Liverpool in full flight in front a rocking home crowd could well match Real Madrid, they remain some way short of that right now. The return of a genuinely big European occasion to Anfield looks set to end on a rather flat note.
Prediction: Liverpool 1-3 Real Madrid
Team news
Liverpool: As well as Sturridge, Liverpool will be without defenders Mamadou Sakho and Jon Flanagan.
Real Madrid: Ancelotti will be unable to call upon Sergio Ramos, along with Fabio Coentrao and Bale.
Kickoff time: 2.45 p.m. EDT
TV channel: Fox Sports 1
Live stream: Fox Sports Go, Fox Soccer 2Go
© Copyright IBTimes 2023. All rights reserved.