Liz Cheney Gets Mocked For Comparing Herself To Abraham Lincoln In Concession Speech
KEY POINTS
Liz Cheney highlighted Abraham Lincoln's losses in Senate before becoming president
Cheney quoted from Lincoln's Gettysburg Address delivered during Civil War
She was called a "delusional idiot" by detractors for doing so
Liz Cheney's speech following her defeat in the primary elections in her home state of Wyoming on Tuesday has garnered several reactions.
She was defeated by more than 20 points, and newcomer Harriet Hageman, who was endorsed by Donald Trump, became the Republican nominee, who will face Democrat Lynnette Grey Bull in the forthcoming midterms.
After her projected loss, Cheney conceded to Hageman and in her losing speech, compared herself to Abraham Lincoln, sending her detractors into a frenzy.
"The great and original champion of our party, Abraham Lincoln, was defeated in elections for the Senate and the House before he won the most important election of all," Cheney told supporters in Jackson, Wyoming. "Lincoln ultimately prevailed, he saved our union, and he defined our obligation as Americans for all of history."
Cheney then quoted from Lincoln's Gettysburg speech delivered during the American Civil War: "Speaking at Gettysburg of the great task before us, Lincoln said, 'That we here highly resolve that these dead shall not have died in vain - that this nation, under God, shall have a new birth of freedom - and that government of the people, by the people, for the people, shall not perish from the earth.'"
"As we meet here tonight, that remains our greatest and most important task," Cheney added.
In the same speech, she reiterated Trump's election fraud claims, adding she will continue in her efforts to ensure the former president is never near the Oval Office.
"This primary election is over, but now the real work begins," she told supporters, adding, "I have said since Jan. 6 that I will do whatever it takes to ensure Donald Trump is never again anywhere near the Oval Office — and I mean it."
Following her defeat, Trump had gloated by issuing an insulting message on Truth Social. Her detractors have also jumped on the bandwagon, and it got worse after she made the comparison to Lincoln.
"I couldn't believe it when I heard that! Liz Cheney had the audacity to compare herself to Abraham Lincoln always taking the right stand for the Republican party and the USA," tweeted one.
"Yeah, but Abraham Lincoln didn't make an a-- of himself on national tv, betray his party and get kicked out of Congress before he got elected President,@RepLizCheney" tweeted another.
"@LizCheney is only like Abraham Lincoln in one way: her career has been dead for 157 years," a third wrote.
"Liz Cheney, in one of the most delusional acts ever showcased by a politician, compared herself to Abraham Lincoln and Ulysses S. Grant in a speech delivered after losing an election by 30 points (current).What a delusional idiot," another irate tweet read.
Cheney is the fourth House Republican to lose the primary elections among those who voted to impeach Trump. Jaime Herrera Buetler, Peter Meijer and Tom Rice have lost before her. Republicans David Valadao and Dan Newhouse, who also voted to impeach Trump, are the only two to have advanced to the general elections.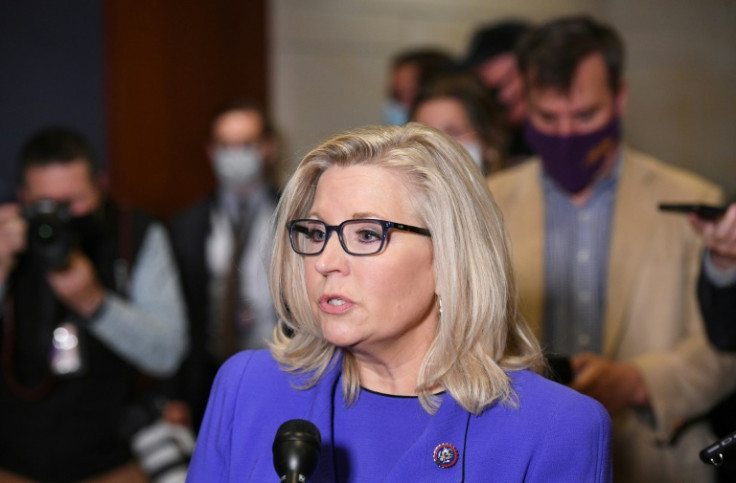 © Copyright IBTimes 2023. All rights reserved.