Lollapalooza 2015 Survival Guide: Ticket Information, Must See Acts And Festival Tips [VIDEO]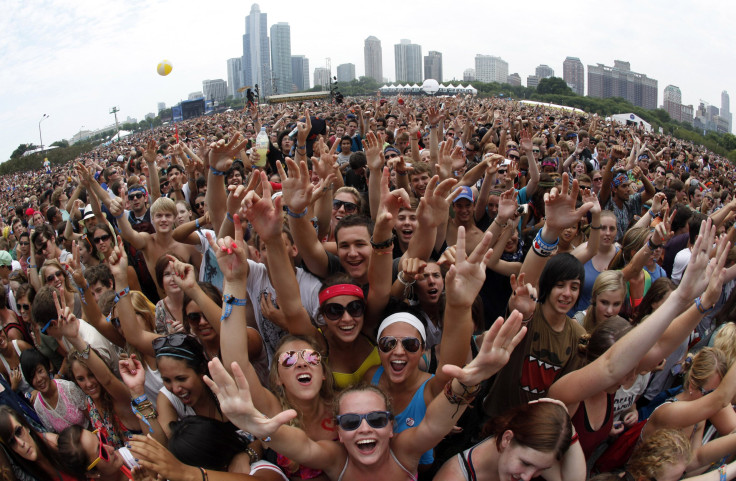 Thousands of music fans will descend on Grant Park in Chicago this weekend for the annual Lollapalooza music festival. The three day event begins Friday and features some of the biggest names in music, from Paul McCartney to Metallica. Music festivals can be overwhelming – braving the heat and agonizing over which bands to see – but fear not! Here's everything you need to know before Lollapalooza 2015:
Tickets
Unfortunately, most ticket options for the festival are sold out, including all single day passes and most 3-day pass options. The only remaining options are V.I.P passes, which start at a whopping $1850 and Platinum Passes, which cost $3600.
However, there are a few other options for fans desperate not to miss the music. Reddit runs a closely monitored subreddit in which festival-goers can buy or sell passes and tickets. The big perk here is that the thread does not allow scalping and all potential sellers must list their tickets at face value ($275 for 3-day wristbands and $110 for single day passes) or below. Although, if that does not work, fans can still turn to Stubhub or Craigslist, but they should be prepared to pay a pretty penny for the pass – 3-day passes on Stubhub are currently going for approximately $400 each to start.
Can't Miss Acts
The headliners are obvious. Who would miss out on Paul McCartney, Metallica or Florence and the Machine? Other big names, like Tame Impala, Alabama Shakes, Sam Smith, Bassnectar, Kid Cudi, Alt-J, A$AP Rocky, and Of Monsters and Men are sure to draw big crowds as well. However, festival-goers should make sure these slightly more under the radar acts are on your schedule as well.
FRIDAY
Glass Animals (Samsung Galaxy Stage/2:15 p.m. CDT) – This indie band from Oxford, London effortlessly blends jazz influences and a hip/hop sensibility into their unique, minimalist sound. While recording their debut album, ZABA, they toured with St. Vincent. What further endorsement is needed?
Check out Glass Animals below:
St. Paul and the Broken Bones (Bud Light Stage/2:30 p.m. CDT) – This seven-piece soul band from Birmingham, Alabama has generated a lot of hype since forming just over three years ago. The band's impassioned live performance wowed at South by Southwest in 2014 and continues to impress on tour for their debut album, "Half the City." If the Alabama Shakes are on your Lollapalooza list, then St. Paul and the Broken Bones should be as well.
Check out St. Paul and the Broken Bones below:
Hot Chip (Bud Light Stage/4:30 p.m. CDT) – It might still be daylight out when Hot Chip takes the Bud Light stage, but that is no excuse to miss the dance party the British electronic band is sure to deliver. Hot Chip has been around for a while, forming in 2000, but having just released a new album – "Why Make Sense?" – Hot Chip is hotter (and delightfully nerdier) than ever.
Check out Hot Chip below:
SATURDAY
Jessica Hernandez & the Deltas (Sprint Stage/12:00 p.m. CDT) – The modern, female-driven soul revival has largely been spearheaded by British artists – Amy Winehouse, Adele, Duffy, etc. It is refreshing to see that Jessica Hernandez and their irresistibly gothic take on the genre come from the home of Motown – Detroit. Be sure to wake up early to catch this short (45 minutes), but sweet set, especially if you are a Florence and the Machine fan.
Check out Jessica Hernandez & the Deltas below:
Catfish and the Bottlemen (Samsung Galaxy Stage/12:45 p.m. CDT) – This post-punk quartet has spent years paying their dues, self-promoting and playing gigs in parking lots since forming in 2007. Finally promoting a studio album, their 2014 debut, "The Balcony," Catfish and the Bottlemen are ready take the world by storm.
Check out Catfish and the Bottlemen below:
Tyler, the Creator (Palladia Stage/5:45 p.m. CDT) – Kid Cudi might be performing later the same night, but Tyler, the Creator is the real gem of alternative hip hop at Lollapalooza this year. The Odd Future leader's 2015 album, "Cherry Bomb," is one of the most experimentally aggressive records of the year. Don't miss this performance.
Check out Tyler, the Creator below:
SUNDAY
Twin Peaks (Sprint Stage/1:30 p.m. CDT) – Part punk band, part 1960s psychedelic throwback, Chicago's Twin Peaks is all fun. The band's passionately intense live show teeters on the edge of chaos anyway, but playing in their home city should make for a truly can't-miss set.
Check out Twin Peaks below:
Shakey Graves (Palladia Stage/1:45 p.m. CDT) – Alejandro Rose-Garcia's hypnotic self-described "hobo folk" will be a welcome taste of Texas in the windy city's big festival. This set should thrill rock and country fans alike.
Check out Shakey Graves below:
Moon Taxi (Bud Light Stage/2:45 p.m. CDT) – Moon Taxi's summer-y synth-pop should produce good vibes for everyone in the crowd. The Nashville four-piece is promoting an upcoming album.
Check out Moon Taxi below:
Festival Tips
Lollapalooza is not a camping festival, which makes it much less grueling than Bonnaroo or Coachella, but plenty can still go wrong in Grant Park. Here are some tips for your Lollapalooza experience:
The festival grounds open at 11 a.m. PDT each day. Be sure to get in early to beat the crowds for the early sets. Also, for those hoping to be front and center for the headliners, it will likely be necessary to get to the stage hours before the set to hold a spot.
If possible, do not bring in a bag to skip the bag search at the gate and get in faster!
Not all vendors in the festival will accept credit or debit cards. Make sure to bring some cash into the festival. There are ATMs inside, but the fees will be pricey.
Study the map beforehand! When the festival grounds fill up it can be difficult to navigate. Know where each stage is located and scope out the bathrooms and food/drink vendors.
Put on sunscreen and drink lots of water. It will be hot – Weather.com predicts mid to high 80s all weekend – and standing in festival crowds, not to mention all the walking in between sets, can be draining. Also, be prepared for possible thunderstorms on Sunday.
Wear comfortable shoes! Those flip-flops and punk rock boots seem like a good idea on Friday morning, but on Sunday night you and your blister-ridden feet will regret the decision.
Bring sunglasses! Music festivals have a knack for making you stare into the sun to catch your favorite bands.
Portable phone chargers are an invaluable tool at festivals. All those pictures, videos, and texts when you inevitably loose your friends will drain your battery and charging at the festival, if available, will likely require a lengthy wait. Bring a portable charger and you will not have to miss a set to charge your phone.
© Copyright IBTimes 2022. All rights reserved.
FOLLOW MORE IBT NEWS ON THE BELOW CHANNELS