How To Buy Lollapalooza Tickets 2015; Lineup Rumors Before Official Announcement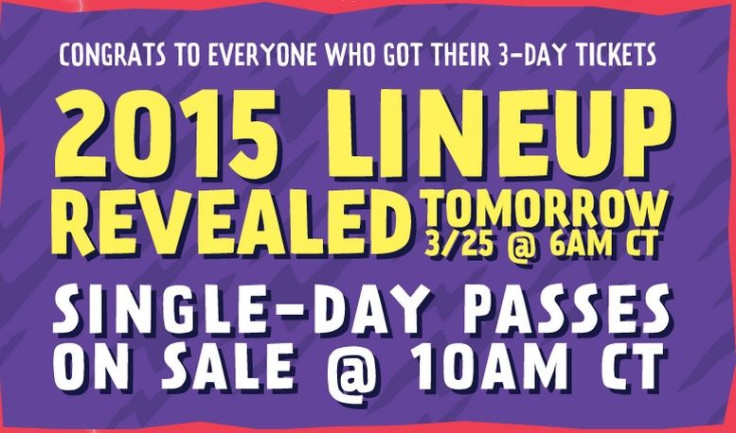 Tickets for Lollapalooza sell out fast. Three-day passes were gone within hours on Tuesday, which was before the lineup for the Chicago musical festival -- which will be held July 31 to Aug. 2 at Grant Park -- was revealed.
The three-day passes are coveted tickets since they come at a discounted price. The lucky people who purchased them at the early bird rate paid $250. Then the price increased by $25 after the first round of tickets were gone.
For those who didn't get their tickets in time, there's no need to fret. The single-day passes will go on sale Wednesday at 10 a.m. Central time for $110 (11 a.m. Eastern time, 8 a.m. Pacific time, 9 a.m. Mountain time).
Simply go to the Lollapalooza website to purchase tickets. Buyers should make sure they have their credit or debit cards ready, because the website will move on to the next customer if the purchase isn't completed in time.
Even if the single-day tickets sell out, Lollapalooza hopefuls can try their luck on reseller websites like StubHub or eBay, but those sites should only be used as a backup since their prices are usually inflated.
The official lineup for Lallapolooza will be revealed at 6 a.m. CDT. Last year, stars like Kings of Leon, Eminem and Outkast headlined the show. SixThirty.com predicted Awolnation, Drake, Hot Chip, Odesza, R. Kelly, Rihanna, Sam Smith and the Strokes might perform at this year's festival.
Follow me on Twitter @mariamzzarella
© Copyright IBTimes 2023. All rights reserved.