Loretta Lynch Defends FBI In Apple Encryption Case To Stephen Colbert [VIDEO]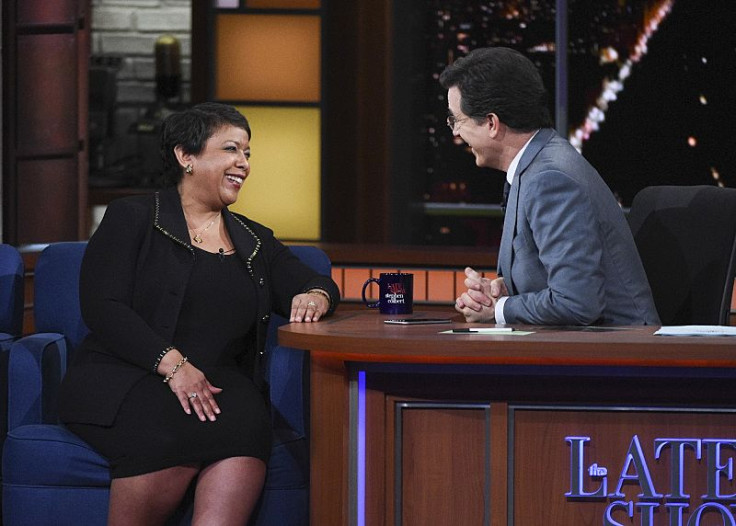 Stephen Colbert may be a comedian, but he was all business Thursday night as he grilled U.S. Attorney General Loretta Lynch about the FBI v. Apple case on CBS' "The Late Show." For her part, Lynch held firm in her defense of the government's position.
Colbert used Lynch's rare late night appearance to discuss the ongoing debate over whether Apple is obligated to obey FBI orders to help unlock an iPhone connected to the San Bernardino shootings on Dec. 2, 2015. Apple CEO Tim Cook has maintained that to grant the FBI's request, his company would need to invent a "backdoor" around the phone's security features that would jeopardize the future privacy of its customers. Colbert asked Lynch if she disagreed with Cook's assessment of the situation.
"We've disagreed publicly in court, and I have had a number of great conversations with Tim Cook on issues of privacy," Lynch told Colbert. "What I will say about this is, I understand why this is important to everybody because privacy is an important issue for everyone. It's important to me as the attorney general. It's important to me as a citizen."
Lynch went on to defend the FBI's position after Colbert pressed the attorney general on if the case presented a slippery slope. Lynch argued that Apple could assist the FBI without putting other customers' privacy at risk.
"We are not asking for a backdoor, nor are we asking [Tim Cook] to turn anything on to spy on anyone," Lynch said. "We're asking them to do what their customer wants," Lynch explained, referring to the San Bernardino County Department of Public Health, which employed one of the two shooters in the case and owned the phone. "[The FBI's request] is very narrow, and it's very focused."
Colbert also asked Lynch about the possibility of an indictment of Democratic presidential front-runner Hillary Clinton over her use of a private email server while serving as secretary of state. Lynch chose not to talk about the case, saying she "does not discuss ongoing cases."
One thing Colbert chose not to bring up with Lynch was her recent decision not to be considered as a candidate to fill the current vacancy on the U.S. Supreme Court.
Lynch has asked the White House not to consider her for the open seat. According to Justice Department spokeswoman Melanie Newman, Lynch decided that "limitations inherent in the nomination process would curtail her effectiveness in her current role." Lynch had been a popular choice among Democrats.
© Copyright IBTimes 2023. All rights reserved.