'Love & Hip Hop: New York' Season 6 Spoilers: Cardi B Gets Into A Fight Over DJ Self In Episode 3 [RECAP]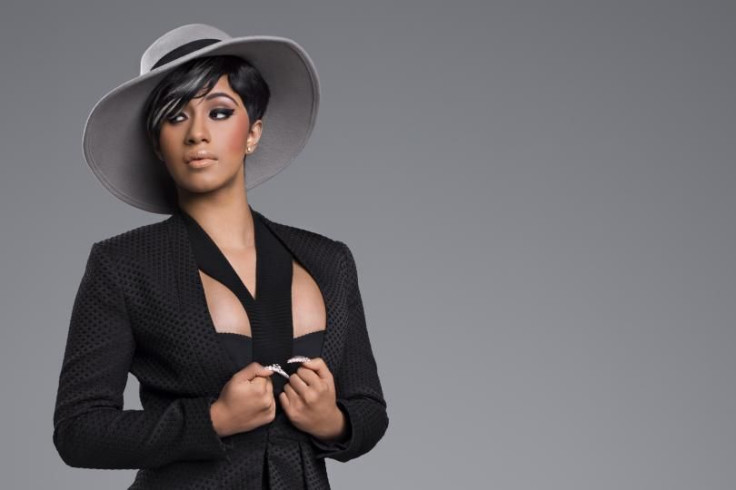 It's only the third episode of "Love & Hip Hop: New York" and new cast member Cardi B is already getting into fights. The outspoken former stripper made her debut on the show last week during episode 2, where it was revealed that she's been hooking up with her co-star DJ Self.
In Monday's episode 3, Cardi gets into altercation with DJ Self's girlfriend Yorma, who suspects he's been cheating on her.
The drama starts at the beginning of the episode when Yorma meets DJ Self for dinner to talk about the ring she found in his bathroom. As recapped last week, DJ Self said the ring belonged to his cleaning lady. Over dinner, the New York City DJ and Yorma make amends and he invites her to be his date for Mariah Lynn's birthday party.
Later in the episode, however, Mariah is introduced to Cardi B and invites her to the party. Mariah knows Cardi and DJ Self have been hooking up, but doesn't know he has a girlfriend.
Well, things quickly take a left turn at the party when DJ Self is forced to introduce Cardi and Yorma to each other. Cardi seems annoyed that he's been lying to her and gets mad when Yorma starts bashing her. Cardi grabs Yorma by the hair and the two start fighting. Security quickly intervenes to separate them and break up the fight.
Elsewhere during the episode, viewers see the aftermath of Amina Buddafly and Tara Wallace's argument. In episode 2, Amina angrily told her husband Peter Gunz and his ex-girlfriend Tara that she was pregnant.
However, Amina is devastated by the pregnancy and tells her sister that she's not sure she wants to go through with the pregnancy because Peter is cheating with Tara again.
Also during episode 3, rapper Moe Money secretly meets with Yandy Smith about managing BBOD. Yandy tells Moe that she doesn't think BBOD's current manager, Rah Ali, is able to get their career off the ground. Sexxy Lexxy, who makes up the other half of BBOD, gets mad at Moe for meeting with Yandy without telling her because she's friends with Rah Ali and doesn't want to fire her as their manager. Sexxy Lexxy hopes they can all meet up and work things out, but the meeting only makes things worse. Rah Ali ends up storming out of their rehearsal.
Besides trying to secure new clients, Yandy and her husband Mendeecees are preparing for his court date. Mendeeccees is facing prison time for a number of charges. He was sentenced earlier this month to eight years in prison.
"Love & Hip Hop: New York" airs Mondays at 8 p.m. EST on VH1.
© Copyright IBTimes 2023. All rights reserved.