'Love & Hip Hop: New York' Star Yandy Smith Feuds With Mendeecees Harris' Exes On Season 7, Episode 3 [RECAP]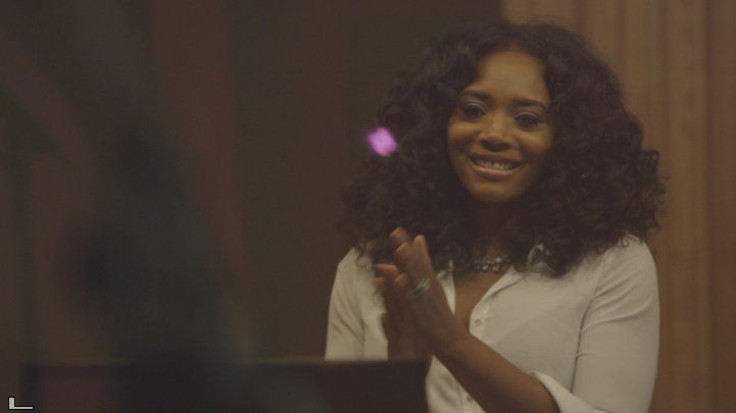 It's a battle of the baby mamas on Season 7, episode 3 of VH1's "Love & Hip Hop: New York." Before Mendeecees Harris went away to prison he asked his two exes and wife to try to get along for the sake of the children, but it appears they haven't been seeing eye to eye.
On Monday's show, Mendeecees' wife Yandy Smith is told by his mother Judy that Samantha Wallace isn't taking care of the child she has with Mendeecees. Judy claims the little boy has been staying with Samantha's mom Kim Wallace. Yandy later meets with Kim to tell her what Judy said and Kim loses it, flipping a table and yelling at Yandy. According to Kim, Judy is trying to start some drama.
Later in the episode, Kim calls a family meeting with Samantha and Mendeecees' other ex Erika to tell them about her conversation with Yandy. Erika doesn't like Yandy and thinks it's Yandy that's trying to cause a problem with everyone. Samantha and Kim want to have a meeting with Judy and ask Erika to come. She agrees to meet with Judy as long as Yandy isn't invited.
During the ladies meet-up with Judy, everyone starts arguing when Kim and Samantha think Judy is being disrespectful. Samantha is mad that Judy is always trying to take jabs at her, and Kim comes to her daughter's defense. As Kim is screaming and yelling at Judy, Kim starts clutching her chest telling her daughter that she's having chest pains. They think Kim is having a heart attack so an ambulance is called to rush Kim to the hospital.
Also during episode 3, DJ Drewski finds himself in hot water with his girlfriend Sky Landish because of his relationship with Bianca Bonnie. Sky knows Drew and Bianca have a history together and doesn't approve of them working together. Sky also doesn't like that Bianca keeps calling and texting Drewski. While Drewski ad Sky are out looking for locations for Sky's fitness business, Bianca calls Drewski and Sky makes him put the call on speaker phone. Bianca doesn't know Sky is listening and tells the Hot97 DJ that she wrote a song about how much she misses him and wants to kiss him.
Drewski tells Bianca that he wants to record a song with her — one he wrote for Sky — and Bianca disses Sky saying that Drewski never refers to her as his girlfriend and always calls her his assistant. Drewski and Sky get into an argument and she tells him he better put Bianca in her place or she will.
Later, Sky meets up with MariahLynn and tells her about the situation with Drewski. During the conversation, Sky never tells MariahLynn she's talking about Bianca but tells MariahLynn that she wants her to do the song with Drewski instead of the girl he picked. MariahLynn agrees to do the song.
As all of this is going on, Drewski meets up with Bianca and plays her the song he wants to work with her on. Bianca likes the track and says she'll do a verse on the record. Bianca and Drewski also flirt and Bianca kisses the DJ on his cheek.
After MariahLynn's meeting with Sky, she goes to meet-up with Cardi B to tell her everything going on. Both Cardi and MariahLynn think Bianca could be the woman coming in between Drewski and Sky's relationship, but they're not sure. Cardi suggests they invite Bianca to a party Drewski and Sky are going to.
At the party, Sky and Bianca get into an argument over how close Bianca is to Drewski. Cardi B steps in coming to Bianca's defense telling Sky that Drewski is lying to her and Bianca. Drewski sees the ladies arguing so he goes over to try and calm things down. Sky gets angry and tells her boyfriend that he's not allowed to play anymore of Bianca's music on the radio.
© Copyright IBTimes 2023. All rights reserved.