Lufthansa Strike To Cause 'Massive' Flight Cancellations, Delays Across Europe Monday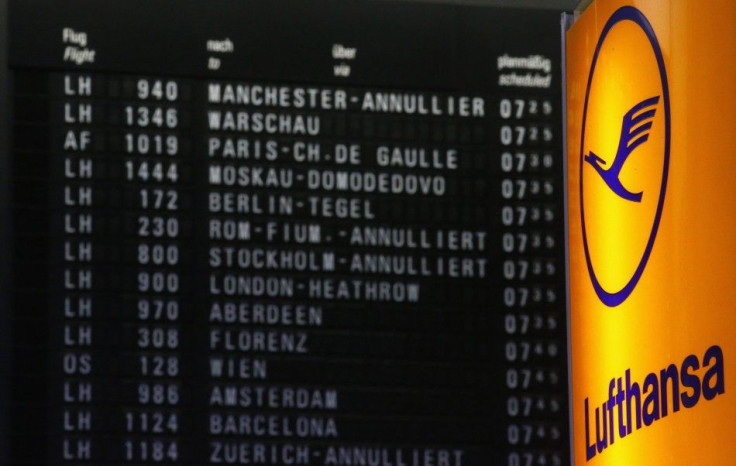 A labor strike has forced German airline Lufthansa to cancel more than 1,700 flights scheduled for Monday, including nearly all of its short-haul operations and most European departures.
Deutsche Lufthansa AG (ETR:LHA) said flight operations would be "considerably restricted" Monday at Frankfurt, Munich, Dusseldorf and Hamburg due to the one-day strike by the ver.di trade union.
"Due to the announced strike actions ... nearly all Lufthansa flights within Germany and Europe will be canceled," the carrier said Sunday. "Only a select few short-haul flights will operate on Monday, such as in Berlin, where strike actions should end by 2:30 p.m. CET."
In all, Lufthansa said only about 20 of the 1,650 planned short-haul flights Monday would operate because of the limited flight schedule.
In addition to the cancellations in Germany and Europe, "massive flight cancellations and delays are to be expected for long-haul flights beginning Sunday," the carrier added. Of the 50 planned flights in Lufthansa's Frankfurt hub, for example, only six will operate. In Munich, just three of the planed 17 flights will take off.
Lufthansa said it would cancel a grand total of 1,720 flights, although flights operated by the Germanwings unit will not be affected.
"Lufthansa regrets any inconvenience to Lufthansa passengers caused by the threatened strike measures by ver.di and will do its utmost to minimize impacts on passengers," the airline said in an apology. "Passengers are kindly asked to please check the status of their flight before leaving for the airport."
Lufthansa said passengers for flights that will take place Monday should allow extra time at the airport. Some affected passengers were already rebooked for alternative flights, but others were asked to go to the online check-in to rebook fee-free or receive a full refund. Lufthansa will also trade in tickets for train vouchers on Deutsche Bahn.
The strike came amid a dispute over wage increases for 33,000 ground staff members. Last week, Lufthansa rejected the ver.di union's demands for a 5.2 percent raise over the next 12 months.
Lufthansa's chief negotiator, Stefan Lauer, said the strike was beyond his comprehension.
"Despite an offer on the part of Lufthansa in the last round of negotiations earlier this week, despite constructive talks and agreement to conduct further negotiations, ver.di is once again waging its pay dispute at the expense of our customers," Lauer said. "A 24-hour warning strike is de facto an all-out strike, and given the initial progress made at the negotiating table, it is a completely excessive measure that can in no way be justified in the view of the current state of negotiations."
The ver.di union, which also seeks guarantees over job cuts, has described Lufthansa's counteroffer -- a 2.3 percent increase for employees of the maintenance unit Technik, a 2.1 percent increase for those in Lufthansa Cargo and Lufthansa Systems, and a 1.7 percent increase for staff of Deutsche Lufthansa -- as "scandalous."
Like many global airlines, Lufthansa faces steep competition from low-cost carriers and the growing Gulf airlines, and it has been looking for ways to cut costs. The carrier is in the midst of restructuring operations to better compete, and estimates that its cost-cutting program will contribute roughly €740 million to this year's operating profit. However, numerous strikes by Lufthansa employees and airport workers cost the airline roughly €33 million last year alone.
Lufthansa's talks with the ver.di union resume this month.
© Copyright IBTimes 2023. All rights reserved.