Luis Suarez Injury Update: Liverpool Forward To Face England In World Cup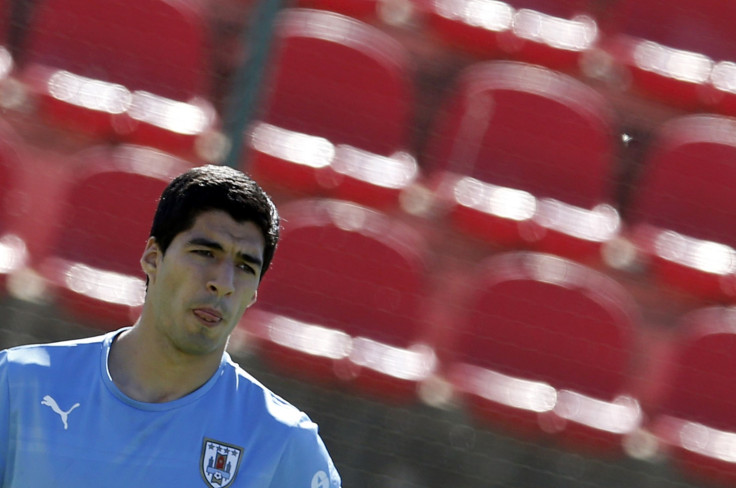 Luis Suarez is set to return to the field just in time for Uruguay to take on England in the 2014 World Cup, when the two nations meet on Thursday in Sao Paulo.
Suarez was forced to watch from the bench on Saturday, as his team fell to Costa Rica in the opener. He underwent surgery on his knee in mid-May, and it was unknown if he'd be ready to go for the tournament. After seeing his team lose, though, the striker has decided that he is ready to play again.
"I was looking forward to getting involved and I wanted to help [against Costa Rica] but maybe it was better I didn't because fate could have played a trick on me and set me back again," Suárez said.
"But I've done everything I had to do. I haven't missed a day of recovery time and I'm 100% fit, otherwise I wouldn't be here. I'm training with the team again and I feel in good condition. I never lost the joy and the desire and I never thought I was going to lose out on playing in the World Cup because of injury."
Adding Suarez should be a big boost for Uruguay. Playing for Liverpool, the 27-year-old is very familiar with the England national team. He should be able to give the underdogs an edge that they otherwise would not have had.
It remains to be seen how effective Suarez will be in his first game back. He hasn't played since May 11, and his conditioning might not be where it should.
However, with Uruguay looking to advance past group play, they'll need Suarez to play well. Both Italy and Costa Rica lead Group D with three points each, and a loss against England would eliminate Uruguay from contention.
© Copyright IBTimes 2023. All rights reserved.