To Lure YouTube Stars, Kamcord Allows Mobile Gamers To Ask For Tips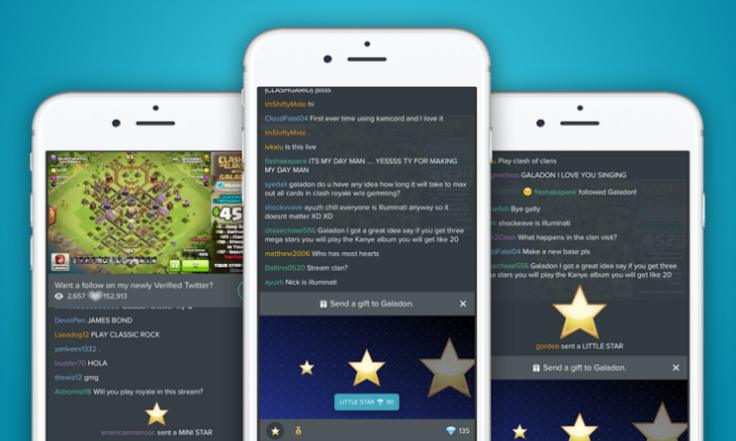 YouTube star PewDiePie (aka Felix Kjellberg) pulled in about $12 million last year from broadcasting videos of his entertaining game play to his vast audience of followers. Now, startup Kamcord is hoping to bring that same level of star power and revenue to other gamers, all through a mobile app.
Launched in 2015, and backed by Tencent Holdings, Kamcord is a streaming service for mobile games. Just as Twitch allows users to stream their PC gaming to a wide audience on the web, Kamcord is about broadcasting mobile games, all from a phone.
Now Kamcord is launching a business model: a tip jar and virtual goods where Kamcord splits revenue with broadcasters. Viewers can purchase virtual goods, priced from 40 cents to $80, that give the viewer more visibility in the chat and notify the player.
Kamcord is not alone in the mobile live-streaming industry, but it is the only app focused solely on mobile games and one of few that pays creators. The new payment system mimics that of YouNow, a live-streaming app funded by $26 million and known for its partnership with "America's Got Talent." Partners in Alphabet's YouTube and Amazon's Twitch receive a split of the ad revenue within streams. Twitter's Periscope does not pay creators.
Based in San Francisco, the Kamcord team of 40 employees is funded by $25 million, led by Tencent Holdings, China's internet and mobile service provider. Only six months into the product's release, the team chose to release a revenue model already in order to attract creators.
"Our focus at Kamcord is to grow as quickly as possible and do it globally. We believe in order to grow as quickly as possible, we need to get all the best creators on here. Viewers will come to the platform that has the best content and the best creators," said co-founder Aditya Rathnam.
via GIPHY
Kamcord has 175 paid partners who can tap into the payment system so far. After opening applications last week, Kamcord added 75 applicants to its core group of 100. The company has branches in and creators from the United States, Korea and Japan.
Prior to the release, Kamcord attracted some mobile gamers to the app by directly reaching out to them. For instance, a user named Galadon came from YouTube and is now the most followed broadcaster on Kamcord. He has 127,717 followers on Kamcord and over 1 million subscribers on YouTube. Galadon also puts videos on YouTube, where he promotes his Kamcord streams as well.
Through watching Galadon's YouTube videos, JustinSmokes (his Kamcord username), a 27-year-old California native, decided to download Kamcord. He now broadcasts himself playing "Clash of Clans" from his Samsung Galaxy S5.
While he prefers playing console games, a set-up for streaming on Amazon's Twitch, for example, is much more complicated than Kamcord. "My first stream was kind of an accident. I wanted to show these two kids how it worked, but as soon as I started, people were jumping in and asking why I wasn't talking," JustinSmokes, who wished to keep his real name anonymous, said in a phone interview.
As of November, Android users can broadcast their gameplay, face and audio directly from their phone without having to connect to a computer. That change increased the number of broadcasters tenfold over six weeks, according to Kamcord.
JustinSmokes now broadcasts 4 to 10 hours per day when not working at his temp jobs. He averages between 200 and 300 viewers in his streams. "I spent a long time trying to understand what the motivation is for the creator. What's most important is big audience, lots of followers, having a good time and how can I make money. We want to let creators make money as quickly as possible," Rathnam said.
© Copyright IBTimes 2023. All rights reserved.