Macadamia Nuts, Cashews Recall 2017: List Of Products, How To Get Refund For Possible Listeria Contamination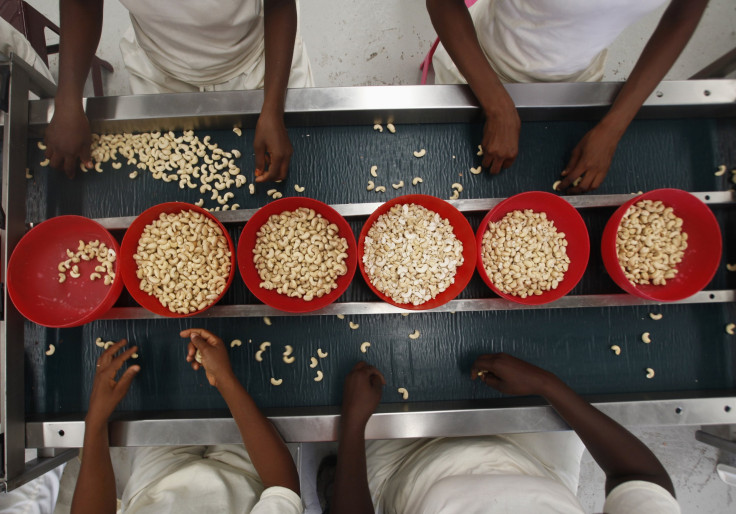 The Food and Drug Administration (FDA) has issued a recall of "Ava's Organic Cashews Roasted & Salted" and "Simple Truth Dry Roasted Macadamia Nuts" for possible Listeria monocytogenes contamination, it said in a release late last week.
The pathogen can cause serious and even possibly deadly infection in sick and elderly people, individuals with weakened immune system, and young children. However, no confirmed illnesses have been reported to public health authorities to date.
"Hampton Farms is voluntarily recalling Ava's brand Organic Cashews Roasted & Salted 8 oz. tubs distributed in New Jersey, New York, Pennsylvania, and Connecticut. We have been notified by our cashew supplier that the cashews used have the potential to be contaminated with Listeria monocytogenes," the FDA said.
According to the release: "Routine sampling of a different item from another company revealed positive Listeria monocytogenes results, and a subsequent investigation in their manufacturing environment revealed a contaminated piece of equipment that was also used to produce the ingredient we received." "Although test results of our cashews were negative for Listeria, we are recalling this item out of an abundance of caution," it added.
The macadamia nuts were sold in Ohio, Kentucky, Kansas, Nebraska, Missouri and Indiana. Kroger, Bakers, Gerbes and Dillons stores carry the Simple Truth line. Whereas the cashews were distributed in New York, New Jersey, and Connecticut.
The recalled macadamia nuts were sold in a clear 12-ounce plastic package and have a May 2, 2018, expiration date on the side. The UPC is 11110-02478.
Whereas, the recalled cashews were sold in a clear 8-ounce plastic package and have a March 28, 2018, expiration date on the side. The UPC is 8-10111-01035-1 of lot 11817-L2.
All affected distributors and retail stores were notified and the affected products have been removed from store shelves.
Kroger confirmed it has removed the macadamia nuts from its shelves. However, if you already bought one of these packages, you should either discard them or take them back to the store for a refund. You could also call 1-800-KROGERS for any further queries.
Hampton Farms also issued a recall of its packaged cashews. "We deeply regret this situation and have employed our established recall plan to immediately remove the product from distribution. Nothing is more important than providing safe and wholesome, quality products," said Dallas Barnes, president of Hampton Farms in the release.
To get a full refund on Ava's Organic cashews, you could either take them back to the store or contact Hampton Farms at 413-732-4193, press 0.
Listeria infections can be deadly. Of the 1,600 cases that are reported in the United States each year, about 260 are deadly. Antibiotics are used to treat the infection.
Listeria monocytogenes is an organism which can cause serious and sometimes fatal infections in young children, frail or elderly people, and others with weakened immune systems. Although healthy individuals may suffer only short-term symptoms such as high fever, severe headache, stiffness, nausea, abdominal pain, and diarrhea, Listeria infection can cause miscarriages and stillbirths among pregnant women.
"Most people with invasive listeriosis require hospital care, and about one in five people with the infection die. When listeriosis occurs during pregnancy, it can cause miscarriage, stillbirth, or newborn death. Listeriosis during pregnancy results in a fetal loss in about 20 percent and newborn death in about 3 percent of cases," the U.S. Centers for Disease Control and Prevention said.
© Copyright IBTimes 2023. All rights reserved.