Machine Gun Kelly Details Suicide Attempt While On Phone With Fiancée Megan Fox
KEY POINTS
Machine Gun Kelly discussed his mental struggles in his Hulu documentary "Life in Pink," which premiered Monday
He shared that he found himself in a very dark place after his father passed away in 2020
Kelly said he "snapped" one day and put a shotgun in his mouth while talking to Megan Fox on the phone
Machine Gun Kelly is getting candid about his mental health struggles in his new Hulu documentary.
Kelly, 32, revealed in "Life in Pink," which premiered Monday, that he once contemplated suicide while on the phone with now-fiancée Megan Fox.
The "Papercuts" singer, whose real name is Colson Baker, said that the dark moment came in 2020 following the death of his father, with whom he had recently reconciled.
"I flew to my dad's apartment to clear all this stuff out. I had this really weird interaction with this neighbor who told me all these things I didn't want to hear," Kelly was quoted as saying by People. "That f----- me up even more because I couldn't get closure on it. I wouldn't leave my room, and I started getting really, really, really dark."
According to Kelly, Fox was in Bulgaria to shoot a movie when he started to experience "wild paranoia" and felt that "someone was gonna come and kill" him."
The musician said that he always slept with a shotgun near his bed, but that day, he "just f------ snapped."
"I called Megan, I was like, 'You aren't here for me,'" he said in the documentary. "I'm in my room and I'm like freaking out on her, and dude, I put the shotgun in my mouth and I'm yelling on the phone and like the barrel's in my mouth. I go to cock the shotgun and the bullet as it comes back up, the shell just gets jammed. Megan's like dead silent."
The incident was a turning point for Kelly, who said it made him realize there was something "not right" with how he was feeling.
The "Transformers" actress and Kelly's 12-year-old daughter, Casie, expressed their concern for him. The artist recalled that they both approached him and said they don't want to talk to him "through a veil anymore" and instead want to see him as a father and husband-to-be.
This led to Kelly deciding to stop using drugs "for real this time," he said in the doc.
The singer also talked about Fox's positive impact on his life. He described his fiancée as "like the sun" to him, giving him life and helping him grow.
"It's just like every fairytale that they never told you in school, that they never taught you. Like the passion between us is otherworldly. I know I've known her in so many other lifetimes," he added.
Kelly and Fox confirmed their relationship in July 2020 after meeting on the set of "Midnight in the Switchgrass." They got engaged in January and sealed the union by drinking "each other's blood."
In December 2020, Kelly told Interview magazine that he has been seeking therapy for his addiction and self-destructive behavior.
"Currently, my drug of choice is happiness and commitment to the art, rather than commitment to a vice that I believed made the art," he said at the time. "I'm taking steps."
He was still in the early process at the time, but Kelly said it was helpful to have the tools to start. He added that It wasn't easy but that he can already feel "a much more vibrant energy" around him and his loved ones after he sought help.
If you have thoughts of suicide, confidential help is available for free at the National Suicide Prevention Lifeline. Call 1-800-273-8255. The line is available 24 hours, every day.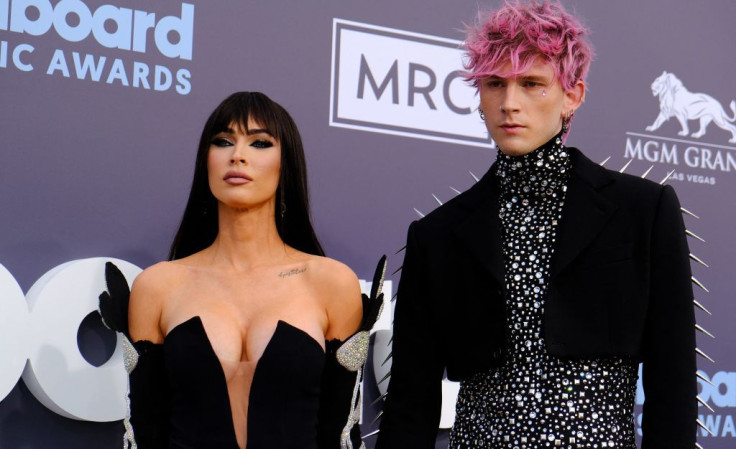 © Copyright IBTimes 2023. All rights reserved.