Macy's Thanksgiving Day Parade 2013: Route Map, Start Time, Live Stream Video And Best Viewing Spots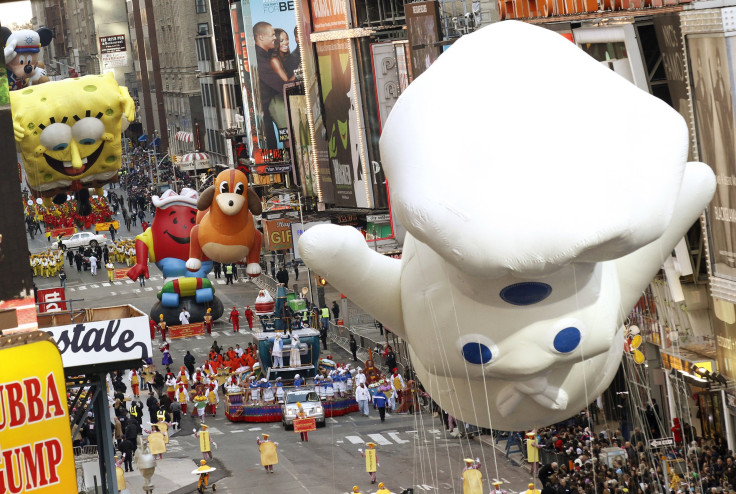 Floats, big balloons, clowns, crisp fall weather and holiday cheer. What more could we ask for from New York City's annual Macy's Thanksgiving Day Parade? The 2013 parade is just around the corner, getting under way early Thanksgiving Day and, weather permitting, is sure to dazzle.
This is the 87th Macy's Thanksgiving Day Parade, which first hit the streets of Manhattan in 1924. The parade will be hosted by NBC "Today's" Matt Lauer, Al Roker and Savannah Guthrie. Nearly 3.5 million people will flock to Manhattan to catch a glimpse of the 52 floats meandering under the city skyline. From Snoopy and his buddy Woodstock, to Ronald McDonald, Buzz Lightyear, SpongeBob Squarepants and Toothless from the 2010 fantasy film "How To Train Your Dragon." With hundreds more performers marching beneath the playful floats, the Macy's Thanksgiving Day Parade is a tradition that, from its modest beginning, has become one of New York's most beloved holiday events.
"I'm pretty sure the magicians at Macy's Parade Studio have once again made it onto Santa's nice list," Amy Kule, executive producer of Macy's Thanksgiving Day Parade, said in a statement. "As America's best high school and college marching bands, hundreds of dancers, cheerleaders, clowns, and balloon handlers make their way down the streets of New York for our 87th march, they will be joined by four brand new giant character balloons, five new intricately designed floats and one spinning dreidel."
She added: "These new entries join the already stellar grouping of balloons, floats, performers and adorable kids that will once again make Macy's Thanksgiving Day Parade the perfect way for everyone to begin their Thanksgiving holiday."
Among the performers scheduled for the parade are The Goo Goo Dolls, Gavin DeGraw, Fall Out Boy and Jimmy Fallon and The Roots. Joan Jett and the Blackhearts are also slated to perform.
And what's the price tag for such an extravagant event? Well, that remains a well-wrapped secret. "Macy's views the Parade as a gift to the City of New York and the nation, and like any good gift, you cut off the price tag when you give it, so we keep to that tradition as well," Macy's Parade spokesman Orlando Veras told NBC.
Here is everything you'll need to know to make the most of this year's Macy's Thanksgiving Day Parade 2013.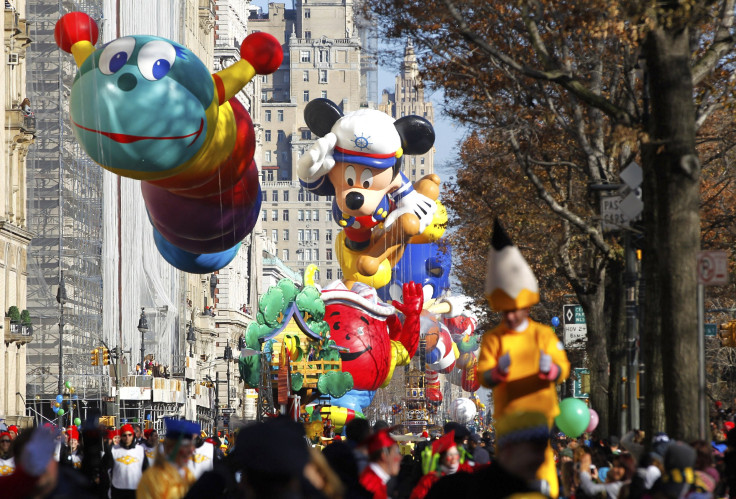 Thanksgiving Day Parade Start Time
The parade will begin at 9 a.m. on Thursday. It's a three-hour event, but get there early for those coveted front-row spots along the route! And scroll down for more on where some of the best spots to catch the action are located.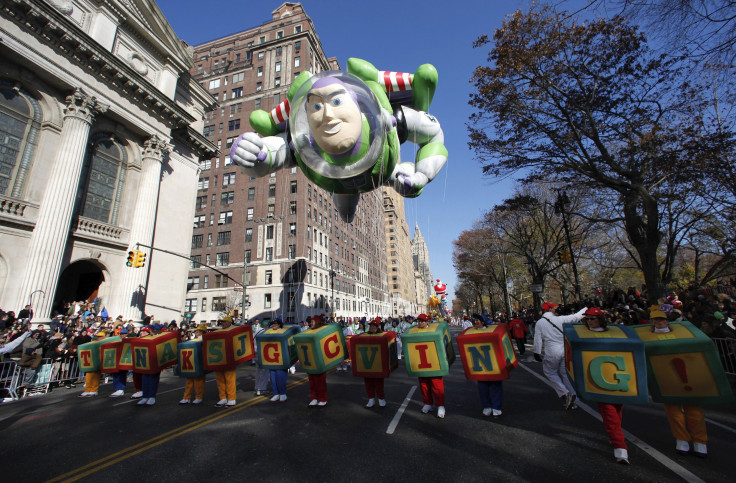 Thanksgiving Day Parade Route Map
The parade will kick off at 77th Street and Central Park West on the southeast corner of the American Museum of Natural History. The closest subway stops are the A/C and B lines, at the 81st Street stop.
The parade starting point can also be reached by taking the 1/2/3 trains to 72nd Street, or the 1/2 to 79th Street.
From 77th and Central Park West, the parade will head south, paralleling the park along Central Park West. It will make a left turn onto 59th Street, at Columbus Circle, hugging the southwest corner of Central Park and making its way along Central Park South towards 6th Avenue. To catch the parade at Columbus Circle, take the A/C, B/D or 1 lines to 59th Street, Columbus Circle.
At 6th Avenue, the parade turn right, heading down 6th, also called Avenue of the Americas, marching 25 blocks south. The parade will then turn right onto 34th Street, and end at 34th 7th Avenue, docking at the Macy's store at Herald Square.
The parade map below was provided by Macy's and can also be viewed in PDF form here.
Thanksgiving Day Parade Live Stream
Want to catch all the action from the comfort of your own home? Tune to NBC to see the parade live. CBS will also telecast the parade starting at 9 a.m. For more about parade live coverage, and where to watch a live stream of the festivities, check your local listings.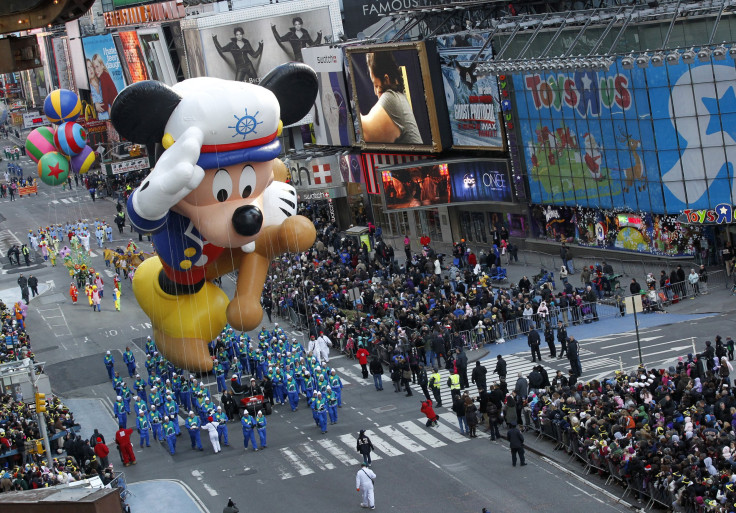 Best Places To Watch Macy's Thanksgiving Day Parade
First of all, get there early. To get a good viewing spot, many people show up before 6:30 a.m. Wear plenty of warm clothing (temperatures are expected to dip into the 30s), grab a bite to eat beforehand and bring a thermos of hot coffee or hot cocoa. And, most importantly, empty your bladder before getting to the parade – no one's going to hold your prime parade real estate while you make a trip to the restroom.
One great way to view the Macy's Thanksgiving Day Parade is to rent a hotel room with a view along the route. Unfortunately, many of the parade view rooms are booked as early as a year in advance, so by this point, the pickings are probably slim. But, you can try calling the hotel directly to see if there's anything still open – although you may have to smash open the porcelain pig to pay for it.
Here's a list of Macy's Thanksgiving Day Parade New York hotel rooms with a view.
For most of us who can't afford the VIP treatment of a private viewing room, there are still plenty of options for watching the holiday parade. Seeing the parade at street level is one of the best ways to watch, because much of the action – clowns, entertainers and performers – takes place right on the pavement.
One Trip Advisor commenter noted that the higher up the streets you go – that is, towards Central Park – the more room there is on the sidewalks for viewing the parade. Or, if you don't mind missing the street level action, you can even grab a seat on the grass in Central Park along Central Park West and just watch the balloons go by.
If you're a Macy's Thanksgiving Day Parade aficionado, and have some tips for the best viewing locations (and don't mind giving them away), we'd love to hear them; share in the comments below!
© Copyright IBTimes 2022. All rights reserved.
FOLLOW MORE IBT NEWS ON THE BELOW CHANNELS