Madonna, Deadmau5 End Feud Over Twitter: 'I Don't Support Drug Use,' Says Material Girl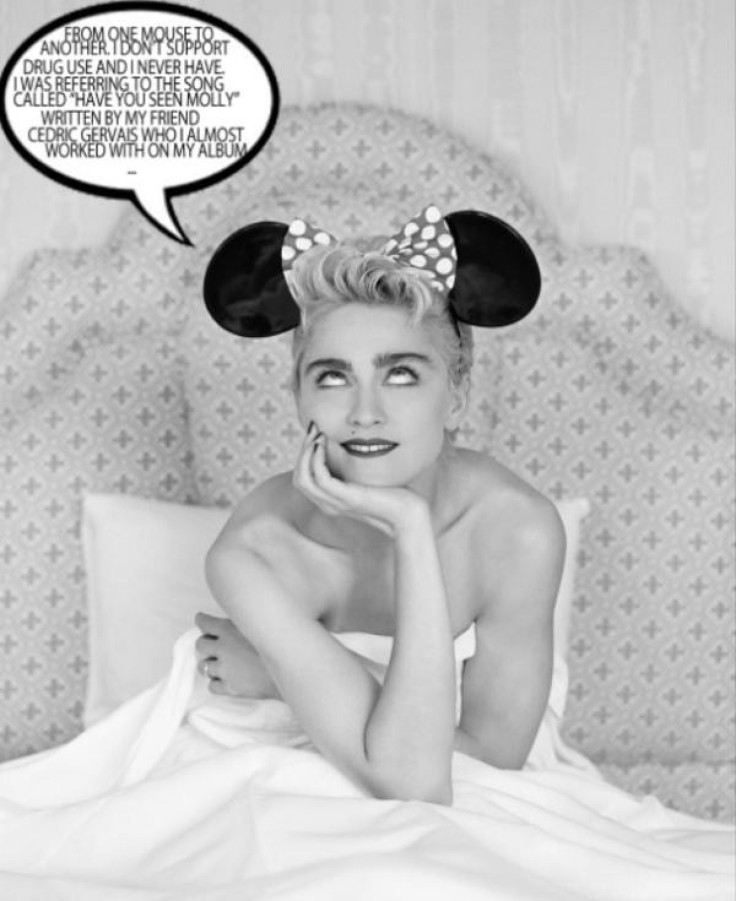 The brief feud between Madonna and Deadmau5 has ended over Twitter.
One day after the Canadian EDM genius lashed out at Madonna over her supposed illegal drug comments (Molly) at the Ultra Music Fest in Miami, the Material Girl responded via her new (and temporary) Twitter account.
Deadmau5, whose real name is Joel Zimmerman, was one of more than 41,000 new followers of Madonna's Twitter account, under the handle @MadonnaMDNAday, and the 31-year-old wasted no time in sending a public message to the 53-year-old superstar.
@MadonnaMDNAday You're a role model to 100's of millions. You have a powerful voice,EDM could use your positive influence, not your 'molly' talk . . . I may have slated you a little rough, but I found it offensive to see the illicit drug crap lit up at an EDM event, he wrote Monday night.
Madonna's response? A 1989 black-and-white photo of herself wearing classic Mickey Mouse ears, with her eyes in mid-roll. The caption reads, From one mouse to another. I don't support drug use and I never have. I was referring to the song called 'Have You Seen Molly' written by my friend Cedric Gervais who I almost worked with on my album.
Deadmau5 seemed to be pleased with the clarification -- sort of.
@MadonnaMDNAday fair enough, i was just voicing my concerns as i usually do. +1 respect for clearing it up personally, he wrote, before writing to his own followers, Well there you have it kids. I've said what I needed to say, which ill still stand by, and so did she. life goes on. no more talk of that.
The Molly talk is in reference to Madonna's comments made during a surprise appearance at Ultra over the weekend. Before introducing Swedish DJ Avicii, Madonna asked the crowd of 165,000 if anyone had seen Molly, possibly referencing to the illegal drug ecstasy.
very classy there Madonna. 'HUR DUR HAS ANYONE SEEN MOLLY???' such a great message for the young music lovers at ultra. quite the f'n philanthropist. but hey, at least yer HIP AND TENDY! Deadmau5 wrote on his Facebook page the day after.
The brief feud is a small distraction from all the fanfare surrounding the release of Madonna's 12th studio album, MDNA, which officially dropped on Monday. The Twitter account was set up for the singer to chat with her fans, who sent questions using the hashtag #askmadonna.
For nearly four hours, Madonna held nothing back, answering everything from what her favorite Britney Spears song was (Baby One More Time) to the best birthday present she's ever received (a horse, art).
In support of MDNA, Madonna is also set to kick off a massive world tour, starting with a show in Tel Aviv, Israel on May 29. The 50-plus city world tour will include stops in Vancouver, New York, New Orleans and Vienna.
MDNA is available in stores and on iTunes now.
To follow Madonna on Twitter, click here.
To follow Deadmau5 on Twitter, click here.
Scroll down to watch Madonna's surprise apperance at Ultra, where the Molly comments were made. (Note: The language in this video may be offensive to some viewers)
© Copyright IBTimes 2023. All rights reserved.