Mama June Weight Loss: 'Here Comes Honey Boo Boo' Star Loses 120 Pounds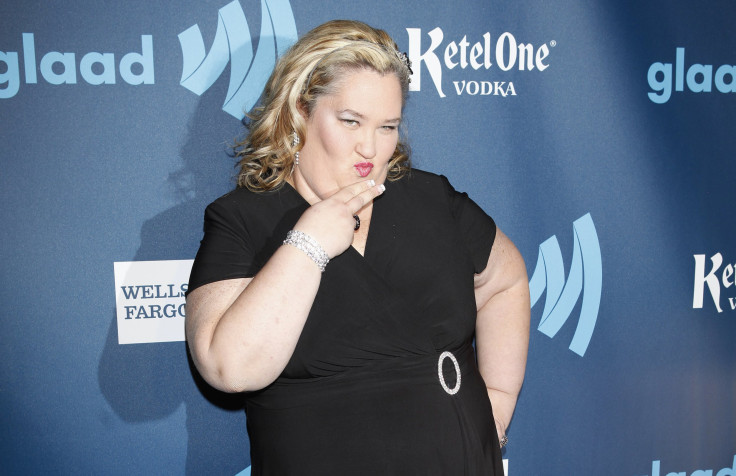 The biggest thing about "Honey Boo Boo" star Mama June now is her personality.
Two years after debuting her 400-pound figure on the hit TLC reality-TV series "Here Comes Honey Boo Boo," June Shannon, 34, known as "Mama June," has dropped an impressive 120 pounds and six dress sizes.
"I've always taken pride in how I look," Shannon said of her transformation in the July 28 issue of InTouch Weekly. "I'm happy with the way I am now but I was also happy with myself when I was 400 pounds. I taught myself and my kids that you've got to be comfortable no matter what your size."
How did she do it? After whipping up high-calorie delicacies like "Sketti" (equal parts ketchup and butter microwaved and mixed in with cooked spaghetti) on her family's hit TV series, Shannon said her meals are now more waistline-friendly.
"I haven't been drinking as much soda -- just water and stuff," said Shannon. "We've been eating a lot of chicken and baked foods. I also snack on grapes and cheese cubes throughout the day."
While healthy foods may be the staple of Shannon's daily diet now, she did admit to sometimes letting loose to enjoy her favorite sugary treats. "I was doing really good with the doctor and we kind of celebrated with a French cruller from Dunkin' Donuts," Shannon said. "It was the hardest thing for me to give up!"
Shannon's daughters, Anna, 19, Jessica, 17, Lauryn "Pumpkin," 14, and Alana, 8, have also reportedly jumped on the weight loss bandwagon. "Now that it's summer, we all go swimming together," said Shannon. "Pumpkin is down nine pounds and Alana has lost weight, too."
One member of the "Honey Boo Boo" family not happy with Shannon's weight loss? Her husband, Mike "Suga Bear" Thompson, 34. "Honestly, he doesn't like the fact that I've lost weight!" Shannon said. "He likes bigger girls. He's kind of a chubby chaser!"
Now 120 pounds lighter, Shannon said she has no goal weight in mind when it comes to working on her ever-shrinking figure. "I don't want to be a size 0!" she said.
Shannon last showed off her slimmer figure during appearances alongside Alana on "The Tonight Show" and "The Wendy Williams Show" in June.
In February 2013, Shannon announced to TMZ that she had lost 100-pounds using diet and exercise, only to reveal just four months later that she had gained back a majority of the weight.
"I'm just doing what everyone does — I gain a couple of pounds back and then I lose them," Shannon told InTouch Weekly last July. "But even if I gained the whole 100 pounds back, I'd be okay with it. A lot of larger people beat themselves up when they gain, but I'm really happy with myself."
Catch new episodes of "Here Comes Honey Boo Boo" Thursdays at 9 p.m. EDT on TLC.
© Copyright IBTimes 2023. All rights reserved.