Man At Atlanta Airport Jumps Over Railing After Argument With Staff
A passenger was transferred to a local hospital Wednesday after he jumped over a second-floor railing at the Hartsfield-Jackson Atlanta International Airport, Atlanta, and fell to the first floor.
The incident reportedly occurred inside Concourse D of the airport, outside the Terrapin Taphouse. Witnesses at the scene recorded the disturbing incident on video, some of which were posted on social media. They showed a man walking up to the railing and then leaping over it, even as shocked passengers and airport screamed, terrified by the sudden action.
An airport spokesperson told CBS46 (CBS-affiliated network in Atlanta) that the man seen leaping in the video had reportedly been involved in a disagreement with two other men, who appeared to be airport staff, before he made the jump.
(Warning: This video might be disturbing to watch. Viewer discretion is advised.)
A witness, who first posted the clip on Twitter, captioned it saying: "What the f--- did I just witness?"
Moments before the fall, the man appeared to run up to the rail before he lifted himself up and launched himself over the side. The man, who had long dark hair and was wearing a t-shirt and jeans, was spotted arguing with two men moments before he jumped off, and a large group of passengers were seen watching the row.
The airport spokesperson told CBS46 that the man was understood to have suffered "significant" injuries and was rushed to a local hospital. Police also told the network that the man appeared to be intoxicated, and had been threatening other travelers prior to jumping.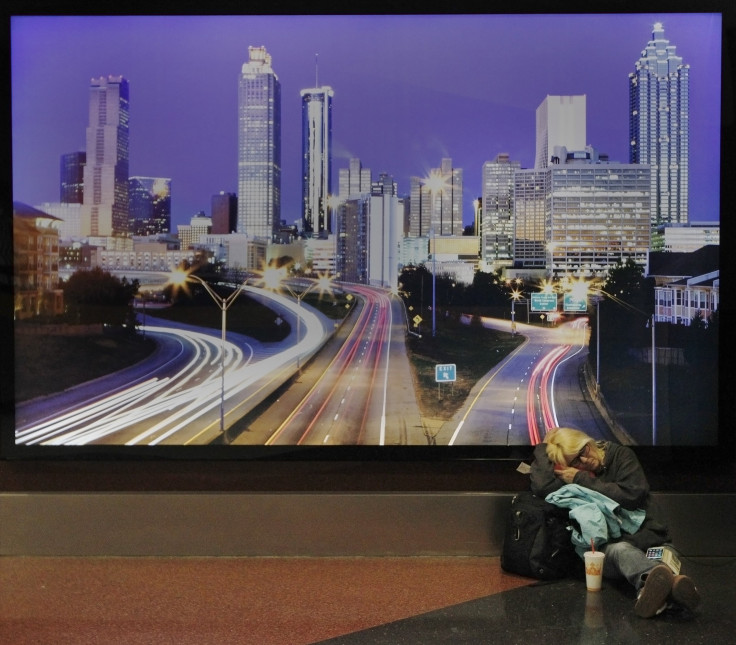 There have been such bizarre incidents at airports earlier. In March last year an Irish man jumped to his death at Suvarnabhumi Airport in Bangkok. The man, identified as Alan Paul Grimes, leapt from the fourth floor to the first floor at the airport. He had been transferred to a nearby hospital where he was declared dead. Police stated that the motive behind the suicide was unclear.
Similarly, in another incident in March, a man's life was saved. A security officer at Los Angeles Airport stopped a man from jumping off a pedestrian bridge. The entire incident was recorded on video. When the man tried to jump off the bridge, the guard pulled him off the edge of the rails and then slammed him to the ground in order to stop him from leaping.
© Copyright IBTimes 2023. All rights reserved.
FOLLOW MORE IBT NEWS ON THE BELOW CHANNELS