Man Bitten By 5-Foot Snake On Forehead While Opening Front Door [Video]
An Oklahoma man was bitten on the forehead by a snake while opening the front door of his friend's home Sunday.
A video of the incident, captured by the doorbell camera, shows Jerel Heywood opening the screen door when the reptile, a five-foot-long bullsnake, leaps into the corner of the camera and bites the man on his forehead before retreating. Heywood then screams in pain while clutching his face.
"Take me to the hospital. I just got bit by a snake," the man can be heard shouting.
Speaking to CNN, Rodney Copeland, the owner of the house, said the reptile was wrapped around a porch light. Copeland added that he watched in horror as Heywood entered through the door.
"I was in shock. That could've been anyone of us," Copeland said.
Copeland and his wife rushed Heywood to a local hospital, where he was treated. Copeland said his wife too started screaming when she saw Heywood. A neighbor heard the screams and came over with a hammer. The neighbor then knocked the reptile off the porch light and pummeled it to death.
Heywood said the first thought that came across his mind was, "I got bit by a snake. Didn't know what kind it was. Have to get to the hospital."
He said the snake was not venomous and that he was doing fine. "No stitches, thankfully, but they cleaned me up pretty good. I am on antibiotics," he said.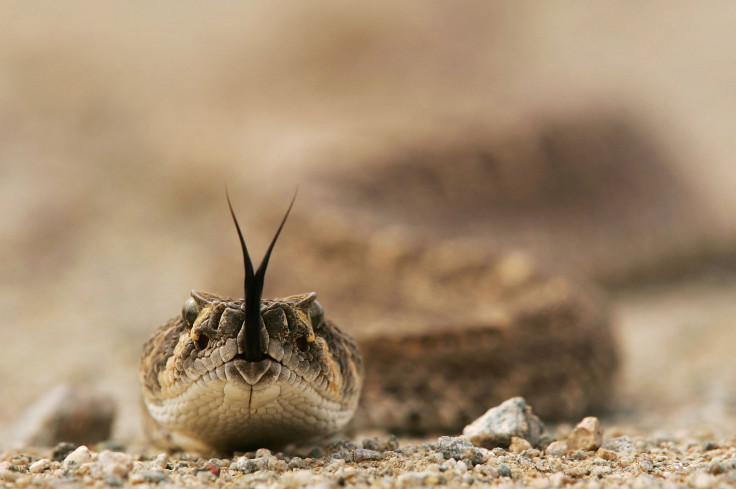 Copeland said this was the first time he saw a snake at his home and he believed the reptile was taking shelter from the recent heavy rains. He said he would spray his yard with sulfuric acid in order to keep snakes away. "I hear they don't like that," he said.